Michelle Obama at the Museum
Yesterday, the W magazine-commissioned portrait of Michelle and Sasha Obama by Elizabeth Peyton was put on view at the New Museum as part of Peyton's retrospective, "Live Forever: Elizabeth Peyton." Laura Hoptman, the curator of...
---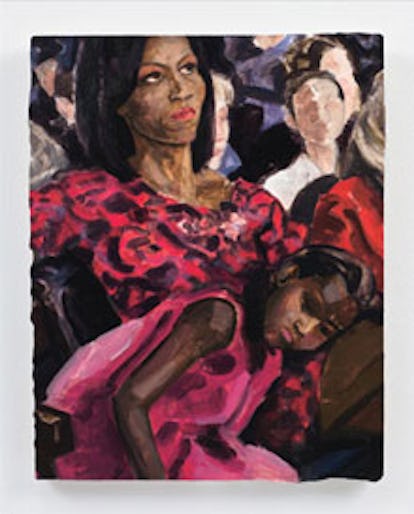 Hoptman says that Peyton's portrait, which depicts Michelle seated at the Democratic National Convention with Sasha resting on her lap, has "particular significance." Explains Hoptman, "Elizabeth is such a current artist, a contemporary artist. She tells us about the world as it is at this moment." Hoptman describes the work as a "wonderful painting" of a worthy subject, adding that the newly elected first lady will become "an icon for women" in the years to come.
The show is on view in New York until January 11, after which it will move to the Walker Arts Center in Minneapolis.
Above: Michelle and Sasha Obama Listening to Barack Obama at the Democratic National Convention August 2008 2008 Oil on MDF 14 1/4 x 11 1/4 inches