Yo-Landi Vi$$er and Ninja of Die Antwoord
The "rap-rave" act from suburban Cape Town is the biggest pop sensation ever to come out of South Africa.
---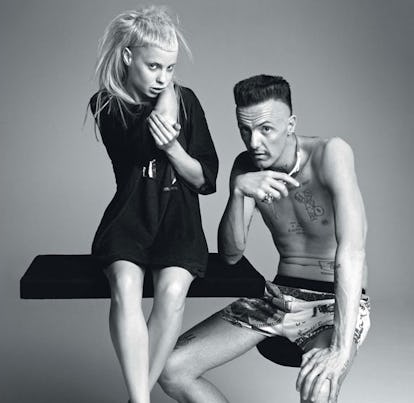 It was February 1, 2010, when online magazine Boing Boing first posted the music videos for Die Antwoord's "Zef Side" and "Enter the Ninja." Featuring an oddly comical interview with bandmates Ninja and Yo-Landi Vi$$er—along with a dancing man with progeria (the genetic condition marked by premature aging) and a haunting chorus ("I, I, I/I am your butterfly")—the clips went viral, garnering the band's website more than 15 million hits within the month. They also transformed the obscure "rap-rave" act from suburban Cape Town into the biggest pop sensation ever to come out of South Africa. Ninja, a heavily tattooed Vanilla Ice look-alike who has served time in prison, and his platinum-haired pixie sidekick have since been signed to Interscope (home of Marilyn Manson and Lady Gaga) and caught the attention of Hollywood. According to the band's publicist, director David Fincher approached Vi$$er to audition for the role of Lisbeth Salander in The Girl With the Dragon Tattoo franchise (she declined); David Lynch invited them for cappuccino at his house (they accepted); and in November, Harmony Korine filmed an extended music video for them. In the meantime, they're producing their own movie, a trippy feature titled The Answer, due out later this year.
I have to admit, I'm a little scared of you guys. YV: Why would you be scared?
Well, you come off as pretty aggressive—and weird. People don't know what to make of you. N: Yeah, well, that's our style. We're aggressive in a healthy way.
Let's talk about your style. You call it "zef"—which is what, exactly? N: The Afrikaners have these different cultures. One is very conservative and stiff, and the other, the underbelly of that, is zef. The conservative people use it to dis lower-class people. But for us, although it is kind of a negative word, we started just… YV: Flipping it. N: Like, we are the underdog. We are the underbelly. No one had ever presented that. It was something people were shy or scared of—they swept it under the carpet. We made it our thing.
Can you describe the look? N: It's kind of like apocalyptic debris. You'll get a kid in Liberia wearing a Tupac T-shirt, and for us that's zef. People try to say it's like trash, but it's not really trash. It's putting things together you think are cool.
Yo-Landi, who does your hair? YV: Ninja cuts it.
How did the look come about? YV: People on the streets where we live used to call me Blondie and Britney, and it used to irritate me. I told Ninja I wanted something more poisonous. N: And then we started thinking about it, and I was like, Should I cut it? Cuz you can make her cry if you fuck her hair up. So it was quite a big thing to cut it off, but then it looked cool.
It's a good look. YV: Yeah, at our shows we see quite a few people doing it.
Are there any musicians today you admire? N: Not really.
What about some of your labelmates? Lady Gaga? N: She doesn't impress me at all. She has a strong visual thing that kinda works, but her music's like some washed-up wannabe Madonna. I don't register a lot of stuff out there. Our standards are high. We don't worry about what's going on too much; we just stay in our power zone.
People have questioned if you're for real. They wonder if you're a conceptual art project. N: I don't even know what that means.
Or if you're just a joke, punking us all. N: In South Africa people know what we are straightaway. It's just punk Afrikaans shit. But in America it's a little alien, so they're like [in an American accent], "I don't get it. It must be a joke. What are they doing? What is this?" YV: But also I was watching MTV, and I was like, Oh, this is why everyone thinks we're a joke. Because everything is the same recipe, rehashed. I used to be into Björk and PJ Harvey, and they used to blow my mind. But there hasn't been a pop star blowing anybody's mind. Our music's got flavor; it's got skill. And we present it really well. And people were like, "What the fuck is this?"
You've said you're doing five albums and then disbanding—why? N: $O$ [their debut] is a powerful album. It's got 23 tunes on it. We wrote that not knowing what was going to happen but putting everything on the line. And we thought, There are very few people who maintain that for five hard-core albums. Plus we're also making movies. We're into film. As much as we like making music, we have an equal dedication to visual stuff. That's why we do our own videos. So we're going to make five pop albums and then move into film stuff.
So you guys actually are like a conceptual art project. N: We're more like Olympic athletes.