Drawn Together
Yoko Ono and Sean Lennon's latest mother-and-son collaboration.
---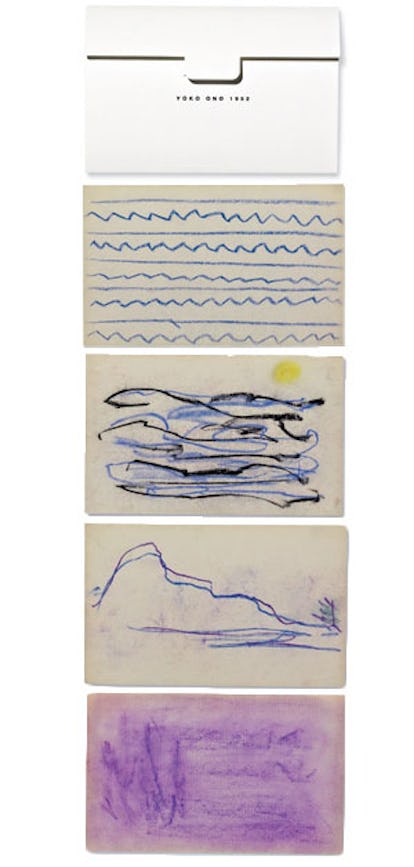 Sean Ono Lennon was rummaging through his mother's closets in her New York apartment last spring when he happened upon an unmarked box containing pastel-chalk drawings she had made in 1952 as a teenager in Japan. The drawings were abstract, colorful, and charming—quite unlike the black-and-white pointillist ink works for which she is known—and they were accompanied by a story she'd written about a flower whose beauty is recognized only by a character named Smelty John.
"Sean told me, 'You didn't know anyone who was called Smelty John, so it must be about Daddy,' " Yoko Ono, 79, the subject of a retrospective at London's Serpentine Gallery this month (through September 9), recalled recently. "And I said, 'But I hadn't met Daddy yet when I wrote it.' I thought it was so sweet that Sean felt that Smelty John was his dad. I wasn't going to deny him his enthusiasm." So at her son's urging, she agreed to let him assemble and publish An Invisible Flower, available as a limited-edition boxed set from his new imprint, Chimera Books, and in a mass-market edition from Chronicle Books.
Ono, 16, at home in Japan, 1949.
"I mean, obviously there are a lot of people named John in the world," Lennon, 36, acknowledged. "But it seemed kind of uncanny that my mom would write this little story and later wind up meeting my dad." Intended for "John and Yoko fans like myself," Lennon says, An Invisible Flower is just the latest in a line of mother-and-son collaborations: They perform regularly together, most recently at Ono's 79th birthday bash at New York's Poisson Rouge in February. "She hears things in a different way than most people, so I learn a lot from her," Lennon tells me. "And the added perk is that it's a great opportunity for us to hang out and spend some quality time together without having to do something contrived like, 'Oh, I'll meet you for lunch in the Hamptons.' I mean, she definitely is a superhip mom compared to most of my friends' parents."
Photos: Yoko Ono's An Invisible Flower
Ono, 16, at home in Japan, 1949.

Photographer: François Halard
The limited edition version of Ono's An Invisible Flower

Photographer: François Halard
Pastel chalk drawings from An Invisible Flower

Photographer: François Halard
Pastel chalk drawings from An Invisible Flower

Photographer: François Halard
Pastel chalk drawings from An Invisible Flower

Photographer: François Halard
Pastel chalk drawings from An Invisible Flower

Photographer: François Halard
Ono portrait: copyright Yoko Ono; book: Marko Metzinger