Bella Hadid and Her Mom, Yolanda Hadid, Swap Clothes Once Again, With a Denim Look
The definition of good genes.
---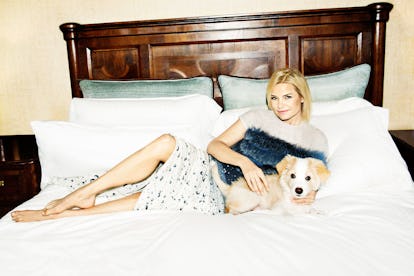 How do you know you have good genes? Bella Hadid and her mother, Yolanda Hadid, have provided the world with a new definition: aging so gracefully you can share jeans with your grown daughter. The 21-year-old model and her 54-year-old mother have been swapping clothes once again, as Hadid shared with the world on Instagram.
"Mama went shopping in my closet," she wrote on Instagram Stories, where she posted a photo of Yolanda in a head-to-toe denim bondage look with matching strappy stiletto heels, a look she wore to Prabal Gurung's spring 2019 show, where Bella walked the runway. "Major moments." Yolanda could have been mistaken almost for her other daughter, Gigi Hadid — and that would not be first time.
Last April, Yolanda stepped out in Gigi's color-blocked Versace bomber jacket. The former model paired the leather jacket with the same kinds of accessories that Gigi did, from the black pointy-toed boots to a slim clutch. She even wore the jacket with black jeans and a black turtleneck, like Gigi.
Yolanda notably swapped clothes with Bella once before. Just this past April, she shared a photo on Instagram of herself at the beach wearing the same macramé bikini that Bella wore in 2016.
As social savvy as Yolanda and her daughters are, the matriarch recently opened up to W about the negative impact it can have. "I think that social media, as much as a blessing it is to anyone who wants to do any kind of business out in the world, it also means you open up your life and are held under a microscope and judged 24/7," she said. "It takes away a lot of your privacy. But I guess that's the price to pay for having much easier, and global, access to the industry. I think it's an amazing tool, but we don't quite understand yet how its long-term effects our children."
Citing one way in which it hasn't had a bad effect on her daughters, Yolanda explained that they were raised not to compare themselves with others "I taught them at a very early age that it's not about competing with anybody—it's about becoming your personal best," she said. "Elbowing other women—well, there's just already enough space for everyone to shine." That also includes Yolanda.
Related: Supermodel "Mama Bear" Yolanda Hadid on How She Kept Gigi and Bella From Competing With Each Other