Yoon Young Bae, South Korea's Rising Top Model, Is Poised to Be a Global Star
Meet the 19-year-old model from South Korea who is walking major shows far beyond Seoul Fashion Week.
---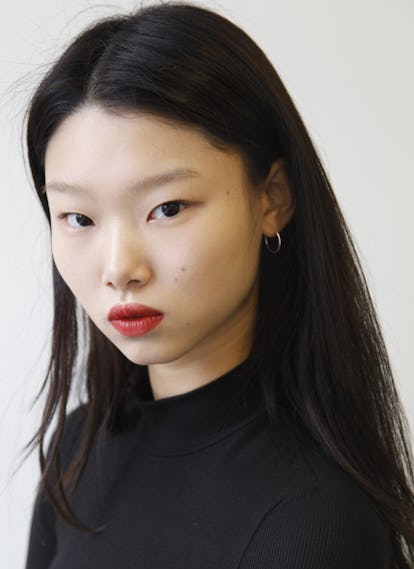 Ever since Seoul Fashion Week was first founded back in 2011, South Korea has given the industry more and more reasons to pay attention to its blossoming fashion scene. From well-dressed toddlers ruling the streets, to to risk-taking street style stars, the city's inhabitants are committed to making a statement before even entering the shows. And then there are emerging brands like Pushbutton, Blindness, and Münn, who we wouldn't be surprised to see on the likes of Rihanna in the coming months.
But it's really South Korea's models who are making the biggest global ripple, (besides face masks, of course), by walking major international shows beyond Seoul Fashion Week. Take 19-year-old Yoon Young Bae, for example, who hails from the city of Daegu. She was first signed back in 2014, and made her debut in Prada's Fall 2016 show.
This season was perhaps Bae's best yet though, as she walked Chanel, Fenty x Puma, Céline, Valentino, Loewe, Paco Rabanne, Marni, Versace, Moschino, Fendi, Christopher Kane, Burberry, J.W. Anderson, Coach, Michael Kors, Altuzarra, Victoria Beckham, and Tommy Hilfiger, amongst others.
At this rate, Bae is poised to be not only one of Seoul's top models, but also an industry favorite. She also has over 40,000 followers on Instagram (plus an account for her puppy). When she's not working, she likes to shop for Korean beauty products in Seoul's "road shops," which are like outdoor malls, and here's a twist: She's got an eye for real estate.
Your "big break" professionally:
Debuting as a Prada girl. (Both shooting the campaign and walking the show.)
Three words that describe your style:
Casual, lots of the color black, comfortable.
Where you like to shop at in Seoul:
An area called Hongdae. (It's a university town.) You can spend your entire day there—from brunch to a Karaoke night out!
Favorite Korean dish:
Spicy braised short ribs.
What you're wearing right this minute:
Camo hoodie, black coated jeans, and Nike shoes.
Favorite Korean beauty products:
Eye shadows from Korean road beauty shops. [Ed. note: Road shops are the equivalent of outdoor malls.]
Best recent beauty discovery:
Dark eye circle masks.
Fashion pet peeve:
Wearing your pants too low.
Lusting after:
Having a beautiful home in New York City.
Something you would never wear:
Pink bottoms.
Most prized possession in your closet:
Underground loafers; I wear them quite often.
Something you're looking forward to wearing this spring:
A denim skirt.
Emoji(s) that best describes you:
The wink face with tongue out and the ghost with its tongue out.
Instagram accounts you love to follow:
The one I made for my puppy, Milk.
The runway show you were most nervous about:
My Prada debut show.
Dream job:
I'd like to own and manage real estate one day.
Kendall Jenner, Performance Artist, Channels Icons Like Marina Abramovic and Yoko Ono