The Brave Ones
Unlike other generations of actresses, none of these eight women are living in the margins of men. They're creating complex characters that are often at the center of the film. Jennifer Lawrence headlines a generation of fearless, fiercely talented actresses who are putting the boys to shame.
---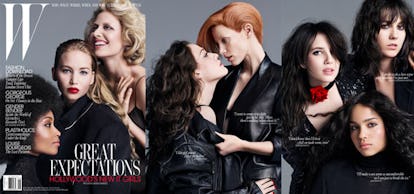 There were small stacks of clothes covering the carpeted floor of Jennifer Lawrence's bedroom in her duplex in Santa Monica. Downstairs, it was tidy and suburban cozy: The couch was overstuffed, family snapshots were stuck on a corkboard, there was a cantaloupe in the fruit bowl waiting to ripen. Upstairs, it was organized chaos. "I call this the International Quarters," Lawrence said, on a cloudy day this past June, as she stood among the neatly folded piles of shorts and pants and shoes and sweaters. She was wearing skinny jeans, a hip-length white undershirt, and a waist-length black jacket. Lawrence is tall and curvy, and her long blond hair was twisted into a loose bun. The overall effect, like the apartment, was chronologically schizophrenic. Although she just turned 20, Lawrence can seamlessly switch from her young self—an actress who just may be the best of her generation—to her mature, almost parental self. "I don't feel young," she said as she surveyed the room.
There were stylist-sanctioned gowns hanging in their pristine plastic shells, with Baggies full of jewelry attached; scripts were piled everywhere; and the bed was unmade. "It may not look like it, but I do have things organized," Lawrence continued. She pointed to the piles on the floor: "These are my flying clothes. I just pick them up from each pile and put them in the suitcase and then put them back in the piles when I come home. Lately I haven't had any time to put things away. There's no point—I'm always leaving."
Jennifer Lawrence
A few days earlier, Lawrence had returned from Scotland, where Winter's Bone, in which she stars, was shown at the Edinburgh International Film Festival. In the movie, which won the Grand Jury Prize at Sundance, Lawrence plays Ree Dolly, a willful and fearless 17-year-old who must fend for her two younger siblings and find her missing father. The film is set in the Missouri Ozarks, which is its own world, full of rituals and secrets. Ree is searching for the truth behind those mysteries, and her quest puts her life in peril. Lawrence perfectly captures the stubborn courage of the character, as well as her sense of adulthood and responsibility. "The movie would be unimaginable with anyone less charismatic playing Ree," David Denby wrote in The New Yorker. "She's more believable as a heroic character than any of the men we've seen peacocking through movies recently."
Initially, Debra Granik, the director of Winter's Bone, felt that Lawrence was too pretty for the gritty role of Ree Dolly. "They told me that my look wasn't right," Lawrence said as she headed downstairs to her kitchen. "And my agent acted like that was the end of it. I said, 'It's not.' I flew to New York that night and auditioned again. I made them see me. And I apparently looked pretty bad from flying on the red-eye—my look didn't seem wrong anymore." Lawrence paused. "There are actresses who build themselves, and then there are actresses who are built by others," she said. "I want to build myself."
While American male actors in their early 20s seem to be concentrating on plucking their eyebrows and sculpting their abs, American actresses are blossoming into brave and beautiful Streeps. "Where are the boys?" Lawrence asked me. "Where are the Robert Redfords and Paul Newmans of my age group? I love James Franco, but where's the next James Franco? Where are the hunks who can act?"
It's not just the lack of guys—since Streep's career began in the Seventies, there are new obstacles to cinematic greatness. Actresses like Lindsay Lohan squander their talent in exchange for tabloid fame. And all too many young actresses have a tiny bit of success and then become, essentially, models—known more for the labels they're wearing than for the difficult parts they're tackling. With discipline and some luck, Lawrence and her generation will not, let's hope, become addicted to the paparazzi or fashion, sacrificing their dreams of artistic integrity for high-end-product placement. It's hard to imagine, for instance, Greta Gerwig, 27, who first became known for her work in the genre called Mumblecore, which stresses honest emotion over pyrotechnics, selling out her talent. This year Gerwig starred in Greenberg as a vulnerable, kindhearted girl who was somewhat lost. Gerwig's portrayal was naturalistic yet layered—which made the character both unique and instantly familiar.
It's that quality of complication that defines this generation of actresses: While the guys preen, the girls are taking chances. Emma Roberts, with her debutante looks, could have been a classic ingenue, playing the perfect princess again and again. Instead, at 19, she has chosen to portray a psychiatric patient in It's Kind of a Funny Story, which is in theaters September 24. Opposite her in the film is Zoë Kravitz, 21, who made her first notable film appearance in The Brave One as an abused prostitute. "My part in The Brave One was actually written for a blond with a European accent," Kravitz told me. "My part in It's Kind of a Funny Story was originally written for an Asian girl. They didn't initially think of me for those roles. It's my job to change minds."
Twenty-nine-year-old Jessica Chastain, who graduated from Juilliard in 2003, first garnered attention when she starred opposite Al Pacino in the play, and then the film version of, Salome. Every night she would bare all at the finale of the Dance of the Seven Veils. "To learn that dance," Chastain told me, "I went to strip clubs in L.A. just to be, like, Okay, this is normal. There's nothing taboo about it." Yaya DaCosta, 27, who costars in The Kids Are All Right, had a similar challenge: She had to hold her own (and establish a character) in a sex scene with Mark Ruffalo. DaCosta's role could have easily become a cliché—the exotic lover—but she gave the character a heartbeat.
Similarly, in Scott Pilgrim vs. the World, which was just released, Mary Elizabeth Winstead literally portrays a cartoon (graphic novel!) character come to life. Ramona has multihued hair and many ex-boyfriends. The 25-year-old Winstead has a talent for subverting stereotypes; she imbues Ramona with an undertow of melancholy. In the same vein, Kat Dennings, 24, is both naive and knowing in films like Nick and Norah's Infinite Playlist. In that movie she's youth incarnate— simultaneously sophisticated and fearful, never just a "girlfriend." Which is precisely the point: Unlike other generations of actresses, none of these eight women are living in the margins of men. They are not onscreen just to make guys looks good. They're creating complex characters that are often at the center of the film.
"The business does try to type you," Lawrence said, sitting in her kitchen. "You can either be pretty and dumb. Or ugly and smart. Or pretty and bitchy. Or ugly and nice. But you can say no. I'm good at saying no. Even though I was 14, I knew I wasn't a Disney kid. I knew I didn't want to play any of the typical stereotypes. I thought those things were stupid."
In 2004 Lawrence and her mother traveled from their home in Louisville, Kentucky, and visited New York for the first time. Lawrence had always wanted to perform in some way, but her parents consistently dissuaded her. She and her two older brothers were supposed to be athletic and scholarly—not theatrical. "My parents run a children's summer day camp," Lawrence said over a tuna melt at Snug Harbor, one of her haunts in Los Angeles. "I grew up in the camp, and eventually I became the assistant nurse. I grew up thinking I would be a doctor." She paused and took a bite of her sandwich. "But I always wanted to act," she said. "Although nobody ever wanted to watch me, I wasn't shy: I'm an extrovert who wants to be an introvert. I'll start to extrovert, and then I realize I have to go back to introvert."
Lawrence had begged her parents to let her audition for an agent or modeling agency, which was part of the reason they went to New York. While they were sightseeing in Union Square, watching break-dancers perform, a man asked Jennifer's mother if he could take Jennifer's picture. "We didn't know that was creepy, so we said yes," Lawrence recalled. "He said he was a scout, but we weren't sure what that meant." During the next few days, on the advice of this man who was impressed with her looks, Lawrence went to some modeling agencies and was asked to read for a commercial for Reese's Peanut Butter Puffs cereal. "At the audition­—which was my first audition—they said, 'No 14-year-old has ever read better,' " Lawrence said. "That was the first time I'd ever been told I was the best at something."
She had modeling offers, but instead of signing with an agency, Lawrence convinced her parents to let her try acting in New York. "My parents did everything they could to stop it from happening," Lawrence said between bites. "But I was determined. And I convinced them that I should move to New York." She prevailed: Jennifer and her mother relocated to Manhattan. But a year later her father was ready to bring them both back to Louisville. When he arrived in New York, Jennifer was asked to fly to L.A. to audition for a pilot.
"That was a rough time," Lawrence continued. "During that first year in New York, my dad wanted me to come home, my mom wanted me to stay, and it was the first time I ever heard them fight. I just felt I had to get a part so they could see that this was worth it." In 2006 Lawrence was cast as the daughter on the The Bill Engvall Show, a situation comedy about the humorous travails of blue-collar family life. And that was pretty much the last time she played a conventional character. "The money from the show, which lasted three seasons, funded my indie career. I've never had to do something crappy to pay the rent."
When she was 16, Lawrence, without her mother's knowledge, auditioned for The Poker House, a drama in which her character is raped by her mother's pimp. "My mother would never have let me do that," Lawrence explained. "But it was a great part. I didn't find the rape scene traumatizing. I don't think I can say being raped in a movie is difficult or isn't difficult; it's technical." The next year, in 2008, she played the young Charlize Theron in The Burning Plain, for which she received the Marcello Mastroianni Award for best emerging actor at the Venice Film Festival. And then there was Winter's Bone, in which she had to carry the movie. Watching Jennifer Lawrence as Ree Dolly is almost like watching a documentary. She seems to be living that life: caring for her brother and sister; skinning squirrels for food; living off the land as best she can. It took some work.
"I'd shot a gun before—I mean, I'm from Kentucky," Lawrence said. "But I'd never skinned a squirrel. I like when things are hard; I'm very competitive. If something seems difficult or impossible, it interests me. I've always had this dangerous mentality of never even considering the thought of failure. If I want something, I just go until I get it."
Lawrence quickly finished her sandwich ("My job is not to be skinny," she said happily, "my job is to act"), and we walked to her car. She was running late for an appointment in Coldwater Canyon, easily 45 minutes away. For her next role, in a movie that still doesn't have a title, Lawrence will have to sing. The director, Mark Tonderai, had suggested that she meet with some prospective songwriters, who would tailor songs for her character.
She's supposed to start her new movie at the end of July, but before that Lawrence has to return to New York to do some reshoots on The Beaver, which stars Mel Gibson as a man who overcomes his depression by speaking through a beaver hand puppet. "Mel Gibson is unbelievable in this movie," Lawrence told me in June, before the Gibson-goes-crazy tapes were released. "At the first table read of the script, I thought, He's going to win an Oscar." (Later, after the Gibson scandal broke, I saw Lawrence and asked about her reaction. She was speechless and kept shaking her head in disbelief. "It's tragic," she said finally. "No one will be able to see his performance in The Beaver clearly now. Even if Mel Gibson is great in the movie, I'm afraid no one will go.")
As we drove east toward Hollywood, Lawrence received a call from her agents at CAA; she thought they might be calling her about Lie Down in Darkness, a script based on the William Styron novel, in which she'd play a doomed Southern belle. "I am obsessed with that part," she said. "I have this feeling of protectiveness over characters I want to play. I worry about them—if someone else gets the part, I'm afraid they won't do it right; they'll make the character a victim or they'll make her a villain or they'll just get it wrong somehow." Lawrence paused. "I'm trying to write the director of Lie Down in Darkness a letter to convince him that I should be in his movie. I'll chase him if I have to. I'll sit outside his house." She laughed. "I'm beside myself over that script. When I get like that, anything's possible."
Actually, her agents were phoning about a more commercial project. Matthew Vaughn, who is set to direct an X-Men prequel, would like Lawrence to play Mystique, the shape-shifting blue supermutant. At first Lawrence wasn't interested. But she read the script ("I had to read it in a locked room at Fox") and was impressed. The X-Men choice is strategic: In all likelihood the movie will be an international hit, and Lawrence—who will be naked and indigo for long stretches of the film—could become a global star. Theoretically, that will make her famous and help garner an audience for her smaller films.
"I wouldn't do X-Men if I didn't find the character interesting," she said as we pulled into a steep driveway. She waved hello to Claudia Sarne, one of the songwriters, who was standing in the garage. "I always have this ­bigger-picture thing," Lawrence said, turning off the car. "As a kid I never did drugs because I was thinking about the future. I sound like an old person, but when I saw kids making dumb decisions, I would think, What's your future going to end up being?" She paused and grabbed her purse. "I hardly ever get nervous, and I'm nervous about singing," she said finally. Yet despite all the swirling activity—reshoots on The Beaver, Oscar buzz for Winter's Bone, and a movie starting in a few weeks—she did not seem nervous. "Let's go sing," she said.
Sarne and her songwriting partner, Leopold Ross, had written a series of folk/soft-rock songs to fit Lawrence's character. They wanted to hear her voice to see if her vocal style fit the music they'd created. The three settled around a long wooden dining room table. "What would you like to sing?" Sarne asked. It was decided that Lawrence should sing "Wonderwall," by Oasis. Without hesitation she began. Her singing voice, like her speaking voice, is low and a little raspy, which makes her sound older. "I said, maybe, you're going to be the one that saves me," Lawrence sang. It sounded beautiful. Sad but hopeful. Lawrence wasn't sure. "It's something like that," she said finally. "I don't know exactly how to get there. But I'll figure it out."
"As a kid I wasn't shy. I'm an extrovert who wants to be an introvert." Lawrence's lack of shyness has resulted in one of the boldest performances of 2010: her Ree Dolly in Winter's Bone. Like many actresses of her generation, Lawrence started young—at 14, she left her home in Louisville, Kentucky, and moved to New York. "I don't know if I was driven or stubborn or both," she explains. "But I didn't think I could fail."

Photographer: Inez van Lamsweerde & Vinoodh Matadin Stylist: Alex White
"I was the girl who never thought I'd be anything but an actor, so what I've really had to struggle with is having patience." Born in Northern California and a graduate of Juilliard, Chastain was cast by reclusive director Terrence Malick to star opposite Brad Pitt and Sean Penn in The Tree of Life, in theaters this fall. He may have seen her performance in Salome, opposite Al Pacino, where she did the Dance of the Seven Veils. "My character's goal was to give herself away," Chastain says. "To be completely naked. So I went to some strip clubs in L.A. just to be, like, Okay, this is normal. There's nothing taboo about it."

Photographer: Inez van Lamsweerde & Vinoodh Matadin Stylist: Alex White
"I want to do a silent film, even though it's out of fashion now." DaCosta, who studied dance as a child, has an innate stillness and elegance that would be ideal for the cinematic intensity of images without words. In 2009's The Messenger she played an army wife who has lost her husband, and her grief went beyond speech. Similarly, when Mark Ruffalo tells her character in The Kids Are All Right that he wants to end their relationship, the shock and pain are registered in her eyes. "I grew up watching a lot of old stuff," DaCosta says. "The first movie I remember seeing was The Red Balloon, which is silent, and it made me feel things that I'd love to make other people feel."

Photographer: Inez van Lamsweerde & Vinoodh Matadin Stylist: Alex White
"I always wanted to be an actress, and my first audition, when I was nine, was for Blow, playing Johnny Depp's daughter. I think everyone in my family was shocked because they sent me on the audition to kind of shut me up about the acting thing." Roberts, 19, has been acting in movies from that point forward, playing everything from Nancy Drew to an orphan who runs a hotel for dogs to a troubled teenager in It's Kind of a Funny Story, which is out September 24. Like her aunt Julia, Emma has an all-American sunniness mixed with an attraction to darker subjects. "I don't know that I'd do a full-on nude scene, ever," Roberts says. "I've never had a full-on sex scene…but we'll see."

Photographer: Inez van Lamsweerde & Vinoodh Matadin Stylist: Alex White
"My first audition was for a commercial for the lottery. I didn't get it, so I hate the lottery." Since that rejection, Dennings, 24, has become an indie favorite—the smart, seductive, prickly downtown darling in such movies as Nick and Norah's Infinite Playlist and Charlie Bartlett. Her curves and her attitude—bemused but sweet, self-aware but curious—set her apart from other young actresses. As a kid growing up near Philadelphia, "I wanted to be Christopher Walken," Dennings says. "I saw a film version of Puss in Boots, and he was Puss. He had a mouse tail hanging out of his mouth, and he said 'Growl' as only Chris Walken can. That performance made me want to be an actor."

Photographer: Inez van Lamsweerde & Vinoodh Matadin Stylist: Alex White
Greta Gerwig (September 2010)
"I grew up in Sacramento, and it seemed like movies were handed down from gods." Gerwig, who earlier this year starred opposite Ben Stiller in Greenberg, began her acting career as the leading lady of Mumblecore. The movement was born when a group of filmmakers met at the South by Southwest film festival in Austin, Texas, and decided to make movies together. The budgets were minuscule and the films largely improvised, but the acting was fresh and realistic and vibrant in the style of John Cassavetes. "A lot of Mumblecore was about awkwardness, especially with sex," Gerwig says. "I think a lot of sex is very awkward. Instances of awkward lovemaking probably outpace instances of beautiful, seamless lovemaking, at least in my experience."
"When I was young, I wanted to be able to read minds. I would try to do that with my dogs. It didn't work." With a mysterious quality that seems at once innocent and worldly, Kravitz, the daughter of Lenny Kravitz and Lisa Bonet, has defied racial stereotypes. The script for The Brave One, in which Kravitz gave a startling performance, had called for a European-accented blond, but the actress's audition demanded a total rethink. "I'm a pretty obnoxious person," Kravitz says, "so I'll make a sex scene as uncomfortable as I can just to break the ice."

Photographer: Inez van Lamsweerde & Vinoodh Matadin Stylist: Alex White
"I would love to know what it's like to be blond, but every time I mention the possibility of going blond, people act like the world's going to come to an end. I will say that having pink hair was really fun." Winstead went pink (and blue and green and red) in Scott Pilgrim vs. the World, which was released in August. A veteran of television, she was cast by Quentin Tarantino as a snappy, sexy actress in 2007's Death Proof. "It was never explained why my character was in a cheerleader's uniform for the entire film," Winstead says. "But the outfit made it easy to get into character."

Photographer: Inez van Lamsweerde & Vinoodh Matadin Stylist: Alex White
Yaya DaCosta wears Ralph Lauren Collection's cashmere and silk lace turtleneck. Jennifer Lawrence wears Maison Martin Margiela's cashmere and wool jacket. Greta Gerwig wears The Row's silk dress.

Photographer: Inez van Lamsweerde & Vinoodh Matadin Stylist: Alex White
Kat Dennings wears Lewis Leathers' leather jacket; Dolce & Gabbana's silk and lace bodysuit. Jessica Chastain wears Bottega Veneta's lambskin jacket; Eres's silk and spandex bra.

Photographer: Inez van Lamsweerde & Vinoodh Matadin Stylist: Alex White
Zoë Kravitz wears Yves Saint Laurent's wool turtleneck. Emma Roberts wears Balmain's sequined silk dress; New York Vintage necklace. Mary Elizabeth Winstead wears Giorgio Armani's wool and viscose jacket.

Photographer: Inez van Lamsweerde & Vinoodh Matadin Stylist: Alex White
Hair by Luigi Murenu for John Frieda; makeup by Peter Philips for Chanel; manicures by Deborah Lippmann at the Wall Group.

Photographer: Inez van Lamsweerde & Vinoodh Matadin Stylist: Alex White