Young at Art: Painter Rose Wylie Is Emerging as a Star at Age 83
The art world is finally waking up to the octogenarian British painter, whose large-scale works are now at David Zwirner's London gallery.
---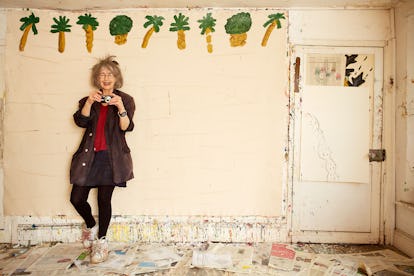 Joe McGorty
Over the last few years, and particularly in recent months, the home studio where the 83-year-old painter Rose Wylie has lived and worked for decades in Kent, England has undergone what amounts to a décor change. Usually stacked to the ceiling with piles of the large-scale canvases that Wylie works on unstretched, with her completed, almost billboard-like works leaning against the wall, it's lately been looking a bit spare. "They used to be here, but not anymore," she said at home on a recent morning, where she was contemplating a piece she'd been working on until 2 a.m. the night before. "They've been out."
That's because Wylie is having something of an art world moment in her eighties — a transition from "completely unknown to slightly known," as she put it — that's lately left her inventory depleted. Since Wylie appeared as the only non-American artist in the National Museum of Women in the Arts' "Women to Watch" exhibition in 2010, things have been ramping up for the painter: Just this year, her solo shows have popped up from Cardiff to Seoul, and were joined by another just last week at David Zwirner's London gallery, "Horse, Bird, Cat," whose titular work spans 18 feet wide. That size may present a challenge for many exhibition spaces, but fortunately, Zwirner's Upper Room gallery — which usually showcases artists outside of the gallery's usual roster, and whom it occasionally goes on to represent — had the room to spare.
"It's very pleasant; it's very nice to be included," Wylie said of her newfound success. "You don't expect it, you're not looking for it, you're just getting on with what you do, and then you get a bit of recognition."
While it may have taken the art world so long to catch up, Wylie has been sticking defiantly to the same large-format, figure-based paintings she's made her own since at least the 70's. After enrolling in the Folkestone and Dover School of Art at 17, she took a postgraduate course at Goldsmiths in London where she met the painter Roy Oxlade, whom she married and had children with almost as soon as they graduated. At that point, as Oxlade continued on with his art, "I didn't do any painting," Wylie recalled. "I became a proper mother and a proper wife."
Recent Works by the 83-Year-Old Painter Rose Wylie
Courtesy the artist and Union Gallery
Courtesy the artist and Union Gallery
"Horse, Bird, Cat," 2016, now on view at David Zwirner, London.

Courtesy the artist, Union Gallery, and David Zwirner, New York/London
Courtesy the artist and Union Gallery
"Late night drawing animals from memory," 2016, now on view at David Zwirner, London.

Courtesy the artist, Union Gallery, and David Zwirner, New York/London
"Pin-Up and Porn Queen," 2006.

Courtesy the artist and Union Gallery
"Sometimes people ask me if I'm sorry or if I resent it — I don't resent it, and I'm not sorry," she added matter-of-factly. "You're supposed to be just out of college when you're picked up, but I don't think that necessarily works very well. It doesn't help if you're older, but at the same time, you've had a lot of experience, and you've seen a lot and you've thought a lot. And then you come back to it. It seems to have worked out alright."
Indeed, once her children were a bit older, Wylie went back to school at the Royal College of Arts in the late 70's, at which point she "got completely, completely obsessed" with the art she could make in her newfound free time — an obsession that's persevered for decades since. "I can get up late, you see, so there's no reason for me to go to bed," Wylie said of the late night she'd pulled before we spoke, and the full day of work ahead aside from a break for soup in the afternoon.
After all, the large-format works that Wylie has long preferred take time. And as she's the first to admit, they also don't typically sell very well — though that has not been a huge concern for Wylie, given her outsize aspirations. "Museums are pretty big, often wonderfully designed with big walls," she said.
And while she believes that people have been "conditioned" against them, Wylie maintains that paintings spanning 12 feet fit in in small homes, too: She has no less than four hanging in her modestly sized studio, above the floor where she piles up her unstretched canvases alongside the wads and stacks of newspaper that "hang around" — both for spreading paint and wiping away the mess she creates when she forgoes brushes to spread it on with her hands.
The newspapers also serve as inspiration, to which Wylie takes an equally democratic approach, outside of admiring the figures of Philip Guston and so-called "silly paintings" of the Turner Prize winner Chris Ofili. Though she'll work from images in print, Wylie says she's "often on the internet," where she'll find photos like one of a late 70's Yves Saint Laurent model with "terrific legs," whom she paired with a stealth bomber plane, a volcano, and a pig in one of her works now up at Zwirner. Also in the show — and printed on the private viewing invitations, to Wylie's delight — is her cat named Pete, just one of several animals she's been working with lately, including a reindeer in her new series based on a snowy scene in Pedro Almodovar's new film, Julieta, responsible for much of her studio's current paint-tracked sprawl.
"It does look pretty messy, but it suits me," Wylie said. "It's an escape — you can just get into it and do what you really want to do. You don't have to clear up, you don't have to put things away."
"It's the opposite of a controlled life," Wylie continued. "The world is a bit grim, so I like dreams."