Rock On
The new crop of A-list offspring gunning for stardom don't need their parents' help—much.
---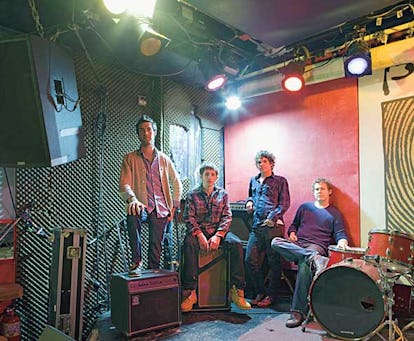 Fontana's, a dive bar on a trash-strewn stretch of New York's Chinatown, is just about the last place you'd expect to see Les Moonves ordering a Grey Goose on the rocks. But at 10 o'clock on a cold Wednesday night, the 58-year-old media bigwig who earned $36.8 million last year as the president and CEO of CBS is standing in a packed crowd of long-haired guys and vodka-and-soda–sipping girls, watching his son, Mike, a 20-year-old New York University student, play bass and sing backup in his band, Chief. "Telling you this will embarrass him," Les says, flashing his toothy smile. "But for his bar mitzvah, I gave him a guitar autographed by Carlos Santana. He appreciated it more than other 13-year-olds could," he adds proudly.
There's no shortage of celebrities' kids who have sought careers in the music industry. MTV's reality show Rock the Cradle spotlights the latest wannabes (the program pits the offspring of Kenny Loggins, Olivia Newton-John, Eddie Money and Bobby Brown against one another in a musical competition). Many "children of" have certainly become famous and successful in their own right—think Jakob Dylan (son of Bob), Rufus Wainwright (son of Loudon), Charlotte Gainsbourg (daughter of Serge and actress Jane Birkin) and, most recently, Lily Allen, daughter of British actor and musician Keith Allen. On the other hand, there are those whose musical dreams fell famously flat: Nicole Richie, Lisa Marie Presley, Kelly Osbourne, Bijou Phillips and Rashida Jones (daughter of Quincy) spring to mind. Right now, particularly in New York, there seems to be a flood of celeb-spawn musicians on the scene. Some are happy to work their connections, but others are so low-key about their pedigrees that you'd never have the faintest clue.
The four youthful band members of the Ellis Unit have more A-list connections than most. The 17-year-old lead singer and guitarist is Gus Wenner, son of Rolling Stone magazine cofounder Jann Wenner, and the lead guitarist is Jack Byrne, 18, son of Ellen Barkin and Gabriel Byrne. The band frequently practices in Jann's brownstone on the Upper West Side. On a recent evening, Wenner, Byrne, bassist David Cutler, 20, and drummer Reuben Fuller-Bennett, 20, have the house to themselves while the media mogul is skiing in Sun Valley, Idaho. Toys belonging to Wenner's one-year-old half brother, Noah, litter the hallway leading up to their rehearsal room, which is padded with sound-absorbing foam. A portrait of Bob Dylan hangs in the corner.
Sean Douglas with dad Michael Keaton at the 2003 Golden Globes.
Dylan is an obvious influence on the band's bluesy, classic rock–inflected sound, but the legendary musician is more than a distant patron saint. Wenner and Dylan have jammed together, and an acoustic guitar stowed in Wenner's bedroom bears his autograph. ("Gus—don't forget to tune it," reads the Sharpie-etched scrawl.) Wenner, who attended concerts as a toddler and grew up with icons at his dinner table, is the first to admit he didn't have an average childhood. "It's forced me to be in a world of music constantly," he says.
Like that of many high schoolers, Wenner's hand is scribbled with blue ink notes to himself, but in his case they include a reminder to call back Lyor Cohen, chairman and CEO of Warner Music Group. "He's a friend of my mom's," he says with a shrug. "He likes our music, I think." Soon to matriculate at Brown University, Wenner interned last summer at his dad's magazine. "We've never been covered in the magazine, and I don't know really how we would be," Wenner says. "I don't think it's a bridge we need to cross."
The topic of nepotism clearly irks his bandmate Byrne, who shares his father's piercing blue eyes. "If somebody's not able to get past that layer of bulls—t that's so unimportant, then it's not worth my time anyway," says the high school senior, who plans to study ethnomusicology at Bard College next year. "I generally keep my parents out of the things I'm doing. Though," he admits, "there's definitely stuff we've gotten because of Gus's folks." Such "stuff" includes gigs arranged by Ron Delsener, a famed talent booker. The band has also performed in the Hamptons (Uma Thurman was in the audience) and at the 48Straight festival in Sun Valley.
"I tell them all the time, your lineage may open a door or two for you, but once you get in the room, it doesn't matter," says Jeff Peretz, a guitar teacher who has taught both Wenner and Byrne. Over the past several years, Peretz, 40, has gained a reputation as the rock tutor to Manhattan's next-generation elite, having also taught Michael J. Fox's kids and Samantha and Mark Ronson. On his current client roster are Julianne Moore's 10-year-old son, Cal Freundlich (his band's name is Call Me 212), and Miles Robbins, the 16-year-old son of Susan Sarandon and Tim Robbins, who plays in the Tangents.
Sarandon, who tries to attend all of her son's gigs, talks about the junior rock scene the way other moms talk about soccer leagues. "All the mothers are really close," she says brightly, as she waves goodbye to friends after a Tangents performance at the Bowery Poetry Club. She manages to look glamorous even in her mom-ish ensemble of a button-down white shirt and jeans, a delicate pendant around her throat. "I think it's a great outlet," she adds.
Robbins is the band's lead singer, and he writes most of their lyrics, which have a slightly angsty, fretful tone ("Drawn to the stage through iron bars/That sear into your eyes like inner-city scars"). Says Robbins, who has a handsome baby face and his father's snub nose, "I've always felt like I was in this unspoken weird division, whether it was getting to skip the line at Disneyland or going to a new school where it was hard not to be known as my parents' kid." When it comes to his music, however, he believes his outsider perspective is inspiring. "That kind of edge really helps me in terms of writing."
The way most of these musicians see it, it would be unrealistic not to accept a little help from their connections now and then. After Chief's gig at Fontana's, for example, Mike Moonves caught a late flight to L.A. to work on the score for an independent film, a job he got via a family friend. But of course, there's nothing like achieving success independently. Zachary Waldman, the talent buyer at Lower East Side music venue Pianos, says he booked Moonves's band there a few times this year based on talent alone. The same goes for a monthlong residency last year that he gave the Hatch, a band fronted by Michael Keaton's 25-year-old son, Sean Douglas (Keaton's real last name is Douglas). "Their connections didn't have anything to do with the booking. I didn't even know about either until after," Waldman says.
Gus Wenner with dad Jann Wenner (at right) and his partner, Matt Nye, at the 19th annual Rock and Roll Hall of Fame Induction Ceremony in 2004.
Sitting in an apartment that the Hatch's members share in the Brooklyn neighborhood of Bushwick, Douglas comes across like any other struggling musician. The barely furnished pad is not typical of Hollywood gentry: The bandmates sleep in lofts; curtains provide a modicum of privacy. "It's a creaky affair," Douglas says with a laugh. On a recent tour, he explains, the band "couch-surfed" at friends of friends' places.
The only hint of Douglas's connection to celebrity is an image ripped out from a tabloid magazine that adorns the ancient fridge. A photo shows him and his dad at this year's Sundance Film Festival. Douglas, as it turns out, cowrote the music for The Merry Gentleman, an independent film his father directed, and a song by the Hatch is on the soundtrack. After the film's festival premiere, the band performed at the release party.
Still, Douglas has deliberately kept a low profile. Last November the Hatch appeared on The Next Great American Band, an American Idol–style reality-TV show on Fox. Before filming, Douglas says, he explained to producers that "I wanted to keep the thing about my dad—not, like, hide it, but that I didn't want them to make specific mention of it because I thought it would be distracting." Perhaps he paid for such discretion. The band was voted off the show by its third episode.
Click to hear music by The Hatch, The Tangents, Chief, and The Ellis Unit.
Keaton and Douglas: Matt Baron/BEImages; Barkin and Foster: Berliner Studio/BEImages; Wenners and Nye: Kevin Mazur/WireImage