Exclusive Music Video Premiere: Young Paris Remixes "Best of Me" With Tiwa Savage and Lemonade Cinematographer Cinemadona
"It's really about showcasing the beauty of Africa," musician Young Paris says of his new remixed video with Nigerian superstar Tiwa Savage.
---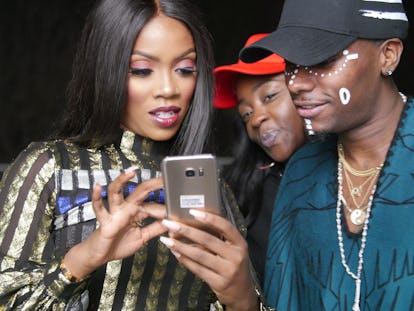 Young Paris, the Paris-born, New York-raised Congolese musician, was just re-watching a cut of his latest video, "Best of Me," when we connected over the phone in recently to, as it happened, discuss the very video, which premieres exclusively on W a week after it was released on Tidal.
"I think the video really captured the ambiance we were going for," he said. The video, which accompanies the fourth track off his recent EP, Afrobeats, is the second iteration of "Best of Me"; Young Paris, born Milandou Badila, had previously released a version of the track and video featuring Ben Bronfman, but the remix stars the Nigerian musician Tiwa Savage—who has been likened to that nation's Beyoncé.
"I was really channeling it from a man's perspective," he said of the original. Savage's lines lend a woman's voice. "In the video, it's fly, it's cool, but this woman is this selfish girl that becomes the bad guy in the video but doesn't have anything to say," Paris went on. "Tiwa became the voice of that girl."
Both Savage and Paris are signed to Jay Z's label Roc Nation, which also has an office in Nigeria. When Savage discovered Paris's work online and expressed interest in working with him, their label connected them. "I loved the way the beat made me feel. It makes you just want to dance," Savage wrote of "Best of Me" in an email. It turned out, the fandom was mutual—when Savage first stepped on to set during the shoot, Paris was stunned.
"She has this regal kind of ambiance about her," he said. "She came out—I was like, 'Oh, shit.' Being a fan of her work and then seeing her on set, that was definitely a highlight. I was like, 'Oh, this is happening.'"
In the video, Paris and Savage hold court over a Beverly Hills club filled with well-heeled partiers facing off on the dance floor. Filmed at a mansion high up in Hollywood Hills, and directed by the New Orleans-based filmmaker Cinemadona, who also worked as a cinematographer on Beyoncé's Lemonade and has collaborated with Fetty Wap and Solange, "Best of Me" is abstract and atmospheric, intended to capture the ambiance of an old-school rap video while emphasizing the most beautiful elements of the culture emerging from the Congo and continental Africa at large, Paris explained.
Savage echoed this, writing that she hoped to channel "the African swag" in her verse—"I wanted to express the feeling and energy of our culture," she wrote.
It's a theme that has occupied much of Paris's work, from his earlier electronic material to Afrobeats—an effort to underline how young musicians with roots in continental Africa have taken traditional rhythms and musical patterns and translated them to genres like hip-hop, R&B, and pop.
"You can understand it, because it feels like hip-hop," he explained, "but you know it's going to another place." With roots in the U.S., France, and Congo, Paris's work has bridged the cultural—and, at times, linguistic—divide. (He's currently working on some Francophone material, though he most often writes in English.) Similarly, Savage, who has lived in the U.S. and U.K. in addition to Nigeria, described herself as influenced by R&B and soul sounds—though it all comes back to her Nigerian heritage.
Paris, who is signed to Next Models, also creative-directed the video; he spent the period leading up to the shoot jetting around Los Angeles with his stylist, visiting showrooms and selecting looks. He ended up clad in Marcelo Burlon, along with his trademark maquillage—an homage to traditional Congolese face paint—of course. For Paris, the aesthetic is tantamount; he also runs the Instagram account @melaninmonday, which he uses to highlight beautiful people of color like Zendaya, Tracee Ellis Ross, Childish Gambino, and Issa Rae, as well as other models and creatives.
"I have these hidden socially conscious messages—it's usually mostly in my music," he said. "It's really about showcasing the beauty of Africa."
Watch Paris Hilton break down her 13 favorite 2000s trends: