Young Thug, Also Known as Jeffery, Steals the Show at VFiles Spring 2017
The rapper took his mentor role to heart, bringing his blunt along to make some mid-show adjustments on the runway.
---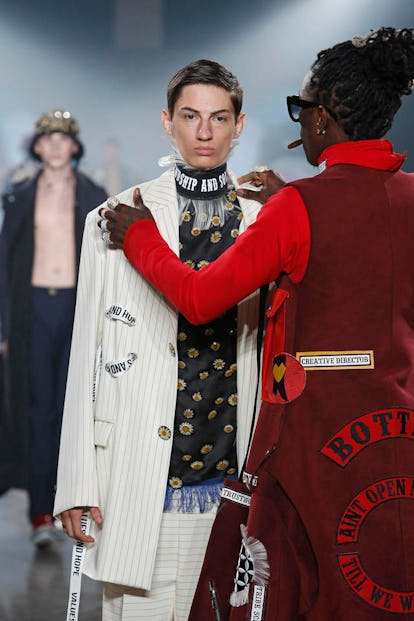 © Dan & Corina Lecca
New York Fashion Week had its usual kick-off with VFiles' designer showcase on Wednesday night, and while the show always plays by its own rules, this time, the crew seemed to be taking a nod from Kanye West. Issues with security at Spring Studios meant up to five lines for even those with credentials before showgoers could finally reach the space, which smelled instantly of marijuana.
The scent might have been a group effort, but it was most likely courtesy of Young Thug, who now goes by Jeffery and was openly smoking throughout the show. He was one of the mentors on this year's judging panel, alongside Naomi Campbell, Pat McGrath, Rihanna's stylist Mel Ottenberg, and Fear of God designer Jerry Lorenzo.
Unlike more subdued front-rowers like Teyana Taylor and her husband, Cleveland Cavaliers player Iman Shumpert, who looked a world away from their "Fade" video in a discreet turtleneck and hat and bolted as soon as the show wrapped up, Jeffery was looking to make his presence known. He was wearing a floor-length red coat by Rushemy Botter peppered with patches reading phrases like "Creative Director," and he seemed to take that role very seriously, even stopping a model during that same designer's presentation to fix his collar before retaking his spot in the front row, where he stood up taking iPad photos.
"It was very nice and dedicated to me, I feel," the rapper said of being on the panel backstage, where he'd headed to congratulate Alessandro Trincone, the Italian designer behind his much beloved album cover art, and introduce him to his fiancée, Jerrika Karlae. As for what he looked for? "Only the best," he said, before being swallowed into the cloud of admirers that consisted of practically the entire backstage personnel and half-undressed models, some literally pleading for selfies.
As opposed to Kanye's uniform Spanx parade, the night's clothes – and music – definitively had variety. The runway kicked off with the two synchronized swimmers that went viral in Rio, who made way for a Brooklyn metal band called Unlocking the Truth that full-on shredded while Waffle NYC dancers in Mountain Dew wearable tech uniforms did flips and hat tricks for the crowd , a bit à la Showtime. The acts that followed – Ground Zero, Rushemy Botter, Sanchez-Kane, Song Seoyoon, and Trincone – made a similar splash, starting with a towering Botter headdress that read "Enemy of Terrorism."
Backstage at VFiles Backstage Spring 2017
Barbara Sanchez-Kane of Sanchez-Kane favored bold slogans, too, most notably on the backs of pillows obscuring models' faces, a red hat reading "Make American Gay Again," and a vest emblazoned with "Documentado" across the back. Inspiration came from a move from Mexico to Los Angeles, where she found a much more accepting LGBT community and a "feminist activist" girlfriend she dedicated the collection to. "The name of the collection was going to be 'In Bed with a Feminist,' but I was like, too much. I have a new girlfriend now," she said with a laugh.
Trincone was also inspired by a trip, looking to five months he spent in Japan a year ago for a scholarship that in the end was "a bad experience that I do not like to talk about," he said. But he took nods from Japanese draping techniques and created a serene collection complete with stick, ribbon, and umbrella headdresses, and, of course, the baby-blue dress so beloved by Young Thug. Though Trincone was stunned when he first saw the cover art, the news now seems to be sinking in: "I'm still nervous," he said calmly after the crowd cleared out with Jeffery. "I'm tired. Very tired."