YouTube Wants an Oscar, So It's Releasing Susan Sarandon's Film Vulture Club
The timely film co-stars Edie Falco, Matt Bomer, and Lola Kirke.
---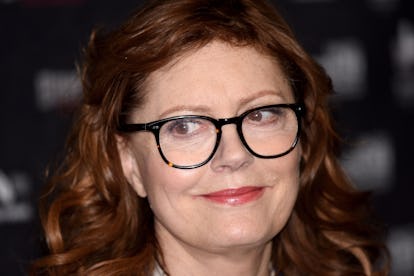 Dave J Hogan/Dave J Hogan/Getty Images
Now that streaming services have ascended into the heart of Oscars season, YouTube wants to make like Amazon and Netflix and get a statuette for itself. The company, owned by Google, is making moves to get an award, or at least a nomination, by purchasing Vulture Club, starring Susan Sarandon.
YouTube will be releasing the original film in theaters, as its first step toward a place at the Academy Awards, Variety notes. The Maryam Keshavarz–directed film will open in theaters this year, before hitting YouTube's Red subscription service.
The project, which co-stars Edie Falco, Matt Bomer, and Lola Kirke, is a prescient story that examines the relationship between the government and the press. "This emotional drama grapples with relevant issues journalists around the world face today," Susanne Daniels, YouTube's global head of original content, told Variety. "Maryam Keshavarz lends her powerful perspective as an Iranian-American filmmaker, and Susan Sarandon's moving performance immediately drew us into this compelling film."
It centers around a mother's mission to help her war-reporter son, who is abducted by a terrorist group. After turning to the government for aid, which ultimately fails her, Sarandon's character, an ER nurse, takes matters into her own hands with help from other journalists. "Vulture Club follows the singular journey of a woman abandoned by her government who finds community in the most unexpected places," Keshavarz said in a statement. "It's an honor to work with Susan Sarandon, Edie Falco, and Matt Bomer, who are incredible talents, and an innovator like YouTube to tell this timely story."
The film's title hails from a real-life community of journalists who covered the 2011 Libyan civil war, as Indie Wire points out. "Over time, friendships forged amid conflict evolved into a worldwide network, providing lifelines of communication and safe houses around the globe," as one member, Peter Bouckaert wrote back in 2011, when reflecting on the death of his colleague, the Oscar-nominated documentarian Tim Hetherington. "The Vulture Club has its own code of honor. Rule No. 1 is that when one of us gets hurt, we put down our notebooks and cameras until we get our brother or sister out."