Y/Project's Glenn Martens Doesn't Care Much for Acclaim
On hearing he was short-listed for the coveted LVMH Prize while making his fall collection: "We didn't change a thing."
---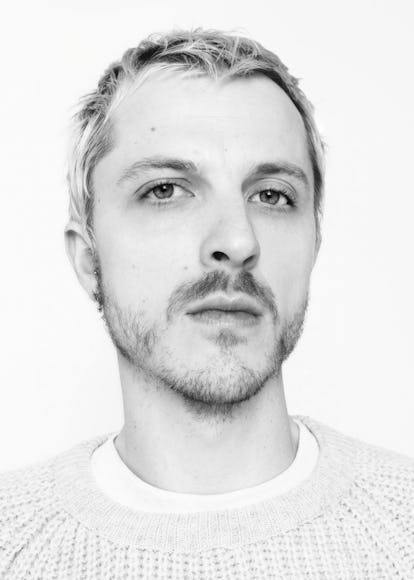 If there's one word to describe the French label Y/Project, it's "versatile": In just five years, the brand has gone from menswear-only to fifty percent unisex to holding its first-ever women's show at just this past Paris Fashion Week. That's a lot of phases for a label of any age, but for Y/Project, changing gears is almost part of its ethos. "The brand stands for freedom," creative director Glenn Martens said from Paris after his fall show. "We take any reference we want regardless from era or genre. It's a huge mix."
A 32-year-old Belgian graduate of Antwerp's storied Royal Academy of Arts, Martens took over Y/Project when its founder, Yohan Serfaty, died of cancer in 2013. He may have once been Serfaty's assistant – with tenures at Bruno Pieters and, briefly, his own label, in between – but by no means does Martens share Serfaty's creative vision.
So, after a transitional year that paid tribute to his predecessor's more Rick Owens-like designs, Martens made the brand his own – starting with proposing half of Y/Projects's designs as unisex. "We want the clothes to be free and adaptable for whomever wants to wear them," he said.
As for the other half, it's a split between men's and women's, which Martens designs as one overlapping collection with both following "the same guidelines, vibe and concept." In the past, Y/Project has shown during the men's collections, but this was the first season Martens took a slot during women's ready to wear.
"I need to give both their independent little moment," he explained. For fall, leather leotards and sheer dresses met rigid collars and centuries-old bishop sleeves, showcasing how Martens feels he can "go wilder" with womenswear. "For the guys pieces, you constantly need to reflect back to the actual men wearing it."
With ruched pink velvet, slim scarlet dresses, rose-embroidered scarves, and even short shorts, it was undoubtedly his most conventionally feminine collection yet, and it made waves at Paris Fashion Week in the calm before the Vetements storm. Though Martens is hardly keen on categorization, the impact of showing on the official women's calendar seems like it'll keep him coming back for more. "The feedback has been beyond my expectations," Martens said. "I hope we can find the energy to keep showing both."
Martens may get another pat on the back on Friday, when the finalists for the coveted LVMH Prize are announced. He's among those shortlisted, including young talents like Matthew Williams of Kanye West-favorite Alyx, Christelle Kocher of Koché, and Brandon Maxwell (the winner will be announced in June). The panel includes Marc Jacobs, Riccardo Tisci, and Karl Lagerfeld, and while the Y-stamped belts of his latest collection will no doubt appeal to logo-minded judges like the Kaiser, Martens insists the announcement didn't influence his designs. "It was already in the making when I heard we were shortlisted, and we didn't change a thing," he said.
Instead, his inspiration comes from some place much less commercial: "I'm the guy staring at you in the street," he said. "I'm constantly observing people, I dissect how they wear their clothes and how their clothes affect their attitude." The result, he admitted, is "quite eclectic, and at points a bit absurd."
For Martens, though, it's clear it all comes back to one thing: "It's all about this freedom," he said again.
Photos: Y/Project's Glenn Martens Doesn't Care Much for Acclaim
Glenn Martens, creative director of Y/Project. Photo by Arnaud Lajeunie.