Yuan Yuan Tan Loves Audrey Hepburn, Loathes Exaggeration
The ballerina shares a page from her personal stylebook.
---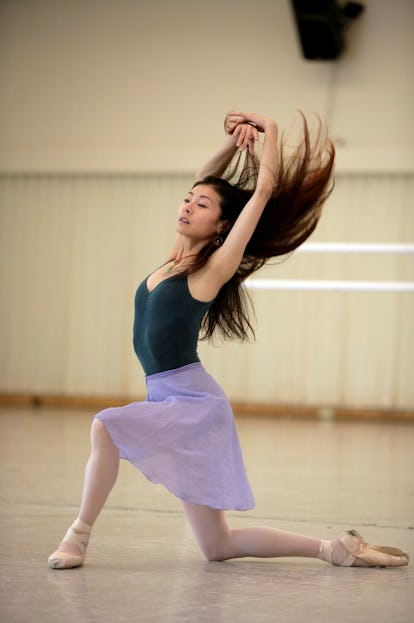 Considering that she spends most of her time in elaborate costumes and toe shoes as a dancer for the San Francisco Ballet, it's little surprise that Yuan Yuan Tan has her off-duty fashion code pared down to comfortable classics. Born in Shanghai where she trained at the Shanghai Dancing School, Tan joined the San Francisco Ballet as a soloist in 1995. Just two years later, at the age of 20, she got a promotion, becoming the youngest principal in the company's history at the time and the first Chinese dancer to reach that level.
For two weeks beginning October 16th, as part of a San Francisco Ballet engagement at the David H. Koch Theater, she will be performing in Christopher Wheeldon's "Ghosts" and Edwaard Liang's "Symphonic Dances" and dancing the lead in Wheeldon's "Cinderella." Here Tan, who is also a brand ambassador for Rolex and Van Cleef & Arpels, shares her style secrets.
Define your style in three words: Elegant, chic, stylish .
Daily uniform: Always pants unless I have a special occasion to dress up for! I'm usually in tights and a leotard, so if I leave the ballet building during the day, I throw on pants and Tod's flats, never skirts unless I'm going out.
Greatest hits: A pair of Louis Vuitton above-the-knee boots and anything Blanc de Chine
Preferred footwear: Tod's flats for the daytime .
Finishing touches: Earrings, watches and rings—I'm never without my jade necklace and I tend to favor diamond jewelry.
Nighttime look: Heels, tight pants, and a chic top .
Best recent discovery: A red bag from Tod's .
Favorite stores: The Blanc de Chine stores in New York and Beijing, boutique shops on Union Street in San Francisco, Whole Foods.
Style pet peeve: Exaggerated style .
Style icons: Audrey Hepburn, Hong Kong actress Maggie Cheung .
Last purchase: I recently bought some Tod's sunglasses to replace a pair that I lost .
Lusting after: A tea-cup puppy; unfortunately, I can't have a pet right now because I don't have time to take care of it.
Favorite haunts: Sightglass coffee shop, R&G Lounge and Benu in San Francisco; Please Don't Tell (aka PDT) in New York.
Fall must-haves: A beautiful cashmere scarf, cool leather jackets in multiple colors.
How she unwinds: Massage, Chinese acupuncture.