Yuna Park, A Show of Hands
We are so saddened by the news that our friend and long-time W collaborator Yuna Park passed away over the weekend. The talented manicurist created memorable looks for countless W stories and top fashion shows, including Oscar de la Renta and L'Wren Scott, but it was her cheerful spirit that her friends most remember.
---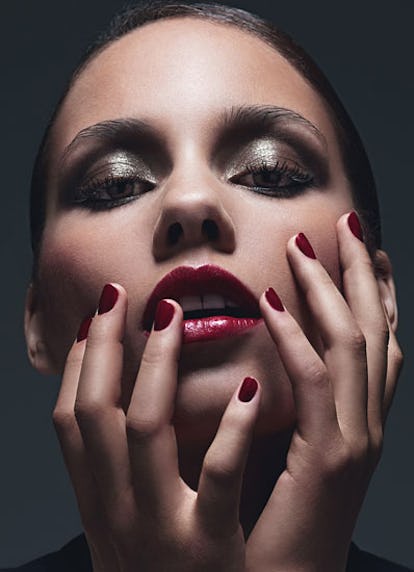 Photographer: Mario Sorrenti Stylist: Alex White
"Yuna was an incredibly positive and loving person," recalls long-time collaborator hairstylist Orlando Pita. "Besides being a talent, she was an amazing mom and wife. I had the pleasure of hosting her and her family for many weekends at our country home. I have many great memories, but I will miss her immensely. She was my true confidante."
"She was one of the most inspiring, strongest women I've ever met," says makeup artist Gucci Westman. "So many people love her, she will leave behind an enormous gap. We are all saying prayers for her beautiful family."
"Yuna Park was an incredible talent and her creativity and artistry have made her one of the most memorable leaders in the fields of beauty and fashion," says hair stylist Aaron de Mey. "Yuna was fluent in three languages and was loved and admired by her peers, colleagues and friends. Yuna's kindness, poise, elegance, grace, and gentle spirit will be deeply missed. Yuna was an outstanding wife, mother, daughter, sister, and friend. Her body of work as a manucurist is legendary. Most of all my thoughts and prayers go out to Husband Teddy and all her family and friends at this very difficult time. I will miss you always Yuna, my dear sweet friend."
"She was a joy to work with, " says W fashion and style director Edward Enninful. "She was always a bright presence and the entire fashion community is in shock and mourning her loss."
To see some of Yuna Park's work for W over the years click here.
Yuna Park, A Show of Hands
"Blue eye shadows scare people," admits Estée Lauder's creative makeup director, Tom Pecheux. His intention in introducing the Pure Color Five Color EyeShadow Palette in Blue Dahlia is to dust off the color's tarnished and tacky reputation. A warm teal and a slate-tinged navy are grouped with taupe, black and a colorless shimmer powder, allowing wearers to create looks that range from low-key to runway-worthy. "You can do a crazy fashionable blue, but you can also do a nude eye with a touch of blue," he explains. "It's meant to be playful." While Pecheux insists that "there is no recipe for how to use [the palette]," he does caution that "there is no way, even for me, to put those five colors on at the same time."

Photographer: Craig McDean Stylist: Alex White
Marc Jacobs's linen jacket. Fendi's stingray clutch with multicolored stones, Ippolita's 18k yellow gold ring and Pomellato's 18k rose gold ring (on right hand, from top), de Grisogono's 18k yellow gold rings (on left hand). Chanel Nail Colour in Pearl Drop; Cover Girl LipPerfection lipstick in Hot Passion.

Photographer: Daniele Duella & Iango Henzi
Dior Fine Jewelry's 18k yellow gold, lacquer, aquamarine, sapphire, and diamond ring.

Hair by Paul Hanlon at Julian Watson Agency; makeup by Mark Carrasquillo for Art + Commerce; manicure by Yuna Park at Streeters. Prop styling by Piers Hanmer for Art + Commerce; digital technician: Quint Jones. Photography assistants: Chris Ferretti, Huan Duong Nguyen, and Maruoka Teppei. Fashion assistants: Eileen Hayes and Katie Casamassimo.

Photographer: Craig McDean Stylist: Alex White
Alexander McQueen's silk top.

Beauty Note: A blend of Surf the Ocean's silver and Summer Stash's bronze eye shadows from MAC Crushed Metallic Pigment duos make for high-shine copper lids.

Photographer: Mario Sorrenti Stylist: Alex White
As Marlene Dietrich. Oscar de la Renta's silk tulle bolero; Yohji Yamamoto's Tencel dress with silk and cotton detail; Dolce & Gabbana's silk satin bodysuit. Erickson Beamon for Richard Nicoll earring, Cornelia James glove.

Beauty Note: Dolce & Gabbana Classic Cream Lipstick in Dazzling makes for statement lips that demand attention.

Photographer: Tim Walker Styled: Jacob K
Marni's rhinestone, cotton, and silk collar and rhinestone, cotton, and silk top. Selima headband.

Photographer: Mario Sorrenti Stylist: Edward Enninful
John Galliano's embroidered silk kimono with fox fur cuffs. Stephen Russell bracelet (worn as choker), Stephen Russell cuff (on right wrist), Stephen Russell bracelet (on left wrist), Harry Winston ring, John Galliano shoes.

Beauty Note: Precise brows call for Chanel Sculpting Eyebrow Pencil in Noir Cendré.

On man, standing: Dior Homme's wool suit. Dolce & Gabbana shoes. On man in lampshade reflection: Dolce & Gabbana's wool suit and cotton shirt. Ray-Ban sunglasses, Tom Ford tie.

Photographer: Steven Klein Stylist: Edward Enninful