Yutaka Sone: Jacket Required
A man after our own hearts, the artist marks his openings with a trip to Chanel.
---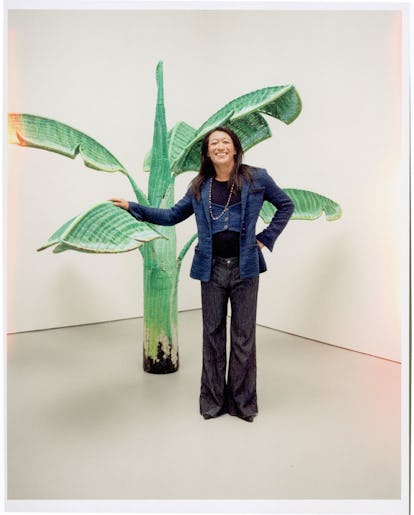 Photographer: Andreas Laszlo Konrath
This past october, the Japanese artist Yutaka Sone, who lives and works in Los Angeles, was in New York visiting one of his favorite haunts: the Chanel flagship store on 57th Street. That morning, he was the lone male shopper on the third floor, and likely the only man to come in all day—all month, probably—to pick up a little something for himself. Accompanying him was an employee of David Zwirner's, his powerhouse dealer, who was cheerfully attempting to keep any damage to the gallery corporate card to a limit.
"We're just looking," she stressed. "And shopping."
"Looking," he replied. "And shopping?"
"Well, more just looking," she said finally.
Sone does not follow fashion obsessively, but he is a connoisseur of Chanel. He bought his first piece, a pink bouclé jacket, in 2006, to wear to the opening of his exhibition at the Renaissance Society at the University of Chicago. Since then, he's gotten a new Chanel jacket to mark the opening of every major solo show—six or seven in all, he reckons. "Before show, every artist has princess moment," he explained in his heavily accented English, which is full of animated outbursts that are in contrast with the coolly precise marble sculptures for which he is best known.
The artist's Chanel idée fixe is, like his work, meticulously researched: He always seeks out a Chanel store in the city where an exhibition is opening—and only just as his work is being installed. Over time, the purchases become like rings encircling the tree of his creative life. "For me, Chanel jacket is like memory," said Sone, 48. "After you are 45, you never remember!" Peering into his closet is a bit like scanning his CV. That periwinkle jacket with navy and gold piping? It's from 2007, when Sone installed a wintry wonderland—giant crystal snowflakes and a white marble ski lift—in Zwirner's New York gallery.
"If I buy jacket in New York this year, it's out of loop," Sone said as he moved through the racks. At this, his blonde chaperone smiled with relief and explained that he was there only to do reconnaissance for his next purchase, to be made at the Chanel store on New Bond Street in London. (Sone's solo exhibition at Zwirner's gallery in Mayfair opened on November 27 and runs through January 25, 2014.) Zeroing in on a little black jacket—a staple he surprisingly does not yet own—Sone said, "I like color more. And I look for detail." He examined the buttons, which were embossed with tiny world maps, an extravagant detail that recalled the artist's marble cityscapes of Hong Kong and New York.
"But no!" he protested when that was brought to his attention. "I never use map, right?" To produce his first urban landscape in 1998 (pre–Google Earth), he walked the streets of Hong Kong and surveyed the skyline from a helicopter. The research took several years. His elegiac marble sculpture of Manhattan took even longer—a decade in all, counting a two-year -hiatus after September 11, 2001. The project became overwhelming and required the strength supplied by not one but two pilgrimages to Chanel. "I had a lot of pressure, so I need to go shopping before I finish," Sone confessed. "It's the only show I need two jackets."
He spotted a coat in black-and-gray plaid threaded with silver. "This one is beautiful," he said. It was a 42. "My size!" he exclaimed to a nearby shopgirl, who looked startled by this customer who—with his declamatory speech and long hair tied back in a ponytail—must have seemed to her like a Japanese Karl Lagerfeld. (Later, the shopgirl would say, "I don't personally have any male clients. But it's not odd—not completely.") Sone, who is married to the writer Min Nishihara (although he allows he is "a little bisexual"), is drawn to the idea of a Chanel jacket for the same reason he is drawn to New York: Both attract strong, modern women.
Sone's birthday is March 3, which in Japan is known as Girl's Day. "When I was born, my mother want me to be goddess," he said. "Still does!" Certainly, there is Arachne's touch in Sone's palm tree sculptures, which are woven from rattan. (There is an entire jungle of them in the London show.) And though his marble island metropolises (Venice, the latest, is also on view at Zwirner London) are marvels of scale architecture, at the base they assume the flowing lines of a skirt. "The top I cannot change," Sone said. "The bottom, yes." Not one to miss an opportunity for feminine flourish, he always arrives at his openings in full makeup, which he keeps in a Chanel Hello Kitty case, and Chanel heels. He does not carry a Chanel handbag—out of loyalty to Zwirner's wife, Monica, who designs the MZ Wallace line. "Even when I fight David, I never fight Monica," Sone explained.
He considered a white blouse with a bow at the neck. "I like pretty," he said. Before he became an artist, Sone was an architect, but the slick Peter Marino–designed Chanel store seemed to agitate him that day, perhaps because he knew he would not be walking out with a new jacket. Then he remembered there was an entire floor that wasn't off-limits. "Let's get shoes!" he exclaimed.
Photos: Yutaka Sone: Jacket Required
Yutaka Sone in a 2007 Chanel jacket, photographed with his piece Tropical Composition/Banana Tree No. 6, 2008–2010, at David Zwirner Gallery in New York.

Photographer: Andreas Laszlo Konrath
Sone's sculpture Little Manhattan, 2007–2009. Courtesy of the artist and David Zwirner, New York/ London.
Sone's sculpture Little Manhattan, 2007–2009. Courtesy of the artist and David Zwirner, New York/ London.