Yves, a Warm New Restaurant in the Heart of Tribeca, Opens Just in Time for Winter
Go inside restauranteur Matt Abramcyk's new hotspot.
---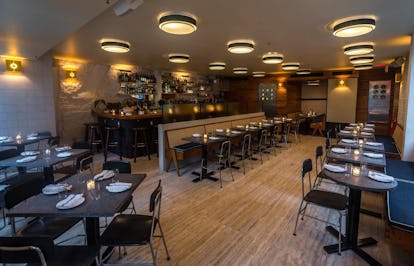 For restauranteur Matt Abramcyk, the most inspiring part about growing up in New York City was the nights he had out on the town. "Going out at night as a young person was the most exciting eye-opening experience; the people you would meet, the ambiance, the interactions, there was something so captivating and real about New York," explains Abramyck, 38, of what lured him into hospitality in 2004. It all started when he invested in cult cocktail bar Employees Only, which was followed by ventures like Smith and Mills, the Bunker Club, and the legendary Beatrice Inn he ran with Paul Sevigny. In 2012 he turned his attention to restaurants, and helmed successful haunts such as Warren 77, Tiny's, and Navy.
His latest venture is Yves, a New American eatery situated in a 260-year-old carriage house overlooking the water on the corner of a cobblestoned street in Tribeca. The restaurant, which opened this month, took five years to come together, and maintains most of its original features. "I never want to over manufacture, I prefer to leave the grit, leave the edge," he explains of the inviting, minimalist haunt, that he designed with his partners Akiva Elstein and Daniel Berg. Inspired by the simplicity of Corbusier and mid-century Danish designers, the trio worked to update the space while keeping its old school charm and warmth with textures and layers, such as travertine stone floors, white painted brick, and stone top tables. "We tried to make it feel refined and delicate."
In the kitchen you'll find Abramcyk's partner, Chef Daniel Berg, a Le Bernardin, Locanda Verde, and Daniel alum, whom he met through a mutual friend. "He understands the way New Yorkers like to eat; I hired and partnered with him without ever tasting a piece of food," Abramcyk praises of Berg, who puts new spins on classic dishes like the branzino, which he'll garnish with Japanese eggplant, harissa yogurt, apricot coulis, and mint. His personal favorite is the gem lettuce, quinoa, and avocado salad, which he'll follow with the braised chicken leg, a dish doused in pomme purée and mirepoix jus. Abramcyk hopes the joint's inventive, yet unfussy nature will guarantee its staying power. "It's not nuanced French cuisine you have once a month or for birthdays, but food you could easily eat twice a week," he explains of his goal to have Yves turn into a neighborhood spot. "We are building restaurants for the neighborhood, and for out-of-towners as well, so when people come to NYC they get a highlightable, real New York experience."
Basics 385 Greenwich Street, New York, NY 10013 yves-nyc.com. Phone: 212-431-3385. Monday – Friday: 8 a.m. to 12 a.m. Saturday – Sunday: 10 a.m. to 12 a.m.
Food Order the trumpet mushrooms for your main or share them as a side- they're tossed in a delicious truffle vinaigrette. Appetizers like the braised chicken meatballs start at $16, and mains like the mushrooms at $24. Wine starts at $12, cocktails at $14.
Tribes West Villagers, in-the-know out of towners, and Abramcyk's circle of art and fashion folk.
Music Expect a playlist from a bygone era, such as John Barry, Ennio Morricone, and 1960s French music.
Watch W's most popular videos here: