The Zabludowicz Collection Celebrates 20 Years
With a new exhibition that's anything but ordinary.
---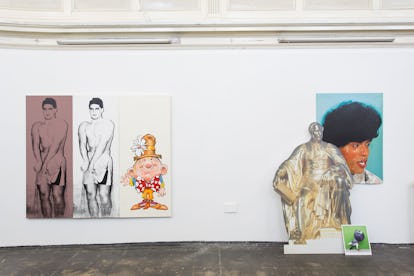 There are collectors who go deep into certain periods or mediums, say, conceptualism or sculpture. But power patrons Anita and Poju Zabludowicz have an altogether different aesthetic agenda: pure visual enjoyment. The exhibition put together by The Zubludowicz Collection director Elizabeth Neilson and curator Paul Luckraft to celebrate the art foundation's 20th anniversary, offers exactly that—and then some.
The younger UK artists that the Zabs (as they are affectionately known) have long supported bookend the show, installed in their headquarters, a former Methodist chapel in the North of London. Among them is a relatively new discovery, the poet-slash-video artist Heather Phillipson whose finger-clicking mix of dance music, London youth speak and pop visuals is one of the show's early highpoints, and the freshly minted art star, recent Turner Prize winner Elizabeth Price whose User Group Disco, where objects are sent spinning to thumping beats in a post-human world, provides the exhibition's thrilling end note.
The foundation's lofty back gallery is dedicated to a more established older generation. On view are works like a Damien Hirst Butterfly painting, mattress casts by Rachel Whiteread and one of Sarah Lucas's psycho-sexual creations with nylon tights and cans of processed ham.
"We're known for showing younger artists and it was important for us to include the emerging artists from the 1990s who are now household names too," Neilson explained. As such, the show is a reminder that collections evolve through the years. Anita and Poju were long-term supporters of Keith Tyson, Gillian Wearing (who dances madly in a grim South London shopping mall in her famed early video) and her husband Michael Landy, while work by other 1990s Brit Art stars came later.
Along what Neilson described as the Zabs' "partly intuitive journey" arrived works by international names, including pop sculptor Isa Genzken and newbies like LA-based Samara Golden whose red-lit, glittering grotto of digital images and distorting mirrors, gets a room of its own. And there are new commissions for the occasion as well, including one from Jim Lambie, whose work the Zabludowicz's have collected in depth for more than a decade. Lambie transformed the amphitheatre that overlooks the chapel into eye-popping rainbow seating, thanks to his signature use of strips of coloured vinyl tape painstakingly arranged in op art patterns.
At the celebratory dinner at the Zabludowicz's London home, Tate director Nicolas Serota toasted the collectors' generosity and enthusiasm before a crowd that included the many artists whose work was in the show or installed throughout the family house, from Tracey Emin to emerging stars like video artist Ed Atkins and sculptor Matthew Darbyshire. For Anita Zabludowicz herself, the keynote was very much that spirit of pleasure Neilson described. As guests ate desserts served on wooden artists' palettes, created by chef Moshe Segev who was flown in especially from Israel, she decreed that night owls should feel free to dance, and to use the swimming pool and sauna.
Photos: The Zabludowicz Collection Celebrates 20 Years
Installation view from Zabludowicz Collection: 20 Years. Photo by Tim Bowditch Zabludowicz Collection, 2015.
Installation view from Zabludowicz Collection: 20 Years. Photo by Tim Bowditch Zabludowicz Collection, 2015
Installation view from Zabludowicz Collection: 20 Years. Photo by Tim Bowditch Zabludowicz Collection, 2015
Installation view from Zabludowicz Collection: 20 Years. Photo by Tim Bowditch Zabludowicz Collection, 2015
Installation view from Zabludowicz Collection: 20 Years. Photo by Tim Bowditch Zabludowicz Collection, 2015
Installation view from Zabludowicz Collection: 20 Years. Photo by Tim Bowditch Zabludowicz Collection, 2015