She Was the Z: An Appreciation of Zaha Hadid
On the day of her death at 65, she is remembered as a larger than life pioneer of sublime architecture that defied logic, gravity, and function.
---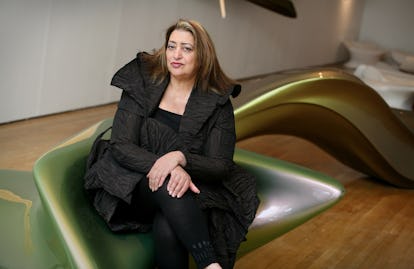 Z. At most Zaha. The way many of her friends referred to her conveyed the energy and the design signature both her buildings and she, herself, exemplified. Z's buildings slashed and snaked their way into our consciousness and out of the sites to which they did not wish to be confined. She was the ultimate maker of luscious and liberating form in our computer-enabled world. Dame Zaha Hadid, who died today at 65, rocked our world, cradled us in her shapes, and whipped us into recognizing a new kind of beauty.
It all started in 1982, when she won the competition for a residential club on Hong Kong's Peak. The paintings she produced to win that commission (it was never built) showed the whole mass of thrusting towers that make up the island city coming apart, mingling with the mountain that looms above these skyscrapers, and floating away into planes, barely tethered to what was left of the Peak. Her plan promised a free and exhilarating way of living. This was not design that solved a problem; it was architecture that defied logic, gravity, and function to offer us a completely new world.
For years, she continued to make paintings and drawings that amazed us with their dash and their dare until, building by building, she began to realize her visions — a fire station in southern Germany, an apartment building in Berlin, and a museum (the Contemporary Arts Center) in Cincinnati showed that she could seduce us out of the blocks and closed facades that keep us imprisoned in our daily life. They offered sharp prows, whiplash curves, and forms that seemed to balance in a way that were almost impossible.
More than that, Hadid's buildings broke down barriers between inside and outside, between different activities, and between people. For the outskirts of Leipzig, she designed a car factory that turned the logic of the assembly line into a building following the process of assembly, while also including the offices and canteen spaces in one movement. In Rome, she designed a museum where public space and galleries became one, and where you did not so march through the ages of art history as you were seduced along ever-rising platforms that somehow looped around to bring you back to where you had started. In London, she turned a school in a tough neighborhood into a celebration of community and the openness of learning.
Because the work was so strong and so startling, a myth arose that Hadid just built doodles or was making an expressive architecture. It was easy to forget —or critics chose to ignore—the fact that her designs were rigorous responses to sites and programs. That she chose not to make her buildings polite little objects, showing how mixing up what we did inside a building could bring us together, did not change their basic and brilliant integrity. Her buildings worked, and worked hard to do more than that. They sought to amaze and to build a more open community.
Then, of course, there was Zaha the person. The fact that she was not a shrinking violet offended those who wanted their architects to be polite, servile, and preferably white and male. An Iraqi woman making her way in British society and in the male-dominated world of architecture, she had to struggle most of her life for her chance to prove how good her buildings could be. She did that through hard work, by making an impression, and by driving everybody around her as hard as she did herself.
The first time I met her, in 1988 I was taken aback for a moment by her harsh tone and the demands she made on her colleagues, until I saw those words turn in the next moment into coaxing and coaching that made her then-small staff absolutely devoted to her. She did the same to me: Her rejoinder to a comment I made as her guest on a review of her students' work at Columbia University was: "Oh shut up, that's so stupid." When I pushed back and engaged her in conversation, the discussion turned delightful and fantastically productive.
From then on, Z would push, cajole, and tease me into making more sense. She was the first to criticize me when I got something wrong, and the first to support and congratulate me when I got it right or got a new appointment. Her best wishes when my new position as Dean of the Frank Lloyd Wright School of Architecture at Taliesin was announced arrived within five minutes of the news being made public. She saw me marry my husband Peter at our wedding in Rotterdam.
I will miss Zaha as a friend, a mentor, and a critic, but I will miss her even more for how she changed the world of architecture. She made me—and all who came into contact with her work—recognize that we did not have to accept the strictures society put on us, but could move out beyond those constraints through and in architecture. For that freedom, and the style with which she drew it out of us, out of the city, out of herself, I will remember her with love and gratitude.
Watch W's most popular videos here:
Zaha Hadid's Most Iconic Buildings
Messner Mountain Museum Corones in Italy. Photo by Inexhibit.
Heyday Aliyev Center in Baku, Azerbaijan. Photo by Hufton Crow.
Serpentine Sackler Gallery in London. Photo Luke Hayes.
Pierresvives building in France.
Jockey Club Innovation Tower at Hong Kong Polytechnic University. Photo by Doublespace.
London Aquatics Centre. Photo by Hufton+Crow.
Contemporary Arts Center in Cincinnati. Photo Roland Halbe.
Dongdaemun Design Plaza in Seoul. Photo Virgile Simon Bertrand.
Vitra Fire Station in Weil am Rhein, Germany. Photo by Christian Richters.
Guangzhou Opera House in Guangzhou, Hong Kong. Photo by Virgile Simon Bertrand.
Galaxy Soho in Beijing, China. Photo by Hufton + Crow.
Phaeno Science Centre in Wolfsburg, Germany. Photo by Werner Huthmacher.
MAXXI Museum of XXI Century Art in Rome, Italy. Photo by Iwan Baan.
Zaha Hadid. Portrait by Mary McCartney.