Zanele Muholi's Photographs Celebrate Radical, Queer, Black Beauty
The South African artist's work, which explores marginalized communities in their country, will be displayed at the Tate Modern in London after lockdown restrictions lift.
---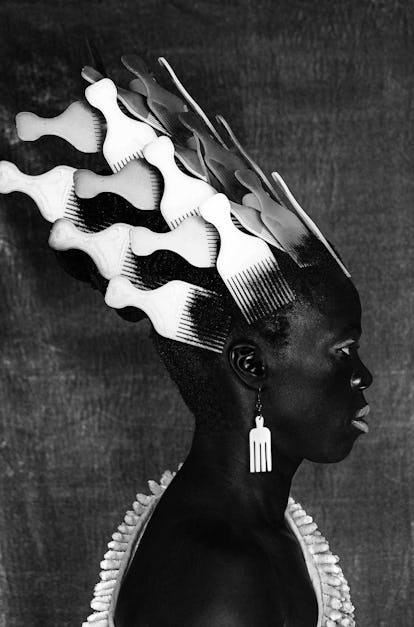 Qiniso, The Sails, Durban, 2019. By Zanele Muholi, courtesy of the Artist and Stevenson, Cape Town/Johannesburg and Yancey Richardson, New York.
In a video that accompanies Zanele Muholi's upcoming exhibition at London's Tate Modern, the South African photographer plainly states their artistic approach: "In my world, every human is beautiful." Muholi, whose comprehensive, mid-career survey will open at the Tate when Britain's current lockdown restrictions lift, identifies as a visual activist, rather than an artist. But Muholi, who has spent the previous two decades creating and tracing a visual history of South Africa's LGBTQI+ population, is also an archivist. Since the early 2000s, their portraits (and self portraits) have captured the beauty, creativity and intimacy of a community facing tremendous persecution and abuse — and who Muholi feared may otherwise be written out of history. Muholi continues in the video, describing the political power of imaging and memory: "It's about…documenting the realities of people who deserve to be heard, who deserve to be seen, and who are often excluded as part of the canon."
Born in 1972 and raised in Umlazi, a township on South Africa's eastern coast, Muholi had a childhood shaped by the racial brutality of Apartheid — a white supremacist regime that systematically oppressed and displaced South Africa's non white population for half a century. Muholi was an adolescent when Apartheid absolved and South Africa's constitution was rewritten in 1996, with the intention of ushering a new era of equality. Even though South Africa's constitution was the first in the world to outlaw discrimination based on sexual orientation, as a young queer person, Muholi was constantly reminded that the violent realities of gay life in South Africa did not align with this utopic vision of the future. Homophobia, queerphobia and transphobia remained rampant, and in South Africa, Black lesbians and transgender men are among the most at risk, and are often victims of heinous hate crimes, like "corrective" rape, abduction and murder. Drawing inspiration from the work of the American photographer Nan Goldin, whose early photographs documented queer culture and the HIV epidemic through intimate portraits of her family and friends, Muholi embarked on a mission to commemorate the battles and triumphs of her community with pictures.
The collections of images to be displayed at the Tate, including Only Half the Picture, which illustrates moments of same sex intimacy and tenderness, while addressing past physical trauma; and Faces and Phases, which seeks to empower Black lesbians, queer and transgender people through the art of portraiture, are not only about the pain and abuse the Black LGBTQIA+ in South Africa has suffered, but also about this community's joy, creativity and humanity. The connection that Muholi has with their participants (which they are eager to distinguish from the word "subject," which implies a distanced gaze) translates to the viewer, who, in looking at these images, is immediately welcomed into a space of understanding and empathy. Muholi also often highlights the voices of the participants in their shows, books and events. Co-curator Sarah Allen says this is also the case in the Tate survey: "We were keen for this exhibition to act as a platform for Muholi and their participants to speak for themselves."
The unforgettable works in Somnyama Ngonyama: Hail the Dark Lioness are a divine ode to Black women past and present, in Africa and beyond. In this series of black and white self portraits, Muholi becomes the participant, encouraging viewers to question what they were taught to find beautiful, and why. Often adorning themselves with different domestic materials as a tribute to their mother, who was a domestic worker for a white family (and resultantly absent from Muholi's childhood), Muholi alludes to the broader history of colonization and enslavement. Muholi also uses symbolically loaded poses and props which both summon and challenge visual stereotypes of African women and oppressive white beauty standards. By drawing on familiar aesthetic tropes, like fashion magazine covers and advertisements, Muholi dismantles the Western narrative by replacing the typically white bodies and faces that fill these frames with depictions of radical, queer, Black beauty. The Somnyama Ngonyama series is ongoing, and the Tate plans to add Muholi's most recent works, made during the Covid-19 pandemic, in a slideshow. "They are making new self-portraits to continually process and protest the current moment."
Although the exhibition was scheduled for an April opening, and again delayed by the second wave of lockdowns in London, the urgency, relevance and power of Muholi's work has only compounded during the Tate's closure. The political agenda of the 260 photographs on display—which critique centuries of anti-Black sentiment, oppression and erasure—echoes the rallying cry of the Black Lives Matter movement and the racial justice reckoning it has inspired worldwide. "Muholi's work takes on an enormous importance within the context of Black Lives Matter because of its potential to educate audiences and promote mutual understanding," said Allen. Each piece makes a clear visual statement: not only that Black queer lives matter but also that Black queer lives are nuanced, cherished and deserve to be celebrated.