Zani Gugelmann's New Jewelry Collection is Affordable for the People Who Have Everything
A follow-up to her first jewelry collection, 'Alma,' which translates to Soul in Spanish, is part of the growing jewelry self-purchase phenomenon, the New York socialite said.
---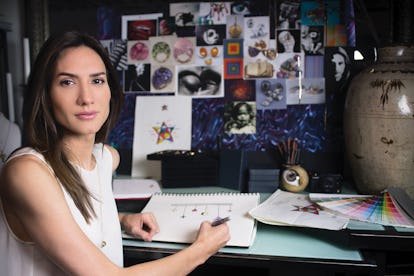 Zani Gugelmann first kicked off her jewelry line Santo, which translates to Saint in Spanish, in 2008 with what she jokingly described as her "recession collection" of silver bullet necklaces. They represented "the simple answer to a complicated problem," the idea being that wearers could unscrew the top of the pendant and put a scroll inside with handwritten notes to themselves. Brooke Shields was among Gugelmann's first clients, as were "people that I have met in recent social encounters," she recalled. Six years later, Gugelmann created another collection, 'Alma' (Soul in Spanish), that features ball pendants that unfold into varying forms like crosses, stars and the star of David. Her pieces, all made in New York and retailing between $3,500 and $15,000, have connected with customers because they're part of the growing self-purchase phenomenon, Gugelmann said, adding,"I think it is affordable to the people who do have everything because they appreciate it."
What is your history with jewelry? My junior year at Bowdoin College, I went to Argentina and took a semester off to focus on my art. I like to work with things that are small and concise. So I decided to take jewelry classes in college. I found a teacher called Cecelia Bauer (she still teaches) and I worked in a jewelry store in Greenwich three times a week. She taught me how to make jewelry until I realized how expensive it was so I thought I would just keep it as a hobby. Flash forward to moving to New York, and after a brief stint in public relations then in magazines, I realized I needed to work for myself. I wanted to make earrings and jewelry. So I went to Peru, found artisans to help me, and I got some press on the line, but that was the beginning and end of my first jewelry collection in 2002, which I stopped a few years later in 2006. Then about two years ago I popped back into in 2014 when I started doing research for the 'Alma' collection.
Is there a void in the marketplace you're trying to fill? At first I created this product because I wanted to do it. Now that I have made it, I see the void because of how people have responded to it. I think what was missing in the marketplace are things that are complex, that are really well made. A lot of things now are cast and not handmade like my pieces are.
What is your inspiration behind the collection? I love Victorian jewelry and it all started with a piece that I had and I wanted to remake it. I realized that no one had done it because it was so hard to make. And then I realized the sort of workmanship, surprise, and wonder that would go into it. And that's what keeps happening.
What are the materials of the collection? Fourteen-karat or 18-karat gold, all different stones, and ceramic. Ceramic. It doesn't scratch like enamel so I use all ceramic in my pieces. My favorite stone is a sapphire because it comes in every single color you can imagine, even white.
How did you discover your production? At first I was turned away and I went through three jewelers who didn't do it properly and with this design you can't be one millimeter off. So, then I finally found my guy who works for another big jewelry house during the day and for me at night and in his spare time.
What does Santo mean? Santo means saint in Spanish. The collection which I just produced is Alma which means soul, and you can open up these pendants and then you show your soul. If you want to engrave, you engrave; if you want to put stones in, you put stones in.
What's next? There are rings in the making that have the same element of surprise.
Do you have a most popular piece? The mini crosses, they sell to men too! Also the flower because it's non religious.
Who are creating this line for? I am creating this line for someone who has pretty much everything and they want something different. People that really appreciate workmanship and craftsmanship, they're pieces of art and are truly beautifully made.
Would you consider your line part of the ever expanding self-purchase market? Yes, actually most of my clients are buying them for themselves. Men and women alike because they love jewelry. And I think it is affordable to the people who do have everything because they appreciate it.
'Tis the Season…to Break Out Colorful Jewels for the Holiday
Photo: Matthew Priestley, styled by Caroline Grosso. Produced by Biel Parklee. Hair by Blake Erik at Jed Root Inc, makeup by Joshua Ristaino for TheOnly.Agency. Digital Technician: Evan Browning. Fashion Assistant: Alexandra Pastore.
Gucci, GucciGhost Sterling Silver Rainbow Pendant, $180, barneys.com
All Aboard! The Holiday Shopping Train Is Leaving the Station