With a Versus Collaboration in the Works, Zayn Malik Is Donatella Versace's New Muse
Plus, more Burches enter the family business and Yves Saint Laurent has his biggest (posthumous) season yet.
---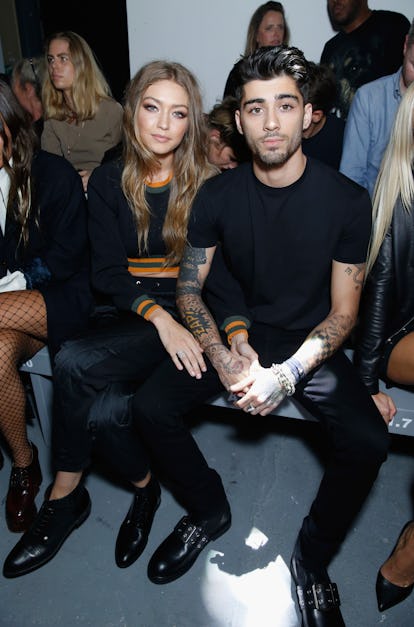 WireImage
Balenciaga, Cristobal The subject of a new exhibition at the Victoria & Albert Museum, opening May 2017 (and, as Demna Gvasalia plays with the Spanish house's aesthetic, serving as a reminder of Balenciaga's origins).
Beatty, Warren Breaking his relative media silence with an in-depth profile in Vanity Fair — with an assist from his two young stars, Lily Collins and Alden Ehrenreich.
Castellar, Natalia Mansur Gavriel model of the dramatic eyebrows.
Chloe, Neely & The latest Burch girls to enter the family business. Tory's nieces Chloe and Neely have launched their own dainty, minimalist accessories line. Because nepotism?
Diller, Barry Media mogul, formerly of 20th Century Fox, now of IAC, with some opinions on Trump, Clinton, and those rumored, notorious Apprentice tapes.
Dundas, Peter After 19 months as creative director of Roberto Cavalli, Dundas is departing the Florentine brand. Though, as an alum of the label, he had been sought out to turn Cavalli's fortunes around, after three Dundas collections, Cavalli is still far from the next Gucci-esque success story.
Malik, Zayn Former One Direction-er, current boyfriend of Gigi Hadid, future fashion superpower: Malik is teaming up with Donatella Versace to design a capsule collection for Versus Versace, slated for release May 2017.
Saint Laurent, Yves Really making a comeback this season. (Though, as Hedi Slimane would argue, did he ever really go away?) Anthony Vaccarello showed an Yves-heavy Spring 2017 collection at Saint Laurent, and now the couturier is getting a new retrospective at the Seattle Art Museum, complete with paper dolls.
Witt, Emily At age 30, writer Emily Witt went through a breakup. Her new book Future Sex, a hybrid of reportage, memoir, and essays, followed.