Deadpool 2 Will Make Zazie Beetz Famous, But Her Instagram Is Still Very Real
The 'Deadpool 2' and Atlanta star is always transparent and authentic on social media.
---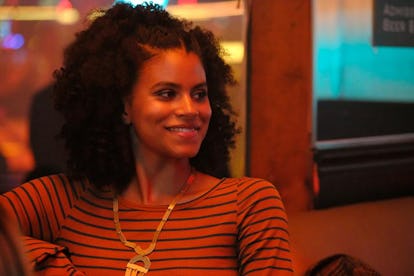 Guy D'Alema/FX
In Deadpool 2, Zazie Beetz plays a mercenary with mutant powers, but in real life the actress is actually very down-to-earth.
As girlfriend and mother on Easy and Atlanta, Beetz has caught audience's eyes by actually imbuing what could have been throwaway roles with compassion and depth. Now, in her first turn as a Marvel Comics superhero who goes by the name of Domino in Deadpool 2, Beetz has solidified her presence as a fantastically wise-cracking scene-stealer worthy of a starring role.
Once rising stars sign a Marvel movie contract (although technically Deadpool is a Fox studios franchise at the moment), there is undeniably no turning back to living a normal life without comic book super-fans following their every move. It's hard to not see Chris Evans as Captain America, or Tom Holland as Peter Parker. Beetz is preparing herself for the same future treatment. The 26-year-old actress has remarked on Instagram (in quite lengthy captions) at the ways in which her life will change now that she has become an official fixture in the Marvel cinematic universe, but the authenticity that Beetz brings to her screen roles will likely remain part of the way she represents herself on social media.
From outlining how red carpet preparation actually works to being a shining example of an honest citizen of New York, it remains clear on Beetz's Instagram that she never shies away from being transparent about the film industry. Plus, any woman who makes and shares her own kombucha and body butter recipes like Beetz does is someone who will always keep it real, no matter what levels of fame she experiences in her future.
Long before her role in Deadpool 2 was announced, Beetz shared a selfie of herself with her Atlanta cast mates Brian Tyree Henry and Lakeith Stanfield in some intense face makeup similar to the kind worn by her Deadpool character in January 2016, and looking back, it would appear that "Domino" was there all along. The actress is signed on for three more films with Fox, and they are not necessarily Deadpool sequels, so hopefully we'll get to see a Domino spin-off in the near future because we could always use more Zazie Beetz in our lives.
Related: Brad Pitt's Split Second Deadpool 2 Cameo: How to Not Miss the Surprise Guests in the Movie