Zendaya Made A Secret Quarantine Movie Called Malcolm & Marie
Zendaya starred in, produced, and financed a film from Euphoria creator Sam Levinson—entirely during the coronavirus pandemic.
---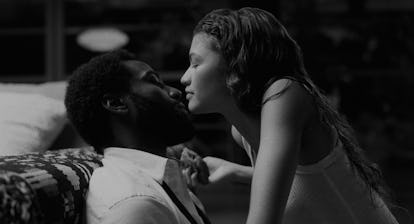 Image courtesy of @Zendaya.
Just a few months ago, when most people began to self isolate and quarantine because of the coronavirus pandemic, the question of how various industries would handle the uncertainty was all anyone could talk about. What would Hollywood creatives do with all of their free time now that sets were no longer safe for film and television shoots?
Well, if you were Zendaya, there was an obvious answer to those questions: call up your good friend, Euphoria creator Sam Levinson, and ask him if he had any projects he could get started on to produce entirely during lockdown.
According to an exclusive report in Deadline, it all started when production on Euphoria shut down on March 16. Zendaya called Levinson and asked if it would be possible to write and direct a film during quarantine, and six days later he had finished Malcolm & Marie, the film in which Zendaya would take the lead alongside BlackKklansman and Tenet star John David Washington.
Zendaya produced and financed the film as well, with Levinson and his wife Ashley Levinson, Kevin Turen, and Washington throwing some cash at the project too per Deadline. (Kid Cudi also serves as an investor and executive producer on the project.) Considering the lengths the cast and crew went to protect themselves and remain safe during a COVID-19 pandemic, Malcolm & Marie wasn't cheap.
The film was shot entirely on location from June 17 to July 2 at Feldman Architecture's Caterpillar House, a private property comprised of 33 acres and a modern glass house in Monterey County, California. The house and land allowed for the production team, crew, and cast to adhere to all safety protocols and guidelines from WGA, DGA and SAG-AFTRA.
For the first two weeks, everyone in the cast and crew was required to wear a mask and isolate themselves in individual HVAC units and were not allowed to leave the property. They were allowed to rehearse six feet apart in parking lots, and only ate meals prepared by a chef who had also been quarantining with them. Separate pods on the property were designated for production teams to quarantine themselves during the shoot, and another pod in Carmel was designated for administrative team members.
After quarantine, no more than 12 people were allowed on set, everyone was responsible for their own mics and costumes, and temperature checks were conducted every morning and night. COVID-19 tests were administered before quarantine and after it ended.
With all of those safety protocols in place, and considering the public's fascination with Zendaya's personal life in general (in addition to just about any celebrity who has been traveling during the coronavirus pandemic), it's amazing that no paparazzi or tabloids caught wind that the actress was filming a secret movie with Washington in Big Little Lies territory. And the plot of Malcolm & Marie is still pretty under wraps, but there are a few clues hinting at what the film could be about.
According to the Deadline report, it might have a little bit in common with Marriage Story. According to Jeremy O. Harris, who worked as a co-producer on Euphoria, it could be a period piece. "Excited for the world to meet @Zendaya the 60s film star. And JDW, a modern Brando," he tweeted in support of the film. And it makes sense that the film might take place in the 1960s, especially considering the architectural style of the home it was shot in, and the costumes visible on the characters in the still of the film that Zendaya tweeted once the news about Malcolm & Marie broke.
Many studios have aimed to be the first to release a film during the pandemic. The teams behind a handful of blockbuster films—Christopher Nolan's Tenet and Disney's Mulan—are still insistent on screening in theaters this summer, even after they were forced to push their release dates due to coronavirus concerns. Technically, though, Malcolm & Marie is the first film to be produced entirely during the pandemic. Where it will screen, however, still remains to be seen.