Malcolm & Marie Trailer: Here Comes the Zendaya Oscar Buzz
Let the Oscar buzz begin.
---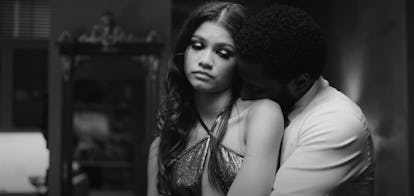 via Netflix
Fresh off pulling one of 2020's biggest upsets at the Emmy Awards, could Zendaya find herself crashing the Oscar race for Best Actress, too? In the first trailer for her upcoming Netflix film Malcom & Marie, the 24-year-old actress crackles with star power, which practically emanates from the YouTube window. The project, which finds Zendaya co-starring alongside John David Washington and was written and directed by Euphoria creator Sam Levinson, was shot entirely during the pandemic, and is scheduled for a February 5th release.
Washington's Malcolm is a hot-shot young filmmaker whose latest film is tipped to be both a financial and critical success, though after returning from the film's glitzy premiere, the night's focus turns to the fractures in his relationship with girlfriend Marie, played by Zendaya. Necessitated by strict Covid-19 safety protocols, the entire film was shot at one location, Washington and Zendaya are the only actors listed on the film's IMDB page, and it seems like the film's storyline may be contained to a single night. Though, the film's small scale doesn't mean it won't have big impact. Necessity is the mother of invention, after all.
Film buffs may also pick up on some homages to John Cassavetes's 1968 film Faces, pegged by many as the project that gave birth to American independent cinema. That film, too, focused on the breakdown of a film producer's marriage over a single night. Though, while the relationship at the center of the Cassavetes film had long since devolved, Malcolm and Marie clearly still have more than enough passion left in theirs. Still, in the trailer, it appears unaddressed issues in the relationship question whether it can be sustained.
"I feel like once you know someone's there for you and once you know they love you, you never actually think of them again," says Zendaya's character in the clip. "It's not until you're about to lose someone that you finally pay attention."
Awards season prognosticators had already accounted for the possibility of nominations for the film even before anyone had actually seen it, but the Twitter buzz for both Zendaya and Washington's performance is still going strong about one hour after the trailer was released on Friday.
Netflix has a strong slate of Oscar contenders already, including Ma Rainey's Black Bottom, A Life Ahead, Mank, Pieces of a Woman, and The Trial of the Chicago 7, but outbid rivals like HBO for this project. It seems like money well spent.