It Was a Big Week For This Tom Ford Breastplate
Zendaya wore a custom-molded version that required a 3D body scan.
---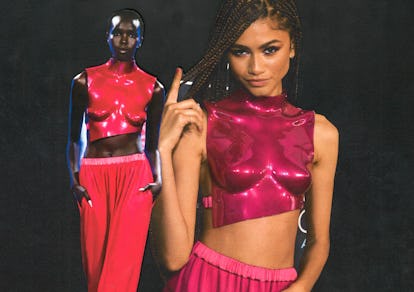 At the Critics' Choice Awards last night, Zendaya, who was nominated for her role in the HBO series Euphoria, went full monochrome Tom Ford with a rigid fuschia chromed breastplate secured with satin straps and a floor-length jersey skirt. She finished off the look with matching pointed-toe Christian Louboutin d'Orsay pumps and a swipe of dark pink eyeshadow.
The sleek, midriff-baring outfit turned heads not just because it stood out against an otherwise voluminous red carpet lineup—Saorsie Ronan, Olivia Wilde, Cynthia Erivo, Awkwafina and Anne Hathaway all continued to ride the statement sleeve wave that started at the Golden Globes earlier this month—but also because Gwyneth Paltrow was styled in an almost identical piece on the February cover of Harper's Bazaar, which was released a few days earlier.
While, according to a Tom Ford rep, Paltrow wore the runway sample for the Bazaar shoot, Zendaya's stylist, the "Image Architect" Law Roach, told me that after an early fitting, the singer and actress put in a custom request. "We actually tried it a while ago, and Zendaya said that she wanted it to be, in her words, 'her boobs and no one else's,'" Roach said. "That one was molded and made specifically for Zendaya."
But what does it take to have a rigid piece material custom molded to your body?
"She had to do a 3D scan of her body, so a technician came out with Tom Ford's team and they did a whole scan, it was a very technical process," Roach said. It took a few weeks to receive the customized mold, after which they did another fitting, and Ford's design team cut the asymmetrical angle across the midsection.
Roach said he was immediately drawn to the look after seeing it on the Spring/Summer 2020 runway. He was inspired by references to vintage Saint Laurent, Paco Rabanne, and Issey Miyake, who designed a molded metallic breastplate first worn by Grace Jones in the 1980s.
"For me, my whole reason for wanting to be in fashion is because of Grace Jones," Roach said. "I'm just so captivated by her. That's what made me want to use the piece: anything I can do that is reminiscent of something Grace has done, I'm all for it."
On Instagram, Paltrow commented on a photo of Zendaya in the look, writing, "Thank God I can say I have something in common with Zendaya." (The writer Ira Madison responded to Paltrow's comment to point out that it's not the only connecting thread between them. They were also both in Spider Man.)
Roach said seeing it on Paltrow was a surprise, but that he wasn't bothered by it. "Editorial and celebrity are two totally different things. As long as no one wore it on the red carpet, it's a different world for us," he said, referring to the two predominant realms of professional styling. "It's like apples and oranges."