WHOA!: Zenyatta
How a filly blew past the boys to rack up an unprecedented winning streak.
---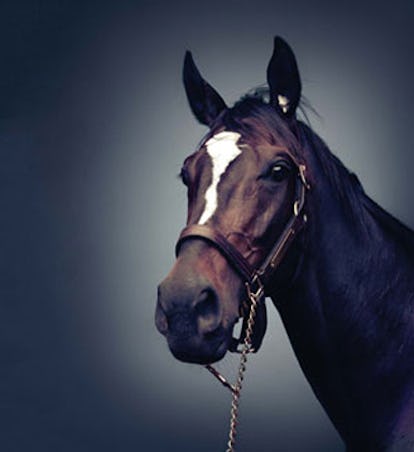 She is being proclaimed the greatest female racehorse of all time. But Zenyatta, with her towering presence, prima donna–like swagger, and patented "dance" before each race, transcends the Thoroughbred as we know it. She runs like no mare has run before, with sweeping moves and gargantuan strides; and she throws her ears up at the end of a race, as if to flaunt her effortless victory. But most of all, Zenyatta has been a rare study in perfection: By winning her first 18 starts, she has gone undefeated longer than any major horse in America in the past century. And if, on November 6, she can close out her amazing career with a second straight victory in the $5 million Breeders' Cup Classic, at Churchill Downs in Louisville, Kentucky, she will cement her place in the pantheon of greats.
No female had ever won the Breeders' Cup Classic, the richest race in North America, in its 25-year history. But in 2009 Zenyatta electrified the crowd at California's Santa Anita Park with her from-last-to-first-place dash against an all-male international field. The victory prompted Bill Casner, co-owner of the 2010 Kentucky Derby winner Super Saver, to say: "What I saw today I've never seen a horse do in my life. We witnessed history."
Zenyatta's impact transcends the race­track. She has inspired poems, videos, and even an eponymous hit country-western song. Through sales of her memorabilia she has contributed large sums to college-scholarship funds and equine retirement organizations. Wherever she runs, posters of all shapes and sizes form a kaleidoscope of color in the grandstand.
The phenomenon is difficult to explain. Perhaps it is her ability to take on nearly human traits, evoking childhood memories of such seminal equine figures as the Black Stallion, Black Beauty, and Misty of Chincoteague. Terry Wallace, the announcer at Arkansas's Oaklawn Park, recalls the day that his girlfriend, who at the time was undergoing cancer treatment, got to pet Zenyatta and have her photo taken with the mare. "That photo is her prized possession," Wallace says. "She is so proud to have it hanging in our living room. I don't think she ever imagined the day when she could actually touch Zenyatta."