The History Boy
Zhang Xiaogang's masterly paintings inspired by life under Mao have made him one of China's hottest exports.
---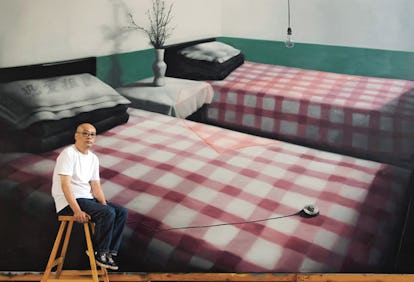 One afternoon in Amsterdam 16 years ago, Zhang Xiaogang came out of the Van Gogh Museum and had to sit down: He was so depressed that he thought he might collapse. For three months the Chinese artist, then 34, had wandered the museums of northern Europe, seeing for the first time the actual canvases he'd spent much of his life studying in books. Ever since 1979, his second year of art school—when China's opening to the West first exposed him to painters like van Gogh, Picasso and Magritte—Zhang had looked to Europe for a way around the staid socialist realism favored by his teachers. In the decade after leaving school, despite finding it hard to show his work in a climate that still preferred party-line art, he had slowly begun to make a name for himself as a painter of startling, melancholy dreamscapes, an artist who shunned explicitly Chinese subjects in favor of surrealist, Expressionist explorations of his own mind.
That afternoon at the Van Gogh Museum, however, he had an epiphany. "I realized, I have no connection to these artists," he remembers today,sitting in the enormous Beijing studio that he moved into last year. "And suddenly I felt very hopeless." He returned home and didn't paint for a year.
That Zhang is now a leading figure in the recent explosion of Chinese art onto the international scene—and the subject of a solo show at PaceWildenstein gallery in New York, beginning October 31—is a direct result of that crisis in Amsterdam. "I saw then that I had to return to my own living environment and find my own source," says the artist, a bespectacled 50-year-old with a shaved head and a cerebral manner. In mimicking European painters, he had overlooked the one subject that provoked his deepest feelings: living through the confused ecstasy of China in the Sixties and Seventies and then seeing that past buried during the new age of China's reform and economic boom.
The particulars of Zhang's childhood in Cultural Revolution–era Chengdu, in central China, sound shocking to foreign ears, but his trials were fairly standard for a person of his generation: the years without schooling, the parents shipped off to re-education camps, the Red Guard factions fighting in the streets. Because almost no one was spared, Chinese looking back on that time don't often dwell on tales of individual suffering. Making art about the period would demand a way of integrating private experience with collective memory.
His first attempt to "face our history," as he puts it, was "Tiananmen Square," a 1993 series of paintings presenting a shrunken, pastel-colored Gate of Heavenly Peace—where Mao led major rallies and where his huge portrait still hangs—dwarfed by a foreground of the square's richly textured pavement. He'd taken on one of Communist China's ultimate symbols, one that was just as central to the fervor of the Sixties as it became to the protesters of 1989, but Zhang still didn't feel he'd cracked the problem of how to capture Chinese history.
Then later that year, while visiting his parents, he came across an old photograph of his mother and father posing stiffly with him and his two olderbrothers. Such studio portraits had been extremely popular in China in the Fifties and Sixties, and the shot of the Zhang family was typically imprinted with ideology: The artist's father wore a Mao jacket and, though he was a party official, a workman's cap. Here was the quintessential image of life under Mao, offering unimagined possibilities to a figurative painter. "It's as if you pushed open a door and suddenly found yourself in a garden," he says.
Thus began "Bloodlines," a series of grave, disquieting canvases—"false portraits," Zhang once called them—showing wet-eyed parents and children gazing blankly out of gray-toned backgrounds. Red lines run in and around the figures, and occasionally a blemish appears, like the wearing away of paper in a photo album. The portraits, which can be as large as eight and a half feet in width, don't depict any one particular family, Zhang says, least of all his own. He never paints from photographs or live models, and his fictional families often consist of multiple versions of the same pensive face.
With its complicated, subtle melding of nostalgia and grief, "Bloodlines" gained Zhang immediate notice: inclusion in the 1995 Venice Biennale, a 1997 solo exhibition at Beijing's Central Academy of Fine Arts, and two shows at Max Protetch gallery in New York, in 2000 and 2005. Last year he was scooped up by PaceWildenstein, the first blue-chip New York gallery to open a branch in China. A solo Zhang show is now being planned at Pace Beijing for 2009. His work has also taken a sudden leap in auction value. In 2006 a "Bloodlines" portrait fetched $979,200; this year Sotheby's sold another for $6 million.
In keeping with his new prominence, Zhang moved from Chengdu to Beijing in 1999. But other than the size of his studio—which fills a converted motorcycle-helmet factory—he seems little affected by his success. "The first time I heard that my art sold for so much, it really scared me," he says, laughing. As in Chengdu, his studio is decorated with pictures of his daughter, now 14. (Divorced from the girl's mother for almost 10 years, he remarried in 2007.)
Zhang's current exhibition, at PaceWildenstein's West 25th Street location, is called "Revision"—a loaded word in the China of the artist's youth, where being branded a "revisionist," someone who distorted Marxist fundamentals, could mean one's ruin. In this context, the word takes on an alternative meaning. "These are all new works," Zhang explains, "and they're completely different from the stuff that everybody's known me for." He's showing sculpture for the first time, including babies based on photos of himself and his daughter as infants, and his new paintings are almost devoid of human figures. One shows a pair of twin beds, a ragged lightbulb illuminating a pillow embroidered with a political slogan. Another depicts a gigantic dam, an image that, he says, "in the Chinese consciousness of the Fifties and Sixties was considered to be the most beautiful landscape."
Arne Glimcher, chairman of PaceWildenstein, says the new pieces are a natural outgrowth of, rather than a departure from, Zhang's earlier work. "I think he's continuing to rebuild the past," Glimcher says. "But what strikes me the most is that they are without irony. There's almost no Western figurative art dealing with subjects like he does that is not ironic."
As an artist so steeped in historical feeling, Zhang now finds himself in an odd position. Westerners, who represent the majority of those collecting his work, are the least able to feel the full depth of meaning in it. "The source from which I draw my inspiration for these pieces is very difficult for Westerners," he says. "Misreading is unavoidable."
Some mistakes are simple: People assume the dam in his recent painting must be the controversial Three Gorges Dam, but, says Zhang, it is just a generalized, imagined dam, not any one in particular; critics invoke China's one-child policy in discussing "Bloodlines," though the policy came well after the period that series portrays. But there's also a quieter, deeper divide between Western and Chinese perceptions. The Westerner looks at a rendering of Tiananmen Square and thinks it's "about" the 1989 massacre, says Zhang. The Chinese viewer has a "more complicated emotion," driven by the square's association with multiple events, including hopeful rallies from the early Mao era, hysterical Red Guard meetings and the mass demonstrations of grief after the death of Premier Zhou Enlai.
Still, Zhang says, Westerners, like Chinese observers of European works, access foreign art mainly through aesthetic feeling, not historical thought. "We never lived in America or Europe, but pieces by their artists are emotional for us," he says.
Riitta Valorinta, director of Finland's Sara Hildén Art Museum, which last year became the first European museum to hold a major show of Zhang's work, agrees that pinning down every historical reference isn't essential. She points to the mastery of detail in the artist's lightbulbs, his loudspeakers, his beds. "It is not necessary to understand everything," she says. "What we see is enough."
And, Zhang notes, the difference between China and the West is diminishing anyway. When he travels to New York for the opening of his show, it will be his third trip to the city. On his first visit, in 1996, he wandered around, marveling at all the galleries and artists. But when he came again last year, he wasn't as excited by what he saw. "I had changed, and China had changed," he says. "Now China's more and more like America."