Zoë Kravitz Wants To Go Back To Filming The Batman, But Her Catsuit Might Get in the Way
If movie sets are to re-open any time soon, how safe is it for the cast and crew to constantly be so close to one another?
---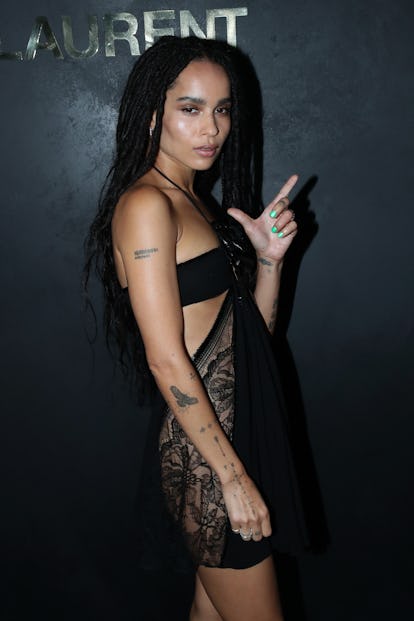 Bertrand Rindoff Petroff/Getty Images
While some studios implement plans to reopen movie sets and start filming safely during the coronavirus pandemic, not everyone is on board.
According to a report from Variety, the plan to restart production is going to get pretty pricey, especially if crews are to film safely and remain in accordance with social distancing guidelines. Workdays might be shortened, but that means an entire project would end up taking more days to complete, thus costing producers more money. Some filmmakers are ready to shoulder the increased production costs, others remain reticent.
And some actors, like Zoë Kravitz, are getting antsy about returning to work.
She may be "hoping to wake up every day to an email or a phone call saying, 'We're ready to go,'" but reopening the set for The Batman in London, where some of the cast are currently quarantined, still gives her pause.
The actress will be the franchise's next Catwoman, which means she has to don a skintight catsuit just about every time she's on screen. And it's not exactly the type of outfit one can just wiggle into by oneself. "You have people just touching your face, touching your body all day long," she told Variety. "I need help getting into the catsuit. I can't do it on my own. I was probably touched more than any job, just because of the clothes and the combat and all of that."
Kravitz is not the only one who raised the concern of being touched by a handful of people every day on set. Just about any actor would have to sit through hair and makeup for a scene, not only the ones who have to go through excessive amounts of glam for a superhero movie. Plus, the crew members generally exist within close quarters of one another, too. An anonymous filmmaker told Variety, "A movie can't work with masks and social distancing—everyone is all over each other all the time. To not face that, either you're in denial or you're ignorant, or you're pretending to not know so the company isn't liable."
"I'm in touch with everybody, and everyone's ready to go when it's safe," Kravitz told the publication, before adding "we have no idea" when it's going to be okay to return to work. Assuming she's been in touch with her co-star, Robert Pattinson, lately, she probably knows that he, too, needs the schedule of the Batman work day to get himself back on track.
Related: Zoë Kravitz Was Welcomed Into the Catwoman Sisterhood by Halley Berry and Michelle Pfeiffer