Is Zoë Kravitz's Catwoman Going to Get a Costume Upgrade in The Batman?
A new teaser for The Batman revealed Catwoman wearing a lo-fi catsuit consisting of a torn ski mask and a leather jacket.
---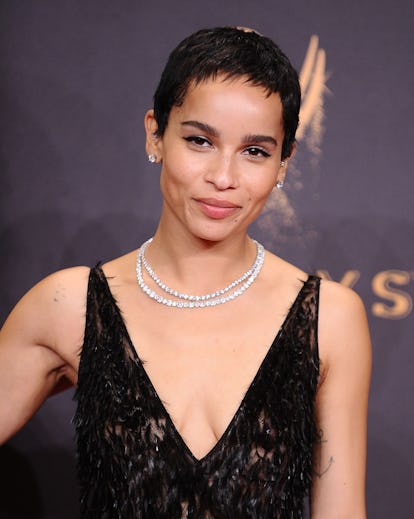 Jason LaVeris
Over the weekend, the unthinkable happened: a teaser trailer for The Batman was allegedly leaked. Of course, the only response from Warner Bros. was to just go ahead and release the whole official thing as part of the virtual DC FanDome, which luckily for Robert Pattinson and Zoë Kravitz stans allowed them to rejoice and breathe a sigh of relief.
This iteration of the caped crusader comes from the mind of Matt Reeves, and has been characterized as exceptionally gritty (but then again, isn't pretty much every Batman, with the exception of Tim Burton's vision and William Dozier's campy 1960s TV show supposed to be gritty?). Just in case you couldn't tell that Pattinson's Batman is going to be a little bit more emo than all the rest, the trailer was set to the tune of Nirvana's "Something in the Way" and near the end, after removing his mask, he reveals some smudged eyeliner on his face.
But the real talking point to concern yourself with in this trailer is the introduction of Kravitz's Catwoman. She says no words, but we do get to see her in what appears to be a makeshift cat burglar outfit and DIY mask. A torn ski mask is kind of a disappointing look, especially when you consider all of the sleek and chic versions of Catwoman that came before her.
But she will likely get a costume upgrade at some point in the film—or at least that appears to be the case according to some images of Kravitz as the iconic antiheroine. She won't look as drab as the trailer makes her seem forever. Back in March, Kravitz praised the film's costume designer Jacqueline Durran and called the costume "an evolution." And before the film's production in the United Kingtom was paused due to coronavirus concerns, a rendering of Selina Kyle's catsuit was circulated via Twitter, revealing the to-be-expected pointed ears and some red goggles as part of the look.
There was also a captured clip of Catwoman and Batman riding on motorcycles that was shared, so at least we know she will be well-equipped with a leather look for some key scenes in the film.
Related: Zoë Kravitz Was Welcomed Into the Catwoman Sisterhood by Halley Berry and Michelle Pfeiffer