Like Mother Like Daughter
Zoe Kravitz and Lisa Bonet share their respective thoughts on closet plundering and Kravitz's childhood fashion.
---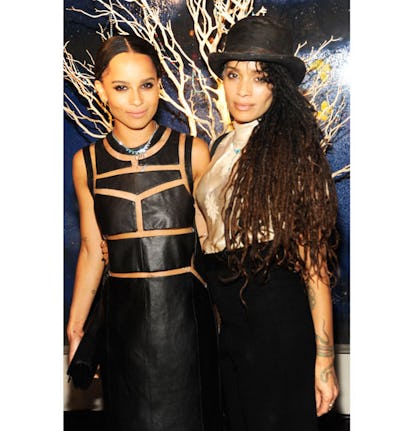 You would be hard-pressed to find a more stylish mother-daughter duo than Zoe Kravitz and Lisa Bonet. Or a cooler one. Thursday evening, the two arrived in tandem at the Gramercy Terrace for a dinner celebrating the new capsule jewelry collection Zoe Kravitz for Swarovski Crystallized, Kravitz's first design venture. But while both women exude an easy, warm demeanor, their recollections of events past and present don't always align. Here, their respective thoughts on closet plundering and Kravitz's childhood fashion.
On the jewelry collection: Kravitz: I wanted to make pieces that you could mix with your own jewelry, things like what you might find at a flea market—special and trinket-y. I was inspired by places I want to visit and that feel vibrant to me, like Morocco and India. And also Native American jewelry. Bonet: I don't think I could have visualized what she did but when I see it, it makes perfect sense. She remains pretty well adorned, but there's never a sense of trying. And I think that's true with this jewelry when you wear it. It will look beautiful, but like you're not trying too hard. I think there's a warmth and a soul there and I look at and it feels familiar.
On Kravitz's childhood style: Kravitz: I remember when I was a kid I would throw tantrums if I wasn't wearing what I wanted to wear. But I think dress-up was always my favorite game to play. I would dress up like an elf or like a princess. I was always playing dress-up when I left the house and I think I still kind of do that. And now I'm dressing up like an Alexander Wang model. Bonet: When she was younger I could put her, of course, in whatever I wanted to and then there was a certain point of rebellion. Personally, I don't remember her rebelling THAT much against my more whimsical and all vintage choices. [I dressed her] like the Little Rascals.
On Kravitz stealing from Bonet's closet: Kravitz: All the time. More now than I did when I was younger. Because I feel like now we really understand each other's style. Now she gives me awesome pieces from the 80s that she doesn't wear anymore and I'm like, Score! She'll give me an old tattered dress and be like, 'You can wear it once, wear it well, dance in it until it falls apart.' Bonet: When she comes to Los Angeles, because we live in different parts of the world, it's very easy for her to go into my closet and borrow whatever she wants.
On Bonet stealing from Kravitz's closet: Kravitz: I don't think that happens very often. She has her thing and she's set. Bonet: When I'm here if I need something, for sure. We have very similar tastes, so we've walked out of stores with the same thing, for sure.
Click here to see more photos.
Photos: Sherly Rabbani & Josephine Solimene