Zoë Kravitz Starts a Conversation About Hulu's Lack of Diversity
Hulu's cancelation of High Fidelity has sparked a conversation about the platform's lack of series with women of color in lead roles.
---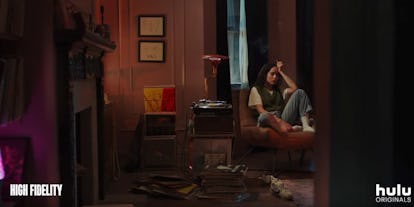 It probably takes a lot to get someone as cool as Zoë Kravitz to lose her cool. But in the wake of Hulu's cancellation of her new series, High Fidelity, Kravitz was not happy—and neither were her fans.
High Fidelity had all of the trappings of a modern, easy-to-binge rom-com—a great lead actress, a fun soundtrack, vintage clothes, a Scottish heartthrob, a high popularity score amongst critics and fans alike—but the platform decided it was time for it to end, before it could go any further than just one season. It was also a rarity in that it starred a Black woman in the leading role. This was not lost on Kravitz, who received support from friends and fans when she shared a tribute to the series on Instagram.
"It's cool. Hulu has a ton of other shows starring women of color we can watch," Kravitz wrote in response to Instagram condolences from Tessa Thompson regarding High Fidelity's cancellation. "Oh wait."
How many other currently running or renewed Hulu original series include women of color in lead roles? There aren't too many, but there are Pen15, Dollface and Shrill. And even shows like Devs, Mrs. America, Four Weddings and a Funeral, or Little Fires Everywhere were limited series produced with the intention of running for just one season anyway.
Ordinarily, if this sort of cancellation were to happen on a more traditional television network, and the audience responded with such disappointment, there might be a push to get the show to move to either another, similar network or take it to a streaming platform instead. But since the series was already on Hulu, a streaming platform, where else could it possibly go if fans wanted someone to bring it back?
There's an example in Tuca & Bertie, an acclaimed animated series with lead characters voiced by Tiffany Haddish and Ali Wong that ran on Netflix for one season before it was canceled. Enough fans rallied to save it, and now it's been snatched up by Cartoon Network's Adult Swim. So, maybe there's still a chance that High Fidelity could come back—and hopefully it's a bigger chance than just nine percent.
Related: Zoë Kravitz Was Welcomed Into the Catwoman Sisterhood by Halley Berry and Michelle Pfeiffer