Zoe Stillpass: Creative Gene
The curator Zoe Stillpass on surviving an art-filled childhood.
---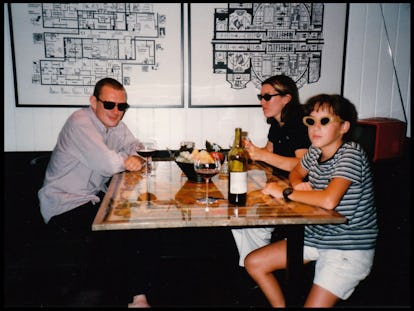 In the mind of a teenage girl, there are already too many ways for her family to embarrass her irreparably. But there is one medium that has never been exploited in a John Hughes film: art. In the summer of 2004, Andy and Karen Stillpass collaborated with the artist Aleksandra Mir on an unauthorized biography of their then-college-age daughter, Zoe, based solely on parental testimonials—and posted it on the Internet. "Everyone's worst nightmare, right?" says Zoe, a sometime curator now in her 30s.
But for Zoe, art has been a family issue for as long as she can remember. Her father is an unusually daring and involved patron, and throughout Zoe's childhood, artists arrived from all over the world to stay at the Stillpass home in Indian Hill, a suburb of Cincinnati, usually leaving their signature on the midcentury house: Dominique Gonzalez-Foerster's Family Portrait—a cheap metal clothesline hung with now-tattered items from their closets—is stationed on the front lawn. (The piece did not earn the Stillpass clan popularity points in the wealthy community.) Felix Gonzalez-Torres inscribed his version of the Stillpass chronology in silver paint along the edge of the roof, including the equation a+k=z 1984 for Zoe's birth.
The first artwork Zoe bought was an Elizabeth Peyton portrait of Kurt Cobain. She was just 10 and had saved up for it. (Peyton visited with her then-husband, Rirkrit Tiravanija, who, in a variation of his 1993 Venice Biennale piece, suspended a canoe from a tree on the Stillpass property.) Zoe can vividly recall the Brownie scout trip during which she learned of Cobain's death: To her troop's bewilderment, she wept openly. Likewise, the art in the house was often met with quiet confusion from her preppy Midwestern schoolmates. "It always kind of bothered me that none of her friends were interested," Andy says. To which Zoe responds, with a laugh, "I don't think anyone envied us having a canoe hanging from a tree in the yard." But that was nothing compared with the mark left by Karen Kilimnik in 1992: The words political piggy are scrawled in what looks like blood across the back door, a reference to the Charles Manson murders. Zoe, then in the first grade, added a personal touch, dipping her hand in the red paint and pressing it against the wall.
Andy and Karen Stillpass never really considered any possible ill effects such art pieces might have had on Zoe's standing with her peers. "We weren't going to alter the way we live," says Andy, who holds an unconventional idea of the American Dream. "I always wanted Zoe to be an artist," he explains. "In junior high, she got mixed up with the wrong crowd—she became really attracted to scholarly pursuits, like biology. It was a bitter disappointment." He is more at ease now that she is getting a doctorate in aesthetics and also lectures at the Sorbonne in Paris. For her part, Zoe appreciated that, like an empathetic cool aunt, the art in the house never condescended to her age. "There were moments of 'Why can't we just be normal?' " she recalls. "But most of the time, I really embraced it. That was my childhood—and now, each work is like a family member."
Photos: Zoe Stillpass: Creative Gene
Liam Gillick, Sarah Morris, and Zoe Stillpass, 1990s. Courtesy of author.
Elizabeth Peyton's 2001 portrait of Stillpass. Courtesy of author.
Rirkrit Tiravanija in the canoe from Untitled (1271), 1993. Courtesy of author.
Stillpass, age 12. Courtesy of author.
Karen Kilimnik and Stillpass working on Acid Is Groovy, 1992. Courtesy of author.
Gillick's Exterior Concourse Diagram, 2000. Courtesy of author.