Zoey Deutch Is Ready to Be Hollywood's Next Leading Woman, Right Now
With her new film Flower, the 22-year-old proves she's more than just another starlet.
Photographs by John Clayton Lee
---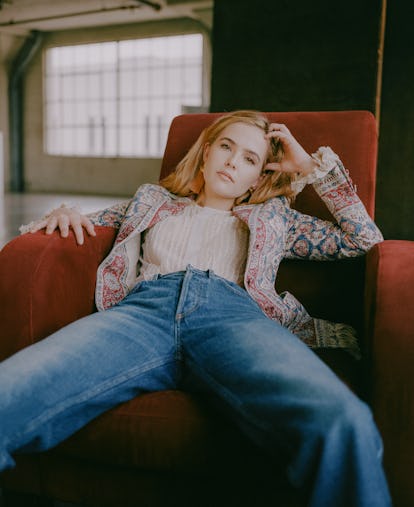 styled by Elizabeth Stewart. Visual Editor: Biel Parklee. Hair by Gregory Russell at the Wall Group, Makeup by Lauren Andersen for Something Artists. Fashion Assistant: Amanda Lim. Special thanks to LA Daylight Studios.
Seven seconds into our conversation, Zoey Deutch was apologizing. Last week, a full 24 hours before we are scheduled to talk, someone from her management team had asked to push back our interview by 30 minutes—nanoseconds in celebrity time, not to mention a full day's notice. But Deutch, a very busy actress with a very busy schedule, was genuinely apologetic at the mere idea of inconveniencing me, a civilian reporter.
It was a minor exchange that spoke volumes about Deutch. Attentive and charming, the 22-year-old speaks at a pace that would make Lorelai Gilmore's head spin, peppering the conversation with questions that made me feel as if I were catching up with an old childhood friend.
The daughter of actress Lea Thompson and director Howard Deutch (Pretty In Pink, Some Kind of Wonderful), Deutch quickly made a name for herself in the business with roles in Richard Linklater's Everybody Wants Some!!, Before I Fall, and last year's Why Him? This week, she debuted her latest film, Flower, at the Tribeca Film Festival, which became the first film of the festival to be bought by a major studio, when Orchard acquired the rights just days after the premiere.
In the film, Deutch plays 17-year old Erica Vandross, a free spirit with some unconventional extracurricular activities (read: using her sexuality to extort older men), or as Deutch described her character, "it's about a young woman who is looking for love in all the wrong places." It's a truly tour de force performance by the young actress, particularly in scenes with co-star Kathryn Hahn, who plays Erica's mother.
"Her relationship with her mother is extremely complex like all relationships with mothers are," said Deutch. "It's filled with a lot of love and a lot of need for closeness and distance and separation and confusion. It's a boundary-less relationship. It was a fun movie to get to explore the psychology of the mother-daughter relationship… There's a book called Reviving Ophelia which I read for this, and it talks a lot about the thinking style of young children where we have a hard time growing up enough to see our mothers as real people, and I think that's a lot of what my character is dealing with."
To prepare for the role, Deutch read several coming-of-age novels, including much of Judy Blume's catalogue and Beatrice Sparks's Go Ask Alice. She also attended a therapy session while in character—"I don't know if [the therapist] knew, or what she didn't know," Deutch said. "That was a surreal experience"—on the suggestion of director Max Winkler, son of Henry.
"He's the kind of director that gives you guidance and assistance but full permission," said Deutch. "I never once felt judged or worried of embarrassing myself, which with the content was definitely possible. I felt fully safe, which is pretty impressive considering that our relationship was initially based on really making fun of each other's neurotic tendencies. We're both just a swirling ball of neuroses."
Altogether, the film took just 17 days to complete. "It makes you think about time, when an experience feel so much longer and more impactful than the actual time spent," Deutch noted. "It sounds dramatic, but I am an actress, and am really, truly heartsick for the experience because it was so much and so challenging and rewarding."
Up next, Deutch will begin filming Set It Up, a romantic comedy which sees her reuniting with Everybody Wants Some!! co-star Glen Powell ("I always say that he's sociopathically charming," she quipped), and she has to promote Rebel In The Rye, a biographical drama about J.D. Salinger starring Nicholas Hoult that's due out in the fall. Deutch plays Salinger's romantic partner Oona O'Neill. "The movie is really beautiful," she said. "It's about the artist's journey and the trials and tribulations and weird pitfalls of failure and success."
It's safe to say that Deutch's ascent to superstardom is on a fast track. Off-screen, she's been embraced by the fashion community (increasingly important in a young starlet's career trajectory), sitting front row at Milan and Paris Fashion Week, and working with top stylist Elizabeth Stewart, whose other clients include Jessica Chastain, Julia Roberts, and Cate Blanchett. "I'm a lot more fun and adventurous when i'm dressing up for red carpets then I am everyday," Deutch noted. "[Elizabeth and I] don't fight, but she calls me shoe-specific, because I channel some weird spirit when I'm picking out shoes. It takes a very long time."
And then there's social media (see: increasingly important). On Instagram, Deutch has 824,000 followers, and growing. It's there where that aforementioned charm come through. Case in point, her bio: "Actor. Human person. A simple girl who knows the difference between a manatee and a dugong."
Huh? "Look, one's in Florida, one's in Australia. What more can I tell you? Those are worlds apart. They look similar."
Her already rapid chatter sped up, equal parts self-deprecating laughter and stone-cold seriousness. "I have a deep, deep weird love and connection to manatees, and I met a dugong once and I met a manatee once, and they look exactly the same, but they are very, very different." She paused. "'I met a dugong and I met a manatee…' That's the craziest thing I've ever said. But yes, I have met both."
America, meet your next leading lady.
Watch all of W's top videos, here: