Zoey Deutch Used to Raid Her Mother's Closet for Vintage Comme des Garçons
Go behind the scenes with rising actress Zoey Deutch as she prepares for fashion's biggest night with her date Tory Burch.
---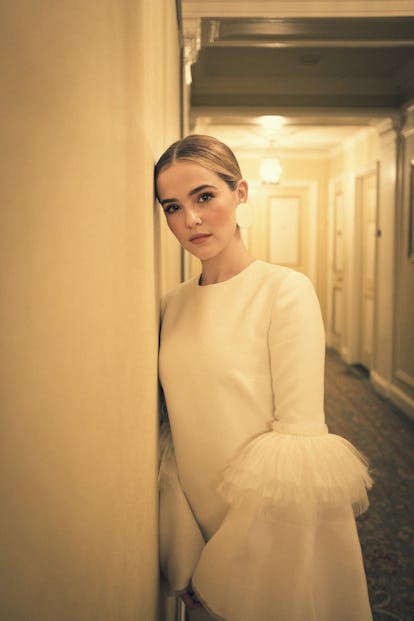 On Monday night, in a suite at The Pierre in New York, up-and-coming actress Zoey Deutch was getting ready for the annual Metropolitan Museum of Art's Costume Institute Gala. This year's theme was "Rei Kawakubo / Comme des Garçons: Art of the In-Between" — and Deutch wanted to be dressed appropriately. "I really wanted to stay on theme," she said, admiring her dress. "That was the one thing I was really interested in."
Her white, floor-length gown, a custom creation by the designer Tory Burch, is a nod to Kawakubo's signatures: it has a sleek silhouette and oversized sleeves, but comes in a Burch-approved organza tulle. To complement the look, Deutch wore her hair in a low bun, and kept her makeup minimal, with just a flash of peachy, coral color across each eyelid and her luminous skin.
"Who needs to get married?" laughed the 22-year-old starlet. "I will have been to the Met Ball twice now! I could just get married in my pajamas and I wouldn't care."
The first time she attended the Met Gala, Deutch didn't quite know what to expect. "I didn't really know that many people last year so I was nervous, but then I walked in and ran into one of my best friends, Chloe Grace Moretz, like immediately," she said. This time around, she's fresh off the big debut of her latest film at The Tribeca Film Festival, Flower, with several other new projects in the works, including Rebel in the Rye and a new Netflix project with Glen Powell titled Set It Up. The chances are high that she will see more than a few familiar faces at this year's fete. "I know more people now!"
As she talked, a crowd of people arrived to steam her dress once more and make all the last-minute adjustments. Meanwhile, her glam squad was finalizing Deutch's accessories with Tory Burch's team, looking through an edit of box clutches and various statement earrings. "I am still deciding about the accessories," she said as tried Fred Leighton pearl earrings and then swapped back to the big, white circular earrings (by Tory Burch) she had been keen on earlier. As she slipped on black Dries van Noten heels, she said, "Aren't they great? I picked the out yesterday at like 6 p.m."
Here, she talks to W exclusively about how her final look came together, wearing Comme des Garçons at age 11, her obsession with Mary-Kate and Ashley Olsen and more.
Did you have a vision for the look tonight?
We wanted to stick with something minimalist to pay homage to Rei [Kawakubo] and Comme, but also stay true to the Tory Burch brand. It's just a minimalist, white silhouette. It's really chic and comfortable and feels really on point with the theme, but also very Tory.
How did you end up going with Tory Burch?
I respect and love Tory so much, and love what she represents. She stands up for what she believes in. It was a little last minute because I have been shooting and working so much lately…but I love the dress so much.
What was most important to you with this dress?
I really wanted to stay on theme. That was the one thing I was really interested in.
What was your first interaction with Comme des Garçons?
This is going to sound like I am making this up because it is so perfect for this moment but I swear to god it's real. My mom [actress Lea Thompson] has this unbelievable vintage Comme, it is like this high waisted, floral and beige button-up skirt and it has a matching trench coat. I remember being like 11 and trying to steal it from her but obviously it didn't fit in the way that it should have. I just loved the silhouette and how beautiful and interesting and innovative it was. That was my first encounter with the brand.
Amazing! Did you ever try to steal it again when you were old enough to fit into it a little better?
That skirt is actually in my closet now. It was wholesale! Mom's wholesale boutique, I stole it from her.
Mom's wholesale boutiques are the best kind of store. What is your take on Comme des Garcçns' Rei Kawakubo now?
I remember hearing a quote that she said a long time ago and she said that in all her years of designing, she never once thought about fashion. I thought that was really beautiful. She is an artist, the opposite of conventional, she is true to her own artist. That is so very admirable.
This is your second Met Ball now. Are you a little less nervous than last year?
I know more people this year! So…yeah. Hopefully there are people that I do know who show up.
Are you excited to see anyone in particular tonight or what are you expecting?
I am expecting the unexpected. I am really looking forward to seeing the exhibition and run around and appreciate it.
Your film, Flower, just had a big debut at the Tribeca Film Festival. What's next?
I have a movie coming out in the fall called "Rebel in the Rye" and I am coming back here this weekend to shoot a movie called "Set It Up," it's a romantic comedy for Netflix.
Prior to attending the Met Ball for your first time, did you follow the red carpet fashions at the event?
Yes, definitely. My sister and I would pick out the outfits we loved the most.
Do you have a favorite outfit that someone wore in the past years that was a highlight for you?
Anything and everything Mary-Kate and Ashley. I love everything they wear. L-O-V-E!
Related: Zoey Deutch Is Ready to Be Hollywood's Next Leading Woman, Right Now
Met Gala 2017: See What Katy Perry, Gisele Bündchen, and More Wore on the Red Carpet
Laura Dern, Naomi Watts, Patricia Arquette, and Hailey Gates Open Up About Working with Legendary Director David Lynch