Remembering "Zombie Boy" Rick Genest, Who Died This Week at 32
How the heavily tatted model went from living on the streets to becoming Lady Gaga's personal style icon.
---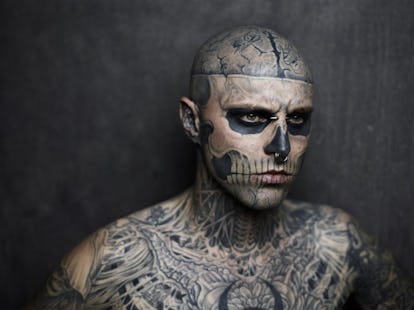 Photograph courtesy of Youtube.
One of the stranger stories in fashion is that of Rick Genest, better known as "Zombie Boy," who was plucked out of obscurity and welcomed into the fashion world in an astonishing manner. The speed and fervor at which fashion embraced Genest will always stand out, as was unfortunately showcased this week, when, eight years after being discovered on the streets of Montreal, Lady Gaga broke the news to the world of his death at just 32, after his Canadian agency, Dulcedo Management, had quietly posted about the tragedy on Facebook.
Following the local police's confirmation that Genest, who was found dead in his apartment in Montreal, had killed himself, Gaga called his "suicide… beyond devastating," posting a photo of herself and Genest from her 2011 Nick Knight–directed video for "Born This Way." She also encouraged her followers to ignore the stigma and seek support for their mental health, stating that her Born This Way Foundation would be providing further help with that this fall.
Gaga first met Genest through her former personal stylist Nicola Formichetti, who discovered Genest on Facebook in 2010. At the time, Genest was occasionally living on the streets of Montreal, where he was born and raised, and finding work by, for example, lying on a bed of nails for what he once called the "traveling circus-freak show," or Lucifer's Blasphemous Mad Macabre Torture Carnival. Before introducing him to Gaga, Formichetti found a way to get Genest a passport—and paid the thousands of dollars worth of fines Genest had incurred for sleeping on the street out of his own pocket—so that his discovery could open Formichetti's first-ever show as artistic director at Mugler. (Genest later became the face of Mugler.) Formichetti posted his own tributes to "Rico" on Thursday night, along with the suicide-prevention hotline number.
By the age of 26, Genest—whose head was inked and whose knuckles were tattooed with the words "EVIL" and "DEAD"—was part of the mainstream, having become a spokesperson for L'Oréal; he even had his own merch. Since working with Gaga and Formichetti, Genest also appeared in the film 47 Ronin with Keanu Reaves. More recently, he was absent from the public eye, spending his time with a Canada-based initiative to prevent homelessness and reportedly working on an album with the guitarist Mike Riggs of Rob Zombie.
Genest started going by "Zombie" himself after being given the nickname as a kid, following his hospitalization for a brain tumor. He was 16 when he got his first tattoo—an outline of a skull and crossbones—and it took just three years for him to cover most of the rest of his body, in what he called a "project," playing off the identity he'd come to connect with. "Zombies, to many, represent a pervasive xenophobia," he said in 2012. "As in my life, I was often out-casted, hated, or misunderstood."
If you or anyone you know has contemplated suicide, please call the National Suicide Prevention Lifeline at 1-800-273-8255.