Who Has a Better Blue Steel, Eva Chen or Her Husband?
And other pressing questions answered at a very fashionable screening of Zoolander 2 hosted by the Friends of the Costume Institute.
---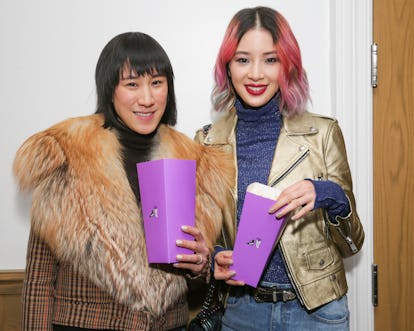 The fashion industry has long weathered accusations of taking itself — and its raison d'être — too seriously. On Wednesday night, a few of its more sophisticated members and fans showed they have a sense of humor about themselves at a private screening of Zoolander 2, hosted by the Metropolitan Museum of Art's Friends of the Costume Institute. An intimate gathering of editors, socials, and models turned out at the Crosby Street Hotel to watch the sequel to the 2001 blockbuster that spoofed fashion — and more specifically, modeling — while introducing "blue steel" and "walk off" into the cultural lexicon.
"My approach was 50-50 couture-costume," explained the movie's costume designer Leesa Evans during a Q&A with Derek Blasberg. "Some [designers] didn't want to participate for obvious reasons, but Valentino and Saint Laurent came on early and that helped."
Considering her other credits include Trainwreck, Neighbors, and Bridesmaids, Zoolander 2 was welcome territory for Evans to stretch her creative muscles. (Kristen Wiig, who plays a fashion designer, wears outfits that almost exclusively inhibit mobility—and, for that matter, any notion of sitting down.)
"Most of the time, too much fashion can overwhelm the character, so this was a dream," Evans admitted.
Event co-chairs Andrew Bolton and Aerin Lauder were both sick with the flu, but fellow co-chair Eva Chen had enough enthusiasm for three.
"My husband and I know almost all the words to Zoolander. We've never had a blue steel contest, but I'm sure he would win. Anyone who knows me knows I have no poker face," said Chen, who chose a different family member for a hypothetical walk-off: "My daughter Ren just learned how to walk. And she'd probably still win!"
Fellow co-chair Wendi Murdoch was less familiar with the Zoolander vocabulary—"What is a walk off?" she asked—but said that she would gladly nab Penelope Cruz's wardrobe from the sequel. "She looked so hot," said Murdoch, approvingly.
Top model Anna Ewers barely gazed up from her phone to shrug off the notion of a catwalk battle with any of her colleagues, but Hanne Gaby Odiele proved gleefully game for a walk-off.
"[I'll take on] anyone—bring it on!" she said.
Photos: Who Has a Better Blue Steel, Eva Chen or Her Husband?
Eva Chen and Irene Kim. Photo courtesy of The Metropolitan Museum of Art, Angela Pham/BFA.com
Anna Ewers, Hanne Gaby Odiele. Photo courtesy of The Metropolitan Museum of Art, Angela Pham/BFA.com
Karlie Kloss. Photo courtesy of The Metropolitan Museum of Art, Angela Pham/BFA.com
Leesa Evans. Photo courtesy of The Metropolitan Museum of Art, Angela Pham/BFA.com
Monique Pean. Photo courtesy of The Metropolitan Museum of Art, Angela Pham/BFA.com
Wendi Murdoch, Stacey Bendet. Photo courtesy of The Metropolitan Museum of Art, Angela Pham/BFA.com