Zsa Zsa Gabor Was the Original Kim Kardashian
A celebrity known for her love affair with the press and her high-profile romances, Zsa Zsa Gabor pioneered the art of being famous for the sake of being famous much like her Millennial analogue Kim Kardashian
---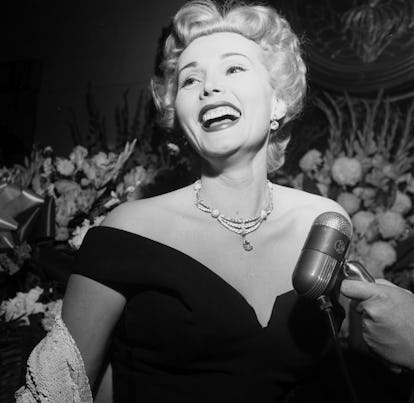 Photo by Getty Images.
The never Gaboring Zsa Zsa Gabor seemed to have been invented for the talk show guest chair.
Yes, she was a sort of actress, or had been, anyway. Who can forget her bit in the original Moulin Rouge, not to mention the immortal 1958 kitschfest Queen of Outer Space, in which she blankly intoned lines like "I hate dat kveen" as the ozone dried up?
But she was never meant to be the Hungarian Katharine Hepburn. Instead, it was on talk shows that Zsa Zsa sparkled, regaling Merv Griffin, Johnny Carson, and anyone else who would listen about her husbands, her jewels, her alimonies, her estates, her family, and her lacquered blond hair.
With the possible exception of Carol Channing and Tallulah Bankhead, no one lit up a talk show set like Zsa Zsa did, making the 1960s and beyond into a wonderland of anecdotes, hucksterism, hyperbole, and charm. And along the way, Zsa Zsa stepped into plenty of scandals to spice up the conversation, most memorably her slapping a cop in 1989 (along with other charges) and ending up in jail, while somehow maybe convincing you she'd actually done the right thing! (Yes, she was that persuasive.)
With her endless banter — and allure — Zsa Zsa was in many ways the original Kim Kardashian, someone who existed for tabloids, TV cameras, and the jealous yet approving glare of the masses as they devoured her jet-set antics and relationships, which never relented in voyeuristic appeal.
Her celebutante-pioneer status is all the more perfect considering the fact that one of Zsa Zsa's many hubbies was the very rich Conrad Hilton, who turned out to be the great grandfather of Paris Hilton, the blonde socialite who was a Kardashian before Kardashians were cool. Zsa Zsa made 15-minute celebrity acceptable, even coveted, and then she went and made it into 24-hour celebrity, staying famous for years, even when she was physically unable to say "Dahlink" anymore.
In 1993, I got to interview Zsa Zsa for my Village Voice column in a hotel suite where she was promoting the animated film Happily Ever After and by the end, I felt we'd bonded so tightly I could probably just call her "Zsa." She talked endlessly — and entertainingly — while unabashedly mangling words and names and spewing so much vitriol she probably felt her pores unclog as she spoke to me.
The one talk show host she wouldn't acquiesce to, she said, was Jay Leno. "I hate him," she snapped. "Son of a bitch. I could sue him, but the producer's one of my best friends." She probably couldn't even pronounce his name.
Zsa Zsa bristled (as Kimye does today) when overused as a punchline, though, believe me, she enjoyed her position as the most talked-about star in the world whom no one was quite sure what she did, except marry and divorce people on a conveyor belt of loving/unloving.
At one point in our mesmerizing chat, I asked Zsa Zsa about another of her husbands, Oscar winner George Sanders (All About Eve), who'd killed himself, saying he was just plain bored. "I was actually very upset for six months," said Zsa Zsa, trying to look morbid. "I adored George, even though he always cheated on me, the son of a bitch." When I ventured to ask if Sanders was gay, she said he wasn't, although "All English actors are a little bit gay."
And that was just for appetizers. Speaking about her three and a half day jail stay in El Segundo, she bitched out a "lesbian guard" who needed a beauty makeover. As for Leona Helmsley, "She looks like a bitch and a half. And don't think Mrs. [Ivana] Trump is an angel either."
And this on director John Huston: "He sat there like a dried-out monkey—he was drunk—but he was still the best director in the world." And, of course, on Merv Griffin and her sister Eva: "They travel on a private plane, not like we peasants."
Only Zsa Zsa Gabor could make you weep for her poverty. Maybe she was an actress after all. Whatever the case, she was a helluva celebrity, and I already miss her obnoxious glamour a lot, Dahlink.
Zsa Zsa Gabor Through the Years, From Hollywood Starlet to Celebrity Glamazon
Hungarian-born actress Zsa Zsa Gabor sitting on a balcony.

Photo by Getty Images.
Hollywood film actress Zsa Zsa Gabor. Zsa Zsa is probably most famous for her marriages, her jewellery and her lifestyle and she has always courted publicity of any kind. (1954)

Photo by Getty Images.
Studio headshot of actress and socialite Zsa Zsa Gabor, wearing a satin dress, circa 1952.

Photo by Getty Images.
Hungarian born actress Zsa Zsa Gabor.

Photo by Getty Images.
Hungarian-born American actress Zsa Zsa Gabor as she appears in the film 'Moulin Rouge', 1952. She is wearing a dress designed by Elsa Schiaparelli.

Photo by Getty Images.
Actress Zsa Zsa Gabor at the premiere of "Torch Song" in Los Angeles, California. (1953)

Photo by Getty Images.
Hungarian actress Zsa Zsa Gabor lounges on a sofa in a ruched evening gown. (1952)

Photo by Getty Images.
Studio portrait of the French actress Zsa Zsa GABOR between 1950 and 1955.

Photo by Getty Images.
Zsa Zsa Gabor the Hollywood star and film actress and most famous of the Gabor sisters. Born in Hungary they all went to the USA to start their careers in films. Zsa Zsa is probably most famous for her marriages, her jewellery and her lifestyle and she has always courted publicity of any kind (1954).

Photo by Getty Images.
Hungarian born Zsa Zsa Gabor, American leading lady.

Photo by Getty Images.
John Paul Getty, American oil executive, multi-millionaire and art collector, with Zsa Zsa Gabor, exotic international Hungarian leading lady (1972).

Photo by Getty Images.
THE FACTS OF LIFE — "Bought and Sold" Episode 13 — Pictured: (l-r) Zsa Zsa Gabor as Countess Calvet — Photo by: Paul Drinkwater/NBC/NBCU Photo Bank

Photo by Getty Images.
Actress and misdemeanant Zsa Zsa Gabor poses for a mug shot after being arrested for slapping a police officer on June 14, 1989 in Beverly Hills, California.

Photo by Getty Images.
A photo of Zsa Zsa Gabor from the late 1970's.

Photo by Getty Images.
Jane Fonda Loved Turning 75—Thanks to Her Ex Husbands