Zsela Will Release the Debut EP She's Been Teasing for Years—Sometime Soon
The musician reveals why patience is necessary for her process during a performance at the Whitney Museum's annual Art Party.
---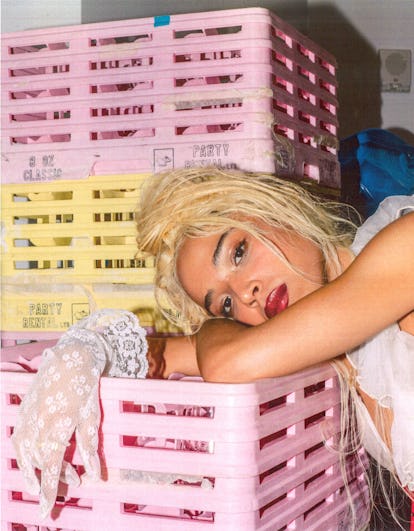 Zsela photographed by Maridelis Morales Rosado for W Magazine.
Zsela Thompson's seat at the Whitney Museum's Art Party dinner was empty on Tuesday night. She was scheduled to perform onstage during the meal, which Katie Holmes, Wes Gordon, Willa Fitzgerald and Olivia Palermo attended. But her place setting, replete with a nametag placed gingerly at the edge of the table, remained open while other guests munched on their food. Suddenly, the lights went down and two women—one young, the other more mature—sat in the chairs reserved for Zsela and a plus-one. The singer and songwriter, draped in a torn, white peasant skirt, white bikini top, harness, and blonde wig, trooped onstage with harpist Marilu Donovan and Zsela's frequent collaborator Daniel Aged, who both wore white bodysuits and lace masks that covered their entire heads. She started singing songs in her low, quavering tone, which has reminded so many music journalists of Joni Mitchell's. The angelic sounds of the harp and the bass, played by Aged, punctuated her deep voice. The crowd was silent, so thrown by her singular style that they were unaware when to clap at a song's end. It turns out the two women who were seated in Zsela's place were her cousin and grandmother; she gave them a shout out before performing "Drinking," a tune that led Zsela's younger family member to shed tears while she watched her sing.
"How's the food?" Zsela asked the crowd quietly, laughing to herself. "I'll have a plate sometime, somewhere."
After she was done with her performance, she wandered. She walked along the halls of the third floor at the museum, looking at art and discussing her career in music thus far. The 25-year-old songwriter and singer kept her vocal abilities relatively under wraps until three years ago, when she sent some music to her current manager. She's still pretty low-key, as a person. She doesn't brag about much, and when she received a compliment, got a little awkward, chuckling and looking away. Her decision to remain backstage and eschew dinner with the crowd wasn't a flex—it aligned with Zsela's laid-back nature and tendency to want to move around. Sitting makes her anxious, she said. Her sense of humor was goofy, her drawl slow and highlighted by constant laughter—usually, at her own expense.
When she was a kid, Zsela could recite lyrics from songs after only hearing them once or twice; her father, Marc Anthony Thompson (the musician known as Chocolate Genius), and her half-sister, actress Tessa Thompson, told her she had a good voice. But it wasn't until she started working with Aged a couple years ago that she began truly hearing herself in a way that she wanted to share with audiences.
"It was exciting to work with someone who really listened—especially a man," she said, standing in a dimly lit hallway in the Whitney where she stopped walking for a spell. "He was ready to be like, 'What do you need? Because what needs to come through here is your voice, and the lyrics.'"
It turns out, what Zsela needed was someone who matched her level of patience. The New York City native isn't on track to release tons of music at once—in fact, she's been teasing the release of her EP since last year—and she isn't necessarily interested in pursuing a heavy social media presence or a big-name label. She wants to take her time, crafting music that sounds and feels just like her. This approach applies to the EP, which she swore will be out this spring, after a single release in March ("It's finished mastered today!" she yelled out. "It's done today. This is the mastering celebration.")
"These songs, they're from a time, from a space, in this [fictional] world," she explained. "With Daniel, we've just been taking our time to figure out what that world is and make sure that everything that we hear fits inside of it."
The way she disseminates her message, gets her songs out there, is through performing at shows in the art and fashion worlds: she's sang at Collina Strada and Vaquera shows, MoMA PS1, and more. She also just wrapped a tour with Cat Power—her first tour ever, where she supported the 48-year-old musician on a number of U.S. dates. At the first show, Cat Power put Zsela's performance on Instagram Live.
"I hadn't even hung out with her. We weren't even as close as we are now, then. But she watched the whole thing," Zsela says. "My parents had their phones set up on a little lamp on the table just to watch the livestream."
The approach to focus on live shows works for Zsela. It was never an intentional business strategy for herself as a musician. But it speaks to her way of taking her time, showing herself slowly while she's performing. And most of all, it's a good time. She enjoys it. When asked about going on tour with Cat Power, she simply said: "That was fun."
For her final song during her show at the Whitney, Zsela sang a song a capella. Beyond her voice, booming and echoing around the walls of the room, there was no other sound.
"It's fun for me because I'm so dependent on a band. I need someone to play," she said as she shifted around on her feet, ready to make her next move around the museum. "It's definitely a challenge. It is so extra, I'm demanding people to shut up for a whole a capella cover of Fleetwood Mac. You saw how it was in there. It has to be a vibe."