The Best Clean Foundations for Melanin-Rich Skin Tones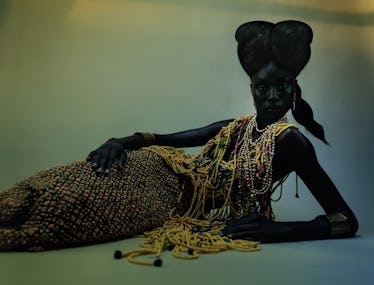 Photo by Harley Weir; Hair by Cyndia Harvey.
For years, there has been a distinct lack of shade options for people of color, especially when it comes to clean beauty. Those with deeper complexions were lucky to find a foundation dark enough to match their skin, and were even luckier to snag products made with organic ingredients. Brands had developed an unfounded misconception that darker shades simply did not sell—and that couldn't be further from the truth, according to Jazmin Alvarez, founder of the clean beauty platform Pretty Well Beauty. "Black women spend $1.1 billion a year on beauty, which is more than every other demographic combined," Alvarez tells W. "You'll see most clean beauty brands offering maybe 12 shades—with the darkest one being for someone who is tan—but you won't see anything for deeper shades of brown. Not to mention the undertones that are needed for [deep-rich] women are very difficult to find within the limited options available in the clean makeup category. Black and Brown women, she contends, are simply not being considered when brands are forming their product development strategies. "Brands are viewing [them] as some type of monolith," Alvarez adds. "BIPOC are so incredibly diverse and that isn't being represented in a way that resonates with us."
Tisha Thompson, an African-American cosmetics entrepreneur and founder of LYS Beauty, agrees—attributing the dearth of product innovation and marketing representation for women of color to the general lack of awareness and diversity behind-the-scenes. "In recent years, we've seen the industry at large make considerable strides toward expanding product offerings, but in order to effectively formulate for deeper skin tones, you have to understand our skin and how it responds to different colors and ingredients," she says. "Complexions vary in both skin tones and undertones and it takes proper testing to ensure deeper shades don't skew too red, ashy, muddy or dull. Oftentimes, the focus is entirely on making products dark enough without considering which undertones help make the shade a perfect match."
Undertones definitely play an important role—but so does ingredient composition. Rose-Marie Swift, the founder of RMS Beauty, recalls using foundations whose base tones didn't match, or were too heavy and cakey. "Powder mineral lines were the only real ones out there for a long time, and they would create an ashy look or a white overcast on the skin," Swift says. "Many times it was a result from too much titanium dioxide in the formulas, which can work well for lighter skin but not for deeper ones."
To aid your search for the perfect clean beauty foundation formulation, we've highlighted the best ranges that offer complexion perfectors, addressing the needs of those with darker skin tones specifically.