11 Celebrity Beauty Gurus on the Products They Swear By Every Summer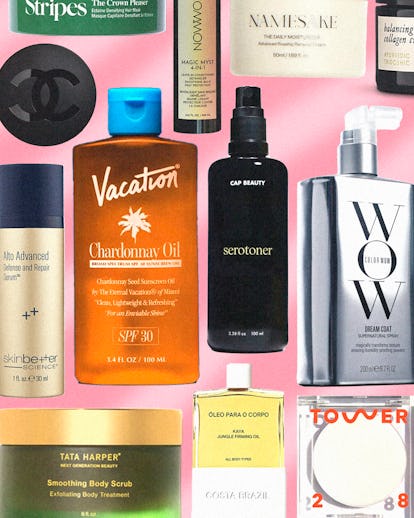 Collage by Ashley Peña
We may receive a portion of sales if you purchase a product through a link in this article.
If your beauty routine changes according to the seasons, it's nearly time for a refresh. Somehow, summer is already right around the corner—and to help you find the best new products to stock in your beauty cabinet, we called on some experts. There's simply too much to sift through, otherwise. Here, beauty gurus from hairstylist Chris Appleton to Chanel brow artist Jimena Garcia, facialist Candace Marino, and fitness star and founder of The Class Taryn Toomey share their favorite summer products on the market right now.
Taryn Toomey's Picks
"This hair mask has been a new weekly staple in my routine," says Taryn Toomey, founder of The Class and whose clients include Naomi Watts and Jennifer Aniston. "Sometimes, I'll put it on before I go in the infrared sauna. I spent many years not taking care of my hair—the combination of sweat, bounce, teasing, bobby pins, and not rinsing the sweat out after working out created A LOT of damage. So I ditched the bouffant, let it heal, cut it, and started over. Now, hair masks are part of my routine—and this one is a favorite."
"I learned about this mask after I had the Twilight facial (which is my favorite!) and now I pack a few of these sheet masks with me everywhere I go," Toomey says. "They hydrate, plump, and make your skin look so glossy. I'll use these masks before bed some nights (as suggested by Joanna post-facial) and let the extra product soak in overnight. They work like magic every time."
"I like to scoop this out with my thumb nail and spread it all over my chest and shoulders," Toomey says. "It's smells absolutely incredible, creates a glow, and makes your skin feel like butter."
Chris Appleton's Picks
"As summer quickly approaches, it is important to note that your hair routine should adjust with the seasons," says Chris Appleton, the celebrity hairstylist whose clients include Kim Kardashian, Jennifer Lopez, Ariana Grande, and Katy Perry. "As temperature rise and humidity increases, this is one of my favorite products to keep fabulous and tamed hair all summer long. It's the equivalent of wearing a raincoat on your hair, as it seals out moisture with a water-proof barrier so the style won't come undone with frizz. This product is made to combat humidity for days on end."
"For added shine, this gives a glossy finish while also defending the hair against heat and UV rays," Appleton adds.
Nadia Tayeh's Picks
"For summer, I love to focus on skin," says Nadia Tayeh, makeup artist to Gigi Hadid and Bella Hadid. "In doing so, I love giving my clients a balmy texture to highlight the high points of the face, instead of using shimmer. My go-to product to achieve this look is the Tower 28 SuperDew Shimmer-free Highlight Balm. It gives a natural, radiant glow as if they're glowing from within."
"To add a pop of color, I love the NUDESTIX all-over blush that you can apply on the cheeks and lips," Tayeh says. "It's an easy look that anyone can achieve for pretty, radiant skin this summer."
Jimena Garcia's Picks
"This will be my go-to spritz of the summer," says Jimena Garcia, the Chanel brow artist whose clients include Stella McCartney. "I love to use it after a workout, when I'm stuck in air-conditioning, and in-between clients because it uplifts both my skin and my mood."
"I was already obsessed with this towel because the waffle knit protects hair when it's at its most vulnerable (wet)," Garcia says, "and then I realized I could use it at the beach, throw on my favorite sunnies, and live my chicest sandy life."
"Summer beauty at its best is low maintenance and simple, and this product is just that," Garcia says. "Swipe this on to condition your brows throughout the day and the heat of summer will naturally open your pores to lock in all that nutritious goodness."
"For me, summer is a time to nourish my body—and this includes my nails," Garcia says. "I take a break from color, gels, etc., and use this product instead to rehab them. I also love a bare-nail look during summer because it feels fresh—and it matches all of my bikinis."
Aaron King's Picks
"This lotion works miracles, revitalizes, and defines coarse textures in short and especially long hair," says Aaron King, hairstylist to Machine Gun Kelly, Zach Braff, and Ryan Phillippe. "It gives a beach definition—perfect for air drying, or even in a couple day-old hair to get it shiny and defined."
"Solaire is the SPF spray to protect your color," says King. "It works by filtering the summertime UV rays that jeopardize your valuable color."
Martha Soffer's Picks
"My famous Balancing Collagen Cream is based on a recipe passed down to me by my grandmother, combined with all the herbal and skin magic I have learned from Ayurveda, working with clients over the last 30 years," says Martha Soffer, the founder of Santa Monica's Surya Spa. "Using the full depth of Ayurveda, the cream is brewed over many days while healing mantras are played, and the process is finished under the full moon. Count on this cream to stimulate your body's natural collagen and elastin production, and offer deep protection and healing hydration to dry summer skin."
"This cooling massage oil, made from a blend of restorative Ayurvedic herbs infused in coconut oil, removes excess heat from tissues and joints and offers deep hydration to your body's largest organ, the skin," Soffer adds. "I recommend you use this oil daily for self-massage whenever you need to bring the heat down, physically or emotionally."
Nikki Lee's Picks
"This is the one product I can't live without," says Nikki Lee, hairstylist to Selena Gomez, Hilary Duff, Kate Hudson, and Mandy Moore. "It's daily vitamins for your hair. Everyone needs it."
"Because it's not a dry texture spray, it's a shine texture spray," Lee says. "Everyone wants shine in the summertime!"
Vanessa Lee's Picks
"During the summer months, I love cleansing with the Gly Glow Scrub from The Things We Do," says Vanessa Lee, founder of the eponymous, beloved Los Angeles skin clinic. "It features a combination of AHAs and BHAs that gently exfoliate and soften the skin while combating breakouts.
"The Avéne Thermal Spring Water has healing and nourishing properties that give the skin a perfect refresh on hot days by the pool," Lee says. "I also use it to dampen my skin in between steps during my skincare routine."
"For hydration, The Daily Moisturizer by Namesake is made with yummy ingredients like rosehip oil, butterfly bush stem cells, and polyhydroxy acids that help restore elasticity and moisture without causing irritation," Lee says.
Candace Marino's Picks
"A high mineral SPF creates an invisible barrier between UV rays and the skin," says Candace Marino, the aesthetician whose clients include Halle Berry and Miranda Kerr. "Because of this, aestheticians love mineral sunscreens. Mineral SPFs are notoriously white and chalky, (think surfers with the zinc on their nose) but a few brands have done a great job making their mineral SPFs cosmetically elegant, allowing for a smooth, even application. SkinBetter SunBetter Sunscreen comes in clear or tinted. They have two formulas, their lotion: Tinted SPF 75, Clear SPF 70, and the Compacts which are great for re-applying on the go: tinted SPF 68 and Clear."
"Antioxidants are like the insurance policy on your sunscreen," Marino says. "We are always going to recommend a good SPF, but antioxidant serums work at a cellular level to coat and protect the cells from both UV rays and environmental aggressors like pollution and blue light. These powerful ingredients prevent discoloration, collagen breakdown, and skin cancers. They also protect from damaging free radicals while correcting damage already done to the skin, like discoloration and collagen loss."
"The summer months are often when clients get more sun exposure," Marino says. "I like to recommend a gentle way to exfoliate the skin that won't make the skin sun-sensitive. I love Jan Marini's Skin Zyme Mask. Its enzymes gently digest dead surface cells without impacting live cells, meaning you won't peel or become sensitized. When skin is dry, dehydrated or dead from too much sun/heat, this mask will break down the dead build up and allow for better product penetration so the skin functions and looks better."
Romy Soleimani's Picks
"I love Valmont Bubble Falls Cleanser in the summer," says Romy Soleimani, makeup artist to Tracee Ellis Ross and Cara Delevingne. "With all the sunblock and heat, I love a cleanser that is gentle, but really purifies the skin."
"Speaking of SPF, I am obsessed with Sisley Sunleÿa," Soleimani says. "It is super hydrating with anti-aging properties, but not greasy so it can take the place of a moisturizer. I like to layer it on top of the Valmont Hydra3 Regenetic serum."
"...Which brings me to my next pick. To hydrate in the summer, I like to use Valmont Hydra3 Regenetic Serum and Hydra3 Regenetic cream after a day of sun and before bed. The combination hydrates and balances my skin while nourishing it, as the sun and heat can be very drying," Soleimani adds. "I love that my skin feels like silk and feels like it is repairing itself using this combo."
"After a day of sun, I like to hydrate my body all summer long with Costa Brazil firming body oil," Soleimani says. "It smells and feels amazing. And when I go out, I love to use Costa Brazil Sol or Lua oil depending on my mood to add some glow and hydration."