How The Class Became an Essential Pandemic Workout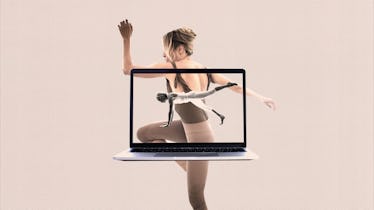 Photos courtesy of Getty Images and Jaimie Baird. Collage by Maridelis Morales Rosado.
The first and last time I physically attended The Class, a boutique workout billed as "an expansive, heart-clearing and body-strengthening release," was Tuesday, March 10th. I paid close to $40 to jump around, shout and breathe heavily in a room packed with dozens of women, mats soaked through with sweat and inches away from each other. I loved it, but you know what happened in the six months since.
Through the varying stages of pandemic lockdown, along with many thousands of others, I've traded gym workouts, runs on crowded park trails, and occasional group fitness classes for a smorgasbord of digital offerings, rolling out my mat wherever there's space and an internet connection. I've tried Sky Ting TV, Melissa Wood Health, The Sculpt Society, Chloe Ting, Variis, Tracy Anderson, and even did a few grapevines with a YouTube rip of the iconic 1991 step workout CherFitness. But the one that I've returned to again and again—and had the most frequent, impassioned conversations about—is The Class.
Taryn Toomey, a former executive for Ralph Lauren and Dior, founded The Class in 2013, after training to become a yoga teacher and studying with a shamanic healer. She opened her studio in Tribeca in 2016, a serene space with white marble finishes and a floor lined in tourmaline and hematite crystals, and has become a cult figure in the boutique fitness scene for her unique method, which has been described as "a workout for your feelings" (Fast Company), "mystical-meets-practical" (New York) and "NYC's most emotional workout" (Racked).
In terms of the actual exercise methodology, it's very straightforward. There are no weights, blocks, bands or other special equipment required, no contorted choreography to learn. It's one hour flat, broken out into cardio and toning: long intermittent sequences of jumping jacks and hopping/dancing around; the kind of high-repetition arm, abdominal, and glute work that wouldn't feel out of place in a barre or pilates class; at least one intense burpee session and a brief stretch and meditation. Each class concludes with something called "heart clearing," which takes the form of flapping your arms forward and backward for a few minutes, like a large goose attempting to take flight. I'm not sure exactly what it's supposed to do, but it feels good—and like it helps counteract the effects of sitting hunched over a laptop for a large portion of the day.
Like many popular fitness classes, the instructors' directions have a pseudo-spiritual bent. But instead of feeling like a way to trick you into doing ten more leg lifts, the missives are like a crash course in self-reflection and the mind-body connection. Less of a manic SoulCycle-style "YOU'RE AMAZING" and more a level-headed transmission about how to feel your best. There's also an element of shouting, or releasing a big guttural "HA!" during certain sequences, which, when experienced in person, takes things to a "woo-woo" level that some people find bizarre or uncomfortable.
On a laptop screen, that particular aspect is easier to tune out, if you're not into it (or if shouting would be a source of concern to family members, neighbors or pets). But the emotional angle still comes through, and it resonates especially during an era of massive upheaval. If there was ever a time to be open to alternative ways of thinking about how you're reacting to discomfort or resisting change (two common themes in The Class parlance), it's now.
"For someone who did not attend church growing up, it's what I imagine church to be like, except the pastor has the body you want and you don't question them when you find yourself in minute seven of burpees," said Stephanie Roush, a producer who started streaming The Class this past spring.
It's an apt description, but one Toomey herself would probably resist. She describes the methodology behind the class as an "anti-guru mentality." Speaking on the phone earlier this month about how she'd adapted to the new pandemic reality, Toomey came across as both an exceptionally organized, motivated businesswoman and someone who is in touch with a level of vulnerability that few of us allow ourselves to maintain as adults. "Somebody doesn't have the answer for you," Toomey said, of the message she tries to get across when she's teaching. "The answer is inside of you. You just have to wake it up a little bit."
Toomey approached the idea of offering a streaming component with hesitation at first. "We talked about it for two years. There was so much resistance in me around it, because I felt what went on in the room was so special, and I didn't want to put a camera in there where the students felt somebody was watching them," she said. Eventually, she decided to give it a shot, and they launched a live-streaming platform in October 2019. Her representatives declined to share specific numbers or percentage increase in subscribers during the pandemic, but Toomey described the rate of increase as "a big old hockey stick" since March.
Lately, Toomey said she wakes up between 4:00 and 5:00 AM every day, begins each morning with prayer, and teaches four times per week. Keeping the company running remotely involves daily meetings with leadership, team roll calls on Slack, and the ability to adjust constantly. When it became clear the pandemic would shut down New York, Toomey and the team acted swiftly to set up additional streaming spaces and protocols for instructors to stream from the Tribeca studio (one person in there at a time, separated by a period of time, enhanced cleaning measures).
One of the reasons she thinks the method has hit home for so many people is that it offers a space for people to process difficult or painful experiences, which can feel particularly overwhelming when isolated from families, friends and routines. Many students have reached out to her via Instagram DM to share stories of how doing The Class has been a helpful way to deal with the death of family member or close friends. "I think that there's been a real deep sense of mourning amongst a lot of people. I think that is something The Class has always supported is teaching people how to grieve well. I think that's a very important part of what a lot of people miss in this world," Toomey said. "They get scared of things they grieve, from mourning or letting go. They hold onto old stories and old structures."
The silver lining of the pandemic, she added, is that it's shaken us out of the illusion of certainty: "It's made us all go inside and sit down and deal with things that we've distracted ourselves out of, and really implement and understand the power of doing things one day at a time," she said.
Given the lack of equipment needed and the fact that streaming infrastructure was already in place, The Class was one of the few brick-and-mortar operations in a particularly good position to face the challenges of adapting to life in lockdown. Others have struggled: Last week, the Boutique Fitness Alliance and the New York Fitness Coalition filed an injunction against the state of New York, demanding that fitness classes be allowed to reopen, as gyms have been. From a business owner's perspective, it's understandable, but is the demand there? And even when things do go back to "normal," will people want to deal with the hassle of going in person now that they've realized they can get just as good of a workout in their living room?
As the pandemic drags on and life continues to be upended, people seem to be reframing their decisions not as temporary adjustments but long-term commitments to a new normal. Meanwhile, elements of the old normal start to seem more and more bizarre. Many people who I spoke to about their pandemic fitness routines had found a litany of upsides to streaming workouts, and almost no downsides. Boutique workouts have gone from an occasional indulgence to an everyday essential. Most people I spoke with had no plan to return to in-person fitness classes before a vaccine.
Think about the last workout class you went to in person. It probably cost between $30 and $40. You had to book it in advance, factoring in the amount of time it would take you to get there and back. The space was probably packed to the gills. You probably had to wait in line to shower, if there were even showers at all. And, God forbid you show up 1 minute late, you may have lost your spot and your money, only to stand there, flustered at the check-in desk with no recourse.
By contrast, it costs $40 to subscribe to The Class's streaming platform, where classes are taught live, sometimes up to 11 times per day, along with a growing library of on-demand options.
Of course, entering a boutique fitness studio during peak hours did have a certain anthropological appeal. "The intensity density is off the charts," the writer Lauren Mechling said of visiting The Class's Tribeca location pre-pandemic. "The characters who frequent the studio all seem so amped up and prosperous, they could easily be bit players in Succession."
For some students, the fact that there's no need to go anywhere at all anymore is the whole point. Aside from the obvious issues of time and cost, there's also the discomfort that can come with doing a workout alongside the spandex and diamonds set.
Naomi Fry, a New Yorker writer who tweets occasionally about her experiences with streaming The Class, says she hasn't done in-person group fitness since high school aerobics class, more than 20 years ago. She has complicated feelings about The Class, which she got into during the pandemic on the recommendation of a friend. "Although I feel like they are very sincere, I don't totally believe everything the instructors say. I'm not at all a spiritual person. But I have found that I just love having done The Class — it makes me feel better about myself, it forces me to move my body, I feel a little stronger than I used to," Fry said. "I'd never do it in the actual studio, even if things return to normal. I love doing it alone. It's not intimidating."
Laia Garcia-Furtado, an editor at Garage, also doesn't see herself going in person, partially because her asthma makes cardio workouts a challenge. "I usually would have to sit and rest in group classes—which is embarrassing! But since I was home alone that wasn't an issue," she said. She also found herself appreciating the emotional elements more than she thought she would. "That whole 'we'll meet you where you're at' vibe is actually nice," she added. "Of course what's crazy is every once in a while they will say something that makes me go like, Damn, they're right. And then it's like, Who's woo woo now?"
Toomey said the lack of distraction has been beneficial for instructors as well, even if teaching to an empty room was strange at first. They don't have to deal with people rolling their eyes, showing up late, giggling, or checking their phones. "I think when we open back up and we have people back in the room, there will potentially be a certain new kind of unseen muscle that will have been formed in the teachers, of really understanding their work in this method, and how they can stay embodied," she said.
In terms of concrete plans to return to in-studio classes, Toomey said there aren't any yet. "We don't want to put our students or people that work at the front desk or anybody in our community in harm's way by rushing anything. We're trying to take it steady, but we can't wait to be back together again," she said.
In the meantime, Toomey and her team have been developing more intensive digital retreats, one-to-one subscription models, multi-day programming, and considering the feasibility of doing outdoor classes in New York City. For those of us stuck working at home for the foreseeable future, the at-home setup will probably continue to be the primary mode of challenge and release. I'll keep squeezing them in, situating myself between the couch and the kitchen counter before toggling over to the next Zoom meeting.
Mechling, who started taking the streaming classes this spring, said she's taken a break from them for a while. "I was getting too used to all the heart opening and sexy rock and roll. I want it to feel new again," she said. "So in late October, when it feels as though I'm three zillion months into my new job as a school Zoom personal concierge, I will have something truly crazy to look forward to."
Related: Variis, Equinox and SoulCycle's New Fitness App, Arrives Just in Time