The Best Valentine's Day Gift is Five Tiny Bottles of Perfume
Frédéric Malle's roses coffret honors the commitment phobe.
---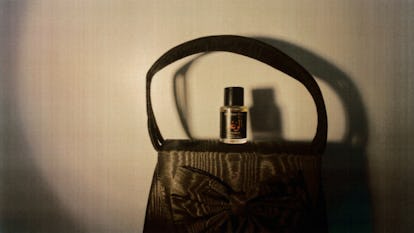 Photographs by Maridelis Morales Rosado for W Magazine.
Ever since I was a pre-teen, when I idolized my friend's older sister who moved through life in a cloud of Dior Poison, I have wanted to have a signature scent.
The reality is that I'm fickle and emotional when it comes to perfume. Occasions when I've bought a new bottle include but are not limited to: starting a new job, the changing of the seasons, moving into a new apartment, a new relationship, the end of a relationship, a vague desire for "change," sniffing something good at a Barneys (RIP) counter when I was feeling spendy, international travel, my 28th birthday and my second cousin's wedding.
Since I rarely finish a full-sized bottle and am not a gazillionaire, I always buy the smallest version possible. The tinier the better. Your travel size is my life size. There are sample vials in my makeup kit that I've been using for years.
As a result, the top of my dresser is littered with what are effectively miniature time machines. One whiff of Dyptique Figuier and I'm back at a college party, a spritz of D.S. and Durga Rose Atlantic and I'm in Rome. I've also figured out what works for me (ladylike, herbaceous florals) and what doesn't (anything cloying or heavy). Instead of a signature, I have a library.
So when a glossy red box containing five 0.24 ounce bottles from Frédéric Malle showed up on my desk, I thought to myself, Finally, a brand that understands and caters to my commitment issues—just in time for Valentine's Day, a holiday that does the opposite. But we won't go too deep into that.
Each fragrance in the coffret is a different take on rose: Rose & Cuir (leathery and clean), Lipstick Rose (Turkish delight vibes), Portrait of a Lady (heady, smells like my friend's chic mom), Une Rose (elegant, straightforward), and Promise (woody, with a lingering spiciness that stays on your clothes for days).
They're all complex, sophisticated and ultra concentrated, deep without being heavy, flowery but sexy. A dab on each wrist or behind my ears is exactly the right amount.
And they look as delightful as they smell. The tiny bottles are shrunken down versions of the real thing, with thick glass walls and a metal screw-on top. I can throw them in my bag without worrying that they'll break, unlike sample vials or some travel tubes, which feel like they'd shatter if I dropped my phone in at the wrong angle. Plus, at $175, the whole box is less expensive than most individual bottles of haute parfumerie.
For those of us who are still looking for the one (I'm talking about perfume, I promise!!!!) I consider it the perfect self-gift. A bouquet of roses for every season—and event, state of mind, geographic location or mood.
Frédéric Malle roses coffret, $175, Bloomingdales.com