Dior's Peter Philips Combats Digital Fatigue by Making Collages
During lockdown in Belgium in a cottage full of old magazines, the makeup artist returned to the calming practice he learned as a college student.
---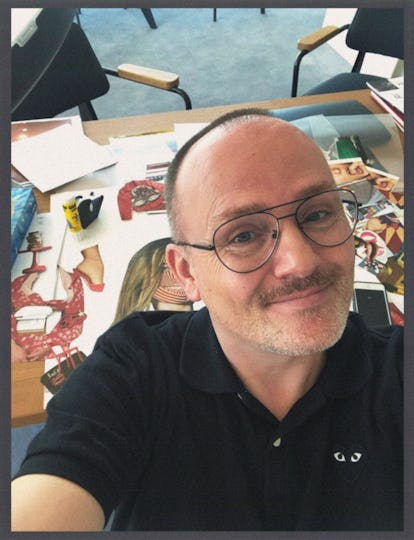 Selfie by Peter Philips for W magazine.
Peter Philips, the creative and image director of Christian Dior Makeup, does not own a computer. He has an iPhone, an iPad Mini that he's "never used," and prefers to do various administrative duties offline (for instance, Philips doesn't use online banking—opting instead to visit his local bank in person to deposit checks). So when the coronavirus pandemic forced him and the rest of the staff at Dior to work remotely, he suddenly had to be equipped with a laptop and, like much of the global workforce, learn how to join meetings via Zoom.
This sudden thrust into the world of technology was "kind of fun," Philips admits, but true to his base inclinations, he longed for a more grounded respite. So he hightailed it from his apartment in Antwerp to his country house in Belgium (his parents live across the street), embracing a life not too far off from what might be seen on an idyllic cottagecore mood board. Inside the house, he rediscovered shelves filled with old magazines, something of a archive from the '80s and '90s, a time when Philips describes himself as a full-on "fashion victim."
Pages from The Face Magazine, Architectural Digest, Wallpaper Magazine, and W were strewn in piles all over the home. To combat ennui in quarantine, he decided to put these vintage magazines to use, and pick back up his old hobby of collaging.
When he was a university student in the 1980s (Philips studied graphic design at Sint Lukas in Brussels) his instructors assigned the students to make five collages each week. "It was a way for our professors to teach us how to work with images," Philips explained on the phone in May. "And how to work perspective, how to trick people. From one image—or three different images—you could make a new image."
At the time, Philips "fell in love" with making collages—as a form of expression, sure, but also as a zen, calming act. "It was all before computer times and pictures were retouched by hand, and you had to sometimes make make-believe worlds by cutting and pasting, literally," he said. True to form, Philips has made dozens of collages in quarantine by hand: he'll cut images out of the magazines with a pair of scissors, and tack them artfully onto card-stock paper with a glue stick.
While the photo shoots Philips had scheduled pre-COVID steadily continued to be canceled, Philips decided to glean inspiration from collaging in the interim.
"I started thinking, 'Because I can't be shooting, maybe I'll start to think about alternative beauty stories in collage,'" he said.
He flipped through the pages of French Vogue and Harper's Bazaar, making piles of lips, eyes, hands; piles of red, blue, green, or yellow motifs to stay organized. Philips created pieces based on various makeup items from the Dior Beauty line: one collage's theme was inspired by the Rouge 999 lipstick color, another mirrored the color scheme of a denim-focused eyeshadow palette. Fashion editors took note of these humble works of art—German Vogue editor in chief Christiane Arp even invited Philips to create a spread of collages for a summer issue.
Collage permeated Philips' daily life in lockdown—he'd make multiple pieces in the evenings, after toiling away in the mundane universe of working from home. Following numerous Microsoft Teams meetings, phone calls with a member of Dior's IT team to figure out how to use a laptop that's "been in a drawer for six years," Philips would sit at a desk and snip away, helping him reconnect with the foundation of his art: working with his hands. Resuming this old hobby had such an impact on Philips that he said he'll keep up the habit of collaging in the future. Pre-COVID, his apartment in Antwerp was being remodeled. Once the construction resumes, he plans to convert what was intended to be a second bedroom into his own personal collage room.
"I'll cling onto the scissors and glue because I totally lose myself in a virtual world," he said, laughing.
Related: Simone Rocha Shares What's Sprouting in Her Kitchen Garden