Does Dr. Sturm's Spa Live Up to Its Beloved Product Line?
Four W editors visited the storied skincare brand's Los Angeles and New York City locations to find out.
---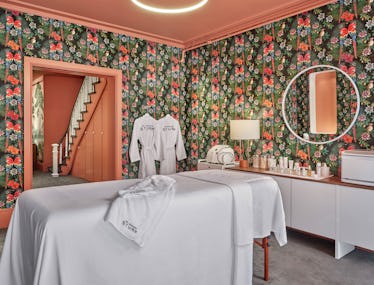 Inside the Dr. Sturm Spa in New York City. Courtesy of Dr. Sturm.
Inside a multistory former townhouse on New York City's Upper East Side, the revered skincare brand Dr. Sturm has found a home for its in-house spa and boutique. On the ground floor at Madison Avenue and 78th Street, you'll find a shop filled with the products that have made Sturm a go-to label for the likes of Gwyneth Paltrow, Kim Kardashian, and Kate Moss (the Hydrating Face Mist is a fan favorite for a reason.) That Dr. Barbara Sturm's wonder creams, serums, masks are top-notch is a well-documented fact. So what about that in-house spa? Does it live up to the Dr. Sturm name? Four W editors visited the NYC and Los Angeles locations to find out.
Maryam Lieberman, Contributing Beauty Editor
What is your familiarity level with the Dr. Sturm brand?
I've used and written about Dr. Barbara Sturm's skincare line for several years. She took Los Angeles by storm with her vampire facials, and then her product line went gangbusters. She has great instincts about what people are looking for, and she created a line that pleases all genders. I personally think several of Dr. Sturm's products deserve accolades: her Foaming Cleanser—it's soft but cleanses properly and thoroughly; the Super Anti-Aging neck and Décolloté Cream; and her Night Serum, which leaves skin looking restored in the morning. She has many, many products but I try not to overwhelm myself, and stick to the ones I love.
Describe your experience at the spa.
I got the antiaging facial at Sturm's Los Angeles location. I loved it for many reasons. First, the location was private, right off of Melrose Avenue, and discreet. You don't have to deal with foot traffic or parking issues, either. (This is something Angelenos struggle with at all times of the day. It may sound frivolous, but traffic can deter you from making plans altogether.) The spa was modern and a bit cold, which I normally do not like—but because I am also a real germ freak, I found the clinical feel splendid in this case. I chose to get the Super Anti-Aging facial because I'm always interested in different techniques that claim to regenerate and revitalize your skin. And quite frankly, I don't get enough rest, and always feel like I look tired.
How was your skin post-facial?
It's part of my job to get facials and critique them to let people know if they're worthy of the price tag. To be honest, I wasn't expecting from Dr. Sturm something over-the-top fabulous, because I just assumed it would be a straightforward cleansing facial. I was pleasantly surprised, however, as the facial was pretty phenomenal. My aesthetician, Raina, cleansed my skin, then exfoliated with a gentle Sturm enzyme, followed by a few minor extractions and some time spent underneath an LED Light. (I want to point out that the type of LED light matters: She used the Celluma LED light, which I have at home. I personally think it is the most effective.) Raina then performed a lymphatic drainage massage, followed by microcurrent and a smear of Sturm's hydrating masks, plus a long and fabulous hand and arm massage. The glow lasted two or three days thereafter: my skin was brighter and more even-toned.
Would you visit the Dr. Sturm spa again in the future?
I would definitely visit the Dr. Sturm spa again in the future, if I needed to look refreshed for an important event, or even for a personal pick-me-up. I would be crazy not to!
Ysenia Valdez, Senior Social Media Editor
Do you get facials often?
I am a fan of a routine facial, but usually schedule them around a major event. I like a light facial: typically some kind of hydrating process, with minimal extractions. Although my medicine cabinet might say otherwise—as I am constantly cycling through different products when it comes to oils, toners, and exfoliants—my daily routine is fairly simple (read: lazy) and consistent. But of course, I suddenly experienced major breakouts and cystic acne before I got the Dr. Sturm facial.
Describe your experience at the Dr. Sturm spa.
On a fairly slow Friday afternoon, I made my way into the foreign territory of the Upper East Side to Dr. Sturm's Madison Avenue location in New York City. I was welcomed by two lovely sales associates dressed in all0white and ushered up the stairs to fill out a form about my skin whilst drinking a green tea. I was then escorted to a cozy, dimly lit room to begin the experience.
Over the past few months I've noticed a drastic change in my skin texture, and have been dealing with consistent blemishes that leave residual dark spots. So I tried out the Anti-Pigmentation Facial, which involves the use of a microdermabrasion needle. The process itself was not painful and removed a layer of dry skin (ew!). Unfortunately, I was victim to the rare instance in which the needle scratches your skin. Having never done this process before, I didn't realize that wasn't normal—and thought the 30 minutes of burning oils on the open cuts that followed was just a part of the process. It was, in fact, not. All to say, it was a little more intense that I anticipated it being.
How was your skin after the facial?
The good news: the facial left my face feeling and looking like a baby's bottom for weeks. My acne was reduced and the scars from those pimples were much more faint. I was very pleased with the results. The bad news: The microneedle left thin scabs along my jawline that made wearing concealer or foundation over the next week near impossible. But my skin did look so good that I didn't really need that much makeup.
Would you visit the Dr. Sturm spa again in the future?
I 100 percent would go again, if given the opportunity.
Carolyn Twersky, Staff Writer
What is your familiarity level with the Dr. Sturm brand? Have you used any of their products or been to the spa before?
I had basically no prior knowledge of Dr. Sturm ahead of visiting the spa. I wouldn't consider myself up to date or in the know when it comes to beauty—I found a routine that works for me and I stuck with it, and I feel lucky to have skin that allows for such nonchalance. While others might hear the name and immediately have an association with it, it didn't ring any bells for me.
What was your experience at the Dr. Sturm Spa like?
While I wanted the Non-Surgical Facelift Facial (because why the heck not?), that procedure is, unfortunately, only available at the salon in London. So I went with the Sturmglow: I was told it's the salon's signature treatment, and it seemed like a sufficient replacement, if a less exciting one. My skin was in fairly good shape at the time of my appointment at the spa in New York City's Upper East Side, so I didn't have any specific skin concerns to address. I simply wanted a relaxing procedure that would leave me glowing and continue the run of good skin.
The facility itself was very nice. I walked in and was immediately made to feel welcomed, offered water, brought to a sitting area, and given a form to fill out. The treatment room was also aesthetically pleasing. My only complaint would be the many flights of stairs I had to walk up in my heavy winter coat; I was sweating by the time I reached the room. Alas, that is simply a reality of NYC in the winter.
The facial itself was exactly as I hoped. It was relaxing, but still felt effective (personally, I never experienced a facial without a little pain). My skin felt taken care of and refreshed, and I knew I was safe in the hands of my aesthetician.
How did your face look post-treatment?
When the facial was over, my aesthetician seemed pleased with the results, which was, of course, reassuring. She instructed me to take my time and put my clothes back on before meeting her outside the treatment room. "And look in the mirror, you're glowing," she said multiple times—to the point where I expected to see a Virgin Mary-like halo around my face in my reflection. In reality, though, I looked about the same—albeit redder. Again, I'm not a beauty expert, so maybe my eye isn't sharp enough to see the nuance of a good post-facial glow. I thought I looked fine, but the facialist's hype definitely went over my head.
That being said, in the days afterward, I definitely noticed a difference. I got this treatment right before the holidays, and I don't think I wore any face makeup until 2023. I didn't even realize how good my skin looked until a blemish did finally pop up again in the first week of January and how pleased I was with the treatment fully registered.
Would you visit the Dr. Sturm spa again in the future?
I would love to visit Dr. Sturm again—maybe next time, for an event where my skin should look A+. Realistically, Dr. Sturm's facials are not in my own personal budget at the moment. But hey, you never know.
Maxine Wally, Senior Digital Editor
How often do you get facials?
Not often enough—and the treatment I received at the Dr. Sturm spa proved this fact to me many times over.
What was your experience at the spa?
I arrived at the Upper East Side location of Dr. Sturm's spa on a recent late afternoon. The location itself lent a different kind of experience to the facility—instead of resembling a doctor's office, which many spots for facials do, this one is inside an old townhouse, replete with original winding staircases that lead up to the treatment rooms. My room in particular had lots of character: there were tropical flora and fauna painted onto the walls, along with renderings of Great Blue Herons. Once I got changed into a robe and laid down on the table, my aesthetician entered the room and began my treatment of choice: the Clarifying Facial with a scalp massage add-on. I chose the former in hopes of addressing my perpetually uneven, dull-looking skin plagued by hormonal acne; and I selected the latter because, well, I wanted to feel good for 10 minutes or so. In retrospect, I didn't need the scalp massage to feel good (although it was a lovely addition to the whole experience)—my facialist delivered such a wonderful rub-down to my cheeks, forehead, nose, chin, and neck, that I could have fallen asleep right from the beginning.
Please describe your results from the facial in detail.
I would like to start by saying this is the best facial I've ever gotten, hands down. My aesthetician integrated lots of lymphatic drainage massage into my treatment, which was a true game-changer. My skin looked snatched and pore-less for days after the facial, to the point where even my father—who still doesn't even remember the names of friends I've had since high school—noticed and commented on its glow.
Would you visit the Dr. Sturm spa again in the future?
Without question. These kinds of results are worth every penny.