Inside the Garden Club Spa at Palm Heights
The buzzy Grand Cayman hotel tapped architecture firm Food New York to design a labyrinthine oasis for Costa Brazil treatments, soothing rituals and relaxing soaks.
---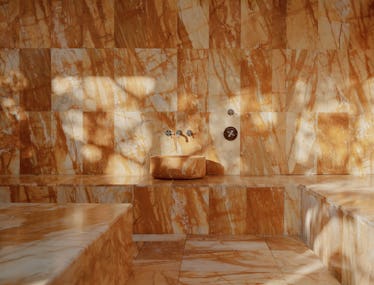 Photographed by William Jess Laird.
"Most spas are underground, dark, removed from the outside world. We wanted to make this the opposite," says architect Dong-Ping Wong of his firm's latest project, the Garden Club. "We wanted to connect the visceral, bodily sensations of a bathhouse with the climate and natural environment."
Wong's firm Food New York was commissioned by the buzzy boutique hotel Palm Heights (where you may have seen the likes of Bella Hadid, Lourdes Leon and Emily Ratajkowski unwinding lately) to transform a swath of land behind the beachfront Grand Cayman retreat into a wellness oasis. And transform it they did: the spa, which opens this month, offers 60,000 square feet of space for soothing, soaking, plunging, exhaling and unwinding—complete with plenty of fresh air, dappled sunlight and, perhaps, the biggest luxury of all, privacy. According to the hotel's creative director Gabriella Khalil, the overarching vision was "to offer generous, connected wellness spaces that provide sanctuary and repose."
Photographed by William Jess Laird
Photographed by William Jess Laired
Hotel guests and members can reach the Garden Club via an elevated passageway that whisks them away from the lively beach restaurant and family-friendly pool area and deposits them into a travertine labyrinth of calm, where they can rotate between an infrared sauna, steam room and ice room; take a bracing dip in a cold plunge; or settle in for a quiet moment on a shady lounge chair or in an outdoor soaking tub between treatments. Once they're all done, a stunning open-air hammam is the ideal spot for a rinse. Looking to stay hidden for a while? A "secret pool," tucked into a leafy enclave, offers just enough space for four people.
What inspired Wong and his team? "Being sweaty in Cayman," he says. "When you first exit the plane upon arrival, it feels like you're stepping into a sauna. So we wanted to embrace that—to keep people outside and to work with the vegetation that you often miss if you're just at the beach."
The Garden Club is the first spa outside of Brazil to feature products and treatments from Costa Brazil, the cult skincare brand from former fashion designer Francisco Costa. "We are very much a ritualistic brand," Costa says of his approach to beauty and wellness. Which means the Costa Brazil treatments on offer are less about "fixing" and more nurturing and relaxing. They include gentle face and neck massages utilizing the brand's aromatic Kaya oil, and deep tissue massages that incorporate a sculpted stainless steel tool for releasing deep tension. (If you're in the mood for a more concern-focused skincare approach, there are also Biologique Recherche and iS Clinical facials on the menu).
"What sets our treatments apart, in the end, is the products," Costa notes. "But we offer a state of mind as well. We have more of a sensitive approach to your routines, to beauty itself. It's kinder, it's less oppressive, it's not torturous."
Photographed by William Jess Laird
Photographed by Williams Jess Laird
But should you fancy incorporating a bit of torture into your vacation plans, the hotel's expansion also includes a new Palm Heights Athletics facility, right next to the spa, where you can break a sweat on a sprinting track, throw a few punches in a boxing ring, lift weights or take Pilates with world-class trainers.
Whatever your idea of relaxation looks like, there's something for everyone. As Costa puts it: "Being in nature, surrounded by a gorgeous landscape and beautiful textures, to me is a dream."