Lady Gaga's Laced Up Braid Was the Most Over-the-Top Hairstyle at the 2018 Grammys
Lady Gaga always brings the drama.
---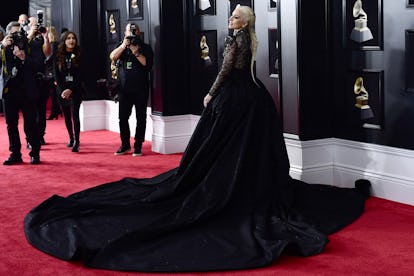 JEWEL SAMAD
The Grammy Awards are not known for subtle, understated red carpet looks. No, rather the ceremony celebrates the eccentric, over-the-top dresses, hair, and makeup that pops in an on-stage performance.
So, naturally Lady Gaga, she of the neon-colored wigs and meat dresses, hit the red carpet at the 2018 Grammys wearing a dramatic gown and a bold hairstyle. The singer, who performed during the ceremony and was nominated for two Grammys, stepped out in a black, laced Armani Privé ballgown, with her hair in a coordinating corseted braid.
That you have to see from behind.
That's better.
Gaga turned to hairstylist Frederic Aspiras, to help her create the "romantic, seductive, Victorian inspired corseted braided hair," and makeup artist Sarah Nicole Tanno for an exaggerated, jet black cat eye. (Tanno explained, "Gaga's eyes were inspired by a dark starry night. "
Gaga was clearly excited about her beauty look for the evening, as well. The singer posted three photos on Instagram of the look: