How Kelly Clarkson Finally Released the Album She's Wanted to Make Since Junior High
"We are always under construction," the soulful pop singer proclaimed ahead of the 2018 Grammy awards.
---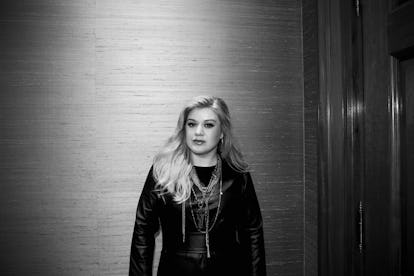 For 15 years, the vocal stylings of Kelly Clarkson have evolved and crossed over numerous genres—adult pop, rock, country, and most recently with her latest album, a mélange of soulful R&B pop. The singer simply cannot be pinned down to just one box; she's a pop star chameleon with country roots and a predilection for sincerity. This year, the 2018 Grammy Awards will take place in New York for the first time since Clarkson's first album, Thankful, debuted at number one on the Billboard 200 chart in 2003, and Clarkson is nominated in the category of Best Pop Solo Performance, for her song "Love So Soft." Ahead of the Grammys, Clarkson discussed her vocal evolution, the new artists she is most excited about listening to and finally releasing the album she's been wanting to make since her adolescence.
"People have tried to get me to do stuff that's not in my wheelhouse, but I'm good. It's too exhausting to try to be anything else," Clarkson said, while preparing for her appearance at the 2018 Grammys. She listens to an eclectic catalog of music that varies from Rick Ross to Bocelli to Whitney Houston, and has always taken inspiration from the pop divas of the '80s and '90s, ever since she was a child. It is fitting, then, that her newest album, titled Meaning of Life, is a mix of soul, trap, R&B and pop. It is also notable that Clarkson's ability to adapt to her sound to fit into nearly any pop-adjacent mold should not be mistaken for inconsistency or indecisiveness—since winning American Idol in 2002, Clarkson has found success in each new iteration of herself, winning three Grammy awards and scoring over 100 number ones on the Billboard Charts. "I feel like each stage was me," Clarkson admitted. "All the other albums, I definitely worked my tail off making sure that they were a representation of me. But I think any time you see any artist, look at Madonna's career or Whitney's, there's always an evolution. We are always under construction!"
In each era of her career—from "Since U Been Gone" to "My Life Would Suck Without You" or even her upcoming single "I Don't Think About You"—Clarkson has managed to achieve the astonishing feat of releasing a chart-topping bop that not only functions as a cathartic karaoke staple, but also adequately demonstrates her powerful vocals. "I've definitely fulfilled a pop/rock vein for my previous label, and it turns out I happen to love pop/rock as well, so it was cool, but this is the album I've wanted to make since I was literally in junior high," she disclosed. Now, as a coach to up and coming musicians on The Voice, Clarkson can dip her toes into an even larger assortment of genres separate from her own. "Being a part of The Voice, there are all of these great artists, not even only on my team but on other people's teams, and I wanna know what kind of album they would make! I get excited," Clarkson said. "It's a rejuvenation of how I started. It's an inspiring show to be a part of, and fifteen years into doing this it's almost like I'm being re-inspired," she laughed.
In this most recent phase of her career, Clarkson is content with her life at home with husband Brandon Blackstock and their young children, and won't be gearing up to permanently move to New York or L.A. any time soon. "We have four children and I have a husband that is a country boy. I would have to find a new husband if I wanted to move to New York!" Clarkson laughed. Her candor is infectious, and is a major part of what differentiates her from many of her peers. "I just grew up in the country and I really love space, and our farm in Tennessee. We have our orchard and our gardens, our bees and our chickens. It's nice to have that serenity to keep your feet on the ground. It's nice to come back and take out your own trash and feel normal, and that's good for our kids too," she said.
She spoke highly of her favorite past Grammys performance, which was when Outkast performed "Hey Ya!" in 2004, and in regards to the task of getting ready for this year's ceremony, Clarkson is mostly excited to be taking advantage of the night out. When she's not listening to her varied collection of favorite singers like Bruno Mars, country and bluegrass singer Chris Stapleton (whom she made sure to mention she has been a huge fan of for nearly a decade, and was way ahead of the curve on discovering) or Bleachers, Clarkson and her husband are both just regular parents who are looking forward to the "date night" they get to have at this year's ceremony.
Related: Nick Jonas Responds to Those Jonas Brothers Reunion Rumors, and Shares What Game of Thrones Spoilers He's Learned