Kelly Clarkson Finally Graces Carpool Karaoke With Her Presence
The queen has spoken. Or rather, sung.
---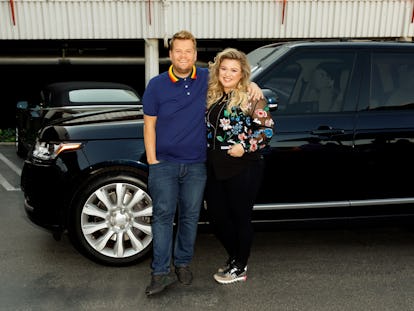 Terence Patrick/CBS
There are certain musicians who have yet to indulge James Corden with a Carpool Karaoke session: Beyoncé. Tom Petty's hologram. Cher. Mick Jagger. Thankfully, Kelly Clarkson isn't on that list anymore—apparently, she couldn't resist the tight vocal constrains of a mid-sized sedan.
On Wednesday night on The Late Late Show, the beloved American Idol alum finally appeared on the show for the equally-popular musical segment. It was pretty much what you would expect from a standard Carpool Karaoke, but there are a lot of striking moments peppered throughout the 10 minutes that showcase the duo's natural rapport. For starters, Corden can't help but bring up the fact that Hillary Clinton's memoir gave Clarkson an iconic shout-out. "She wrote in the book, that which does not kill us makes us stronger. Nietzsche, and then Kelly Clarkson," Corden quipped.
"Well, we're both philosophers, right?" Clarkson responded, prompting Corden to go in for the kill. "Nietzsche also wrote a song called 'Since U Been Gone.' He also won Philosophers' Idol." This is all very accurate, very true information.
Throughout the segment, Clarkson crooned out her five staples, "Since U Been Gone," "Love So Soft," "Stronger," "Because Of You," and "Whole Lotta Woman," with no regard to Corden's eardrums. ("I think you've got a voice that can make anything sound good," he accurately stated.) But if the songs were great, her impromptu "date night" with her husband of five years, Brandon Blackstock, took the cake. Corden managed to transform the back of the car into a mini Parisian cafe, complete with some sparkling cider and chocolate-covered strawberries. "Is this an intervention?" Clarkson questioned before Blackstock hopped in. "I feel like we're making a porn," Blackstock added.
Clarkson is currently on the road promoting a critically acclaimed new album, Meaning of Life, that sold nearly 80,000 units on its week of release in October, enough to score the No. 2 slot on the Billboard 200. Watch all of the shenanigans unfold below, and don't forget to pray to the gospel of Clarkson.