Hillary Clinton's New Memoir is Not Going to Win Her Any New Fans
What Happened will offer Hillary Clinton's take on the election fresh off her loss, a version of events that history certainly needs.
---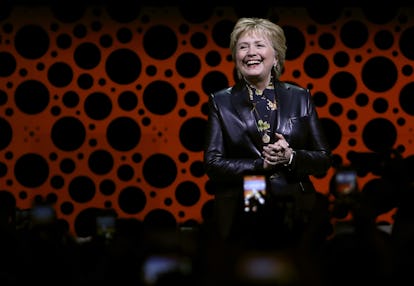 Justin Sullivan/Getty Images
There was a poll out a little over a week ago that showed Hillary Clinton's favorability rating is now actually a bit lower than Donald Trump's. If the small synopsis released today about her forthcoming book What Happened is any indication, it might be safe too assume she is well past the point of caring about that or what any poll says about her ever again.
"In the past, for reasons I try to explain, I've often felt I had to be careful in public, like I was up on a wire without a net. Now I'm letting my guard down," she writes in the introduction of What Happened, the only words released from the actual book so far. A press release helpfully adds a bit more context and promises that "free from the constraints of running, Hillary takes you inside the intense personal experience of becoming the first woman nominated for president in an election marked by rage, sexism, exhilarating highs and infuriating lows, stranger-than-fiction twists, Russian interference, and an opponent who broke all the rules."
Basically, it seems to be Clinton unbound and in her own words. Though, it's not like it would be the first time the world has heard from Clinton in her most candid and off the cuff. Let's remember some of her more polarizing bluntness from her 25 years in public life as a guide to what we can possibly expect.
There was the time back in the heat of the 2008 primary when she mocked Barack Obama, snarking "Now, I could stand up here and say, 'Let's just get everybody together. Let's get unified. The skies will open, the light will come down, celestial choirs will be singing and everyone will know we should do the right thing and the world will be perfect.'"
"Maybe I've just lived a little long, but I have no illusions about how hard this is going to be," Clinton continued. "You are not going to wave a magic wand to make special interests disappear."
There was the time during this past campaign when she was ambushed by a young protestor who clearly wouldn't be satisfied with anything the candidate said. Clinton bluntly dismissed her with, "Well why don't you go run for something, then?"
There was the Hillary who explained away her decision to take high speaking fees, with, "That's what they offered."
Then there's the original probably too-candid-for-comfort Hillary quote delivers all the way back during the 1992 Democratic primary campaign when one of her husband's opponents tried to make an issued of her career: "I suppose I could have stayed home, baked cookies and had teas."
Taken together, Clinton's history of off-the-cuff comments paints the picture of a politician who knows that the system is messed up and never quite had the gift of her husband or former competitor-turned-boss Barack Obama for charming you into believe it's any other way. She knows the power of politics, but was all too aware of the limits; she seemed disillusioned by the whole thing, but still hopeful to work within the broken confines to actually get more then making good speeches done. All that while trending in uncharted territories for a woman in a culture beset with institutionally ingrained misogyny, and often unsure of or unwilling to realize that she would be judged much more harshly for things that male politicians do regularly (see: taking those speaking fees).
That may not be an outlook that everyone agrees with or is free from criticizing, but it is the outlook of a woman who has lived a life in public politics unlike anyone else. History deserves her take, especially one written so fresh after the loss.
She does promise to own up to some of her own mistakes as well, and undoubtedly there will be quite a bit of Donald Trump bashing (which seems only fair considering Trump continues to liberally bash her as well despite the fact the election was over nine months ago). Though, it doesn't seem like the kind of book one writes to win new fans. In fact, it seems like someone acknowledging that their life in electoral politics is over.
Only the release of the book will tell whether through her mistakes, gains and accumulated wisdom, she can offer future politicians an enlightened path ahead, or whether it serves as a cautionary tale best used as an example of what not to do.
Related: Hillary Clinton Called Trump a Real Life "Troll" and His Budget Plan a "Con" in Her Wellesley Commencement Speech
Meet the Organizers of the Women's March on Washington