Hillary Clinton Called Trump a Real Life "Troll" and His Budget Plan a "Con" in Her Wellesley Commencement Speech
Decades after she graduated from Wellesley College, Clinton returned to her alma mater to give a commencement speech full of strong words, but also encouragement.
---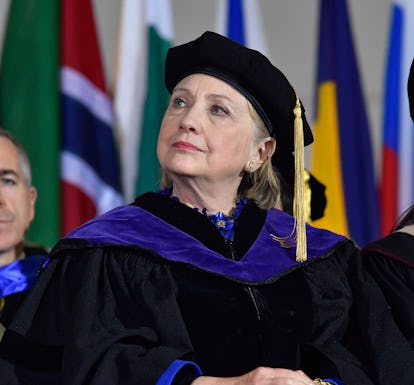 Paul Marotta/Getty Images
Back in the '60s, a young student named Hillary Clinton was president of the Young Republicans club at Wellesley College in Massachusetts. She returned to her old stomping grounds on Friday morning to deliver a commencement speech, 48 years after she gave her first one, as a student when she graduated from the all-women liberal arts school in 1969.
Of course, Clinton would go on to switch parties, which she was the first to acknowledge has not been the only change in her life in the decades since—and especially the last few months. "You may have heard that things didn't exactly go the way I planned, but you know what, I'm doing okay," she said with a smile at the beginning of her nearly hour-long speech, before adding that she's had some assistance recovering from the shock of the election results with the help of her grandchildren, as well as "long walks in the woods," "organizing [her] closets," and, perhaps most importantly, some Chardonnay.
But between offering her comforting advice to the class of graduates—she confessed that she called her parents a month into classes to tell them she was sure she actually wasn't smart enough to be there—Clinton, who's becoming increasingly outspoken again, let on that she's been using her free time to stay current, too. "You are graduating at a time when there is a full-fledged assault on truth and reason," she said. "Some are even denying things we see with our own eyes, like the size of crowds."
This was not her only jab at Donald Trump, whom she later alluded to as one of the "trolls galore, online and in-person," in years to come (by pointing out that said trolls "may even call you a nasty woman"). But much of her other criticisms of the president were much more explicit: "It's a con; they don't even try to hide it," she said of Trump's recently announced budget plan, which she also called "an attack of unimaginable cruelty on the most vulnerable among us: the youngest, the oldest, the poorest, and hard-working people who need a little help to gain or hang on to a decent middle class life."
Such a plan, Clinton continued, "undermines confidence in the government as a whole, which in turns breeds more cynicism and anger." And the accompanying "alternative facts" that come with justifying said actions "can mark the beginning of the end of a free society," she added. "That is not hyperbole; it is what authoritarian regimes throughout history have done. They attempt to control reality. Not just our laws and our rights and our budgets, but our thoughts and beliefs."
If publicly comparing the Trump administration to an authoritarian regime sounds a bit far to go for Clinton, that seems to be par for the course in her commencement speeches. Her original speech as a graduate at Wellesley, which she recalled staying up all night writing and editing, reflected her classmates's wishes for her to address their worries about America in the '60s. "We didn't trust the government, authority figures, or really anyone over 30. In large part, thanks to years of heavy casualties, and dishonest statements about Vietnam, and deep differences over civil rights and poverty here at home, we were asking urgent questions about whether women, people of color, religious minorities, immigrants would ever be treated with dignity and respect," she said.
"And by the way, we were furious about the past presidential election of a man whose presidency would eventually end in disgrace with his impeachment for obstruction of justice. After firing the person running the investigation into him at the Department of Justice," she added, drawing a parallel between President Nixon and President Trump, one that's grown easily more pronounced since Trump's firing of former FBI Director James Comey last week.
Not that all that, Clinton made sure to add, means entirely bad news. "Here's what I want you to know: we got through that tumultuous time, and once again we began to thrive as our society changed laws and opened the circle of opportunity wider and wider for Americans," she said. "We turned back a tide of intolerance and embraced inclusion." It's a direction she urged the students to carry on with themselves in conversations (whether "in Medium posts" or in-person) and at protests—and even in running for office, though she warned that approach is "certainly not for the faint of heart."
To illustrate that, Clinton turned to another inspirational quote: "It's supposed to be hard. The hard is what makes it great." This one came not from President Kennedy, but another source Clinton clearly reveres: "one of [her] favorite movies," A League of Their Own, the 1992 film starring Geena Davis, Madonna, and Tom Hanks.
Related: Hillary Clinton Draws Parallels with The Handmaid's Tale and Cautions Against Complacency At Planned Parenthood's 100th Anniversary Gala
Happy Birthday, Hillary! A Tribute to Hillary Clinton's Style Evolution, from Skirt Suit to Pantsuit
At the top of her class at Wellesley College, Hillary organized a two-day strike after the assassination of Dr. Martin Luther King Jr. and became the first student to give her university's commencement speech. Here she's pictured as the collegiate hipster wearing 70's styled glasses, a white button-up blouse and high-waist stripped trousers.

The LIFE Picture Collection/Getty Images
While supporting the presidential campaign of Bill in 1992, the Democratic presidential candidate, Hillary was pictured here at his rally wearing a purple skirt suit that will soon become her staple look during her husband's presidency.

WireImage
At the Arkansas Inaugural Ball following the inauguration of President Bill Clinton, the first lady looked stunning as she danced with her husband wearing a purple embellished Sarah Phillips gown.

AFP/Getty Images
Boston Globe via Getty Images
The LIFE Images Collection/Getty Images
Princess Diana and Hillary Clinton
The first lady wore a blush pink skirt suit at the opening ceremonies of an exhibit of the 20th century art at the White House. Her Jackie O-inspired look featured gold buttons, a gold chain belt, gold stud earring, a pearl choker and bracelet.

AFP/Getty Images
The first lady paid her respects to the late Princess Diana in attending her funeral at Westminster Abbey. Although the devastating occasion calls for an all black ensemble, Hillary opted for a very chic skirt suit look that she paired with a black velvet hat, black gloves and a pearl necklace and matching earrings.

Tim Graham/Getty Images
At the 1997 Grammy Awards, where Hillary accepted her Grammy for Best Spoken Word Album, she posed on the red carpet in a long sleeved gold Oscar de la Renta gown. The shiny gold lace sleeved top and taffeta skirt made Hillary look elegant and chic.

The LIFE Picture Collection/Getty Images
For the 200th Anniversary White House Dinner, the first lady wore a very regal gold long-sleeved gown. She kept the focus on her gown by keeping her accessories very minimal and just wearing Diamond earring and a thin bracelet.

AFP/Getty Images
Senator Clinton, now the first First Lady to ever become elected to a public seat, wore a teal silk Oscar de la Renta to the 21st Annual CFDA Awards with the designer. The statement sleeves featured on her gown have become a trend that we continuously see on the runway.

WireImage
Stepping into a bolder direction, Clinton took the 2008 Democratic National convention in a controversial orange pantsuit. The media notably referenced this look as "the world's famous pantsuit" because of it's similar color association with inmate prison uniforms.

AFP/Getty Images
Hillary looked stunning as she posed on the red carpet of the 19th Annual GLAMOUR Women o f The Year Awards. She opted for a glamourous brown silk mid-sleeved gown that featured a color and cinched waist – completing her look with a wide crystal necklace, diamond bracelets and a gold shiny clutch box.

Getty Images
At the NY400 week kickoff, the Secretary of State welcomed Dutch royals in a very elegant black suit with white trimming. She completed her look with crystal necklace, earrings and a power red lip.

WireImage
Clinton looked chic in an all blue pantsuit with white buttons as she arrived in Entebbe for her seven-nation Africa tour. The tour focused on Obama's administration's new Africa strategy of promoting development by stimulating economic growth while advancing peace and security and strengthening democracy.

AFP/Getty Images
While attending the CFDA Fashion Awards in 2013 with dear friend Oscar de la Renta, Clinton wore a navy blue jacket and pant look from the designer. She took the stage with Mr. De la Renta as he accepted his Founder's Award that evening.

Getty Images
Anna Wintour and Hillary Clinton in Michael Kors.

Getty Images for Michael Kors
In 2015 Clinton spent a couple of days in Iowa participating in small business roundtable discussion with members of the small business community. While she discussed how to make the economy work for everyday Americans she still looked chic dressed in a hunter green monochromatic pantsuit.

AFP/Getty Images
Hillary went bold and bright for her look at the first U.S. presidential debate. Wearing a red custom Ralph Lauren pant suit she took the stage with opponent Donald Trump and not only looked powerful, but commanded the stage in the same manner.

Getty Images
For the second presidential debate, Hillary opted for a timeless Ralph Lauren navy and cream shawl-collar pant suit. This chic interpretation of her iconic pantsuit looks balances the idea of femininity and power.

Getty Images
Wearing yet another custom Ralph Lauren suit, Hillary gravitated towards a collarless white crisp look for the final presidential debate – similar to the one she wore to accept the nomination for the Democratic party.

Getty Images
See Over 80 Celebrities Take a Stand for Human Rights: